Hey! This site is reader-supported and we earn commissions if you purchase products from retailers after clicking on a link from our site.
There's nothing better than grabbing your family, or a group of friends, and hitting the road in your RV. RVs make it easier to enjoy the exciting and vibrant world around you without having to abandon your home comforts completely. Your RV can almost act like a portable home, with a personalized interior space that is comfortable for everyone.
However, as awesome as RVs are, they can require some serious time and effort to maintain their upkeep, and to keep them running as perfectly as you would like. Towards this end, you're going to need some additional extras within your RV to make it a truly amazing traveling home.
From custom wall maps to key fobs, to collapsible garbage cans, there are so many accessories you can grab for your RV, but how are you possibly supposed to decide which ones are best for you? Especially when there are so many options out there to choose from!
That's what we're here for. We've looked through some of the best RV accessories on the market to bring you the products that your RV soon would not be able to be without. So why not read on and discover them for yourself?
Table of Contents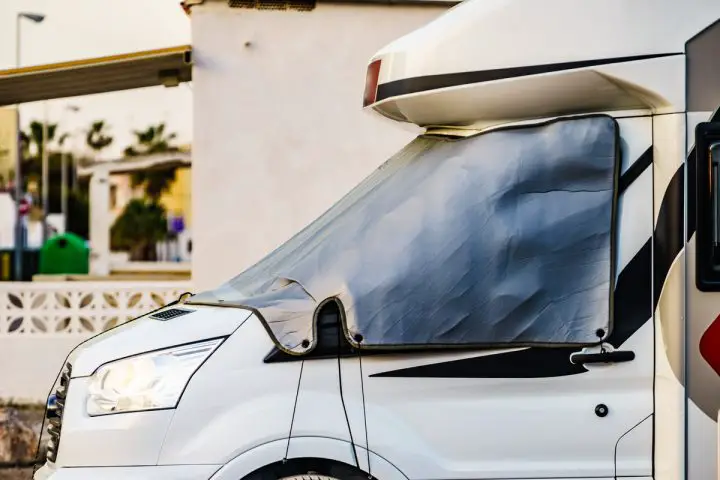 Your RV will be like some space-faring craft right out of the future with this keyless entry lock. Don't worry, just because it's keyless does not mean that this lock is lacking in security. Far from it. In order for the lock to disengage a small key fob needs to be within proximity. This key fob emits a small frequency which is picked up by the lock to know that the owner of the RV is intending to gain entry. 
We tried it out for ourselves, and it's like having the keys to the Starship Enterprise! And if you do find yourself without the small key fob, or you have given command of the fob to another person, don't worry, you can simply enter the code that you have chosen on the keypad to unlock and relock your RV.
This product makes it easy to improve your security and your convenience in one fell swoop, which makes it truly one of the best products we've had the pleasure of trying out for ourselves.
You also don't need to be an expert in engineering to get this lock system working. RVLock prides itself on offering an installation that takes only around 10 minutes to complete. And you can install this lock without worry, as it has been designed to fit most modern RVs and trailers on the market! You'll be surprised at how quickly you can level up your security with just a few spare minutes.
Pros
The small fob makes keyless entry easy
The sturdy and waterproof keypad makes it easy to lock and unlock your RV at any time without the need for a key
Can be easily installed in just a few small steps on most RVs
Cons
Does not have any kind of alarm function or connectivity with an alarm system
Some users note that the plastic that makes up the lock feels slightly cheap
Though it's amazing to bring your home comforts on the road with you, that also means that you have to drag your household chores along for the ride! If you've ever cooked your own meals in your RV, you've likely experienced how small and inconvenient the built-in drying racks in most RVs are. 
That's where this collapsible dish drying rack from Fafcitvz comes in to save the day. This drying rack comes with all of the space you need to stow away all manner of dishes after hand washing. It will collect the water that drains from your dishes, which you can then easily pour away after you've finished.
Of course, it would be an absolute misstep to not mention the best part of this product. When you have finished using this drying rack, you can simply fold it away into a flat form so that it doesn't take up much space between uses.
This makes it perfect for storing in cupboards or against the wall in the kitchen. This is a perfect solution for those slightly smaller RVs that don't have too much space for cooking and the mess it can create. 
The drying rack itself features a smart design that allows you to separate out smaller items, such as utensils or kitchen gadgets, so that nothing gets lost in the cleaning job, and to allow for even more space.
This is truly one of the best space-saving gadgets we've seen and it fits in perfectly with our RVs! 
Pros
Can be collapsed and stored discreetly between every use.
Made from durable but adaptable plastics.
Has separate compartments for smaller utensils.
Cons
Does not quite have the space for massive cooking jobs
The water does not drain during use and will pool beneath your dishes as they drain
Sometimes, on the road, you need a little extra mental stimulation. What better solution for that than a good game of Scrabble? Scrabble is perfect for getting your mind going, and keeping your brain in tip-top shape.
The only problem with a standard game of Scrabble is that the pieces are bound to slide around when in motion. This makes it especially difficult when you need to travel in between games, as there is no good way to keep the tiles in place to continue the game later on.
In order to solve this problem, and to make Scrabble a more travel-friendly game, the Tile Lock edition was created. This version of the classic game features a board and tiles that clip into place firmly, to keep the game going no matter how much it's shaken about.
This makes it perfect for RVs, as it can be played while on the move, even on bumpy terrain, and stored away for later play, without losing the current positions of each tile.
This version of Scrabble also comes in a very adorable size that is small enough to be stored into luggage, or stowed securely on a shelf or in a cupboard. This version of Scrabble was designed, from the ground up, to be played while traveling, and we can confirm that it's still just as fun as its full-sized counterpart.
Pros
The locking tiles make it easy to play the game while on the move or to 'save' a game between sessions.
The small shape of the game makes it easy to port around without taking up space.
A fully realized version of Scrabble, just in a smaller form! 
Cons
This version of Scrabble may prove too small for some players, especially those who are visually impaired
The game board design is a simple overlay sticker, which could potentially peel off with time
It's an unavoidable fact of RV living. Things are going to move and shift about as you drive. In order to account for that, we try to fix things into place in our RVs, to avoid any accidents, or to avoid damage to any of our favorite things. 
But, until now, we'd yet to see any kind of solution for RV fridges. So many times it has happened to us, where we've spent the day on the road, and then gone to open the fridge, only to find that our bottles of milk have exploded and spilled their contents everywhere because of the motion! 
Prepare for this familiar situation to be a thing of the past, as Camco has come up with another one of their genius inventions that promise to make RV trips comfortable and mess-free.
The RV Fridge Brace looks simple in design, but its function is truly where it counts. Simply place one of these into your fridge in a position where it can hold your milk or other liquids in place, and then attach it with the simple twisting grip at the bottom. 
There are very few materials that went into making this product a reality, but when you see how sturdy they are for yourself you'll know why we've recommended them to you here today.
The fridge braces can be purchased in 2-packs or 4-packs, for very affordable prices, so you can buy as many as you need, to keep everything in place in your fridge, so that none of your food and drink ends up wasted. 
Pros
Sturdy build with only a few materials.
Helps you to avoid wasting any food or drink on your travels. 
Affordable price.
Cons
Requires a fridge with wire shelving. Will not work with solid or glass fridge shelves
If your fridge shelves are not the perfect shape and size, then they do run the risk of coming loose in motion
You're probably going to accrue some garbage over the course of your trip. Whether it be packaging for snacks, or even just food waste. You're going to have to throw some things away. 
The trouble is, having a trash can in your RV can mean a lot of wasted space. Trash cans take up so much space, and they often spend a lot of their time empty. If only there was a trash can that would simply disappear when it's not in use…
Well, turns out, this product from Thetford is exactly that. This collapsible trash can is perfect for its discretion, but also for its incredible capacity. Although it can be folded away to almost nothing, it still boasts an incredible capacity, so that you can manage massive amounts of waste in your RV without trouble. 
And when you don't need it, or you only have a small amount of waste, you can simply fold it away to take up far less space, or no space at all. It can be folded away to such a degree that you can easily store it in a cupboard whenever you don't need it!
This trash can is also perfect for hosting outdoor events or barbeques, to help keep nature litter-free. You won't have to lug around a whole trash can to accommodate a whole outdoor party, just unfold this baby and you're good to go! 
Pros
Can easily be folded away or made smaller when necessary.
Has an impressive maximum capacity of 13 gallons, so you can still keep plenty of waste managed easily.
Features an easily opened lid to keep garbage contained within, so that there are no accidental and embarrassing spills. 
Cons
The bin frame itself is rather flimsy, so it is worth weighing it down, especially when outdoors
Trash bags are visible when inserted into the frame, which can be rather unsightly
There is perhaps no game more iconic and classic as Corn Holes. Two boards and a set of plush bean bags are all you need for hours of competitive fun.
The only problem is, carrying around heavy wooden corn hole boards on a camping trip is pretty unfeasible. However, you need a sense of stability from a corn hole board that only wood can offer you, so what choice are you really left with? Well, Himal has created the perfect solution!
These corn hole boards are remarkably light, thanks to the fabric construction held together by flexible wires. Simply unfold one of these corn hole boards, and allow the flexible wires to take position. This helps to give these surprisingly light corn hole boards the sense of stability and sturdiness that is required from a good corn hole board.
And the boards are extremely easy to fold and unfold, to boot! All it takes is a few twists and folds, and you've managed to put them into an extremely compact position that can easily be placed into the included carrying case.
And what is a good corn hole set without some bean bags? This set contains 8 plush bean bags that are soft to the touch, and won't cause any harm or undue injury. However, they are still just heavy enough to be thrown comfortably and to work in tandem with the fabric corn holes.
This is truly the best way to bring this classic American pastime on the road with you, as it can easily be placed somewhere in your RV during travel, and then easily unfolded wherever you arrive. We were so impressed with the product in our tests that a few of us decided to get some for ourselves! 
Pros
Lightweight, and can be folded into a very small carrying case. Much more travel-friendly than full corn hole boards.
Despite their light weight, these corn hole boards are very sturdy, and can continue to stand up, even when pelted with bean bags!
Comes packaged with 8 soft bean bags that work perfectly for the game.
Cons
Some users have had trouble with the velcro strips that hold the rings to the board. These rings are necessary to give the boards stability.
The boards can flap around slightly in the wind.
Finding storage space can easily be one of the most difficult parts of any RV trip. RVs are designed to maximize as much space as possible, to allow you to bring your life along with you on the road, but often it is still nowhere near enough. 
But you can't simply head on down to IKEA to grab some new shelves, so what can you do? Why not try out this Hanging closet organizer from Tidy Zebra. As its name implies, you can hang this amazing invention from any area in your RV, and then use the light fabric shelves to store all kinds of extras.
These hanging organizers are perfect for clothing or for smaller items, such as pens, pencils, games, or toys. This set also comes with four drawers that can be placed into each shelf, for added security and stability. And you don't have to worry about these hanging organizers cluttering up your space, as they do not touch the floor, and when they are not in use, they can simply be folded away for your convenience.
The hanging design allows for these organizers to swing lightly while your vehicle is in motion, which helps to prevent any of its contents from tumbling out, as the swinging of the organizer will prevent such an outcome.
Pros
Can easily be hung from any point in your RV.
Has a massive storage capacity, to store all sorts of things. 
Can be folded and stored away when not in use, which saves lots of space.
Cons
The fabric is not quite strong enough to hold extremely heavy items
Which RV Accessories Are You Grabbing?
This is only a small number of some of the amazing RV accessories available out there. It took some considerable work to narrow all of those amazing products down to just this small list. However, we can say with confidence that these are some of the best accessories you could possibly pick up to use in your RV. 
They are lightweight, but durable, and allow you to maximize the space of your RV without cluttering it up. They also help to make your RV more secure and personable, so that your RV can truly feel like a home away from home, so that you can travel the world in comfort and style, knowing that all of your precious goods are being protected.
Why not try out some of these products for yourself? We can guarantee that you won't be left disappointed!