Hey! This site is reader-supported and we earn commissions if you purchase products from retailers after clicking on a link from our site.
Going on vacation does not mean you have to abandon all of the comforts of your home for good. As many of you probably already know, RVs make it easy to bring your world along for the ride! With plenty of separate rooms, and all the amenities you could need from your ordinary home life, it's no real surprise that the RV life has become so attractive to so many people.
One of the only problems with RV life, however, is the issue of space. An RV only has so much space. It has to be driven on the road, after all! Thus, careful attention needs to be paid to the internal space of an RV to ensure that it does not end up overstuffed and uncomfortable.
One of the areas of an RV that inevitably ends up overstuffed and cramped is the kitchen. Many of us are used to large home kitchens with lots of surfaces and lots of appliances and shelf space to make use of. Unfortunately, the average RV kitchen is relatively small, and thus it is necessary to make the most of every inch of kitchen space! But how do you do it?
Let's look at some of the best kitchen organization products that you can buy today!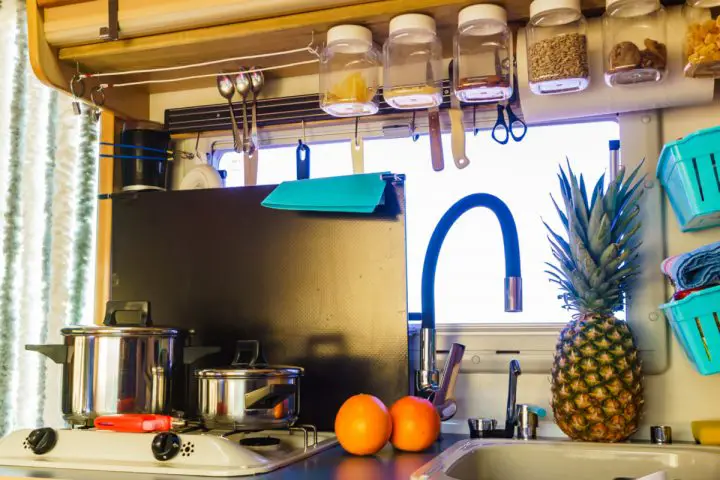 Table of Contents
If you want to cook, you're going to need just the right tools. You cannot go wrong with a set of sturdy pans and pots to allow you to cook up delicious meals no matter where you end up. However, pots and pans almost inevitably end up taking up a massive amount of space, thanks to the long handles that poke out and use up too much space! 
Abizoe's 12 piece pot and pan set seeks to solve the problem of space-hogging pots and pans, thanks to the inclusion of removable handles! That's right. When these pans aren't in use, you can simply remove the handle and store the pots and pans separately.
It's remarkable how much space this can save. Our tests of the product showed that we were able to save so much space and store so many more things thanks to the simple removable handle.
The pots and pans themselves offer a perfect amount of cooking space so that you can boil or fry foods to your heart's content. And once you're done with them, cleaning up is easy, thanks to the non-stick surface that keeps foods or stains from persistently remaining. Simply dip them into some soapy water, give them a scrub, and they'll be as good as new.
And, of course, we cannot go without mentioning the generous inclusion of five extra cooking utensils, including various spoons, ladles, and spatulas that are made from stainless plastics, so that every step of your RV cooking adventure is simple and mess-free.
Pros
Contains a generous 12 pieces, to provide a full cooking set that is perfect for your RV.
The removable handles ensure that the pots and pans do not take up excessive space.
Non-stick surfaces across the pans, pots, and cooking utensils make cleaning hassle-free.
Cons
Only comes with one removable handle, so you can only use one pan or pot at a time.
The frying pans do not come with lids or coverings, unlike the pots.
Sometimes there's just not enough space on the kitchen counters in your RV. You'll be chopping away at vegetables, ready to make a delicious stew, only to find that you have more ingredients to cut, but no space to cut them. What do you do in such a situation? 
Well, with one of Camco's RV Sink Mates, you'd have an instantly accessible extra surface to use. Simply place this cutting board onto the top of your kitchen sink to create an extended countertop surface.
Unfortunately, this cutting board only fits onto kitchen sinks between 12 ½ and 14 ½ inches, so you must ensure that your kitchen sink is the perfect size for it. If not, don't worry, there are plenty of other products similar to this. Though, we feel that this is the best of all.
However, if your sink isn't exactly the right size, you are not totally out of options yet, as the rubber feet that hold this cutting board in place can easily be adjusted to different positions to accommodate different sinks of very different sizes. This makes this product a great all-in-one solution for many people, though if your kitchen sink is too small for even the adjustable legs, you may need to look for other options.
If your kitchen sink is the right size, then this cutting board will change your culinary life. It fits firmly into place, and stays there as you cut, without shifting or becoming dislodged. This makes it much easier to keep all of your cutting in one place, while also still being extremely safe and durable. 
Towards one corner of the cutting board is a large gap, so that you can easily push scraps right into the sink, for later disposal. The groove that surrounds the inner edge of the board is also perfect for carrying juices and guiding them towards your sink so that you don't end up with a messy countertop! We were truly amazed at how easy this product was to use, and how much space and time it managed to save us!
Pros
Allows you to maximize the space on your kitchen surfaces, to allow more room for cooking. 
The cut corner and grooves make it easy to dispose of waste while the board is in use.
Adjustable legs allow you to adjust the board until it is the perfect size for your sink.
Cons
Will not fit all sinks, so may not be a viable option for some.
Only comes in one color and size.
Utensil drawers are a vital part of any kitchen. A discreet and easily accessible spot to store all of the smaller tools and appliances we make regular use of in our kitchens. However, without efficient organization, these drawers can become very messy in a matter of seconds. 
To curb this problem, we strongly recommend trying out this amazing product from BAMEOS. Of course, you should make sure to measure your drawers carefully before purchasing to ensure that it will fit. If it does fit, then your drawers will soon become a haven of organization. 
The bamboo materials used to make the organizer give it a natural and soft appearance which simply looks amazing whenever you open your drawer, and bamboo is naturally a very sturdy and durable material. This means it is perfect for housing cooking and eating utensils which might otherwise damage more standard drawer organizers. 
This drawer organizer can also be extended on both the left and right sides, so that it can fill your entire drawer space, to prevent it rattling about while your RV is in motion. Our tests showed us that it is very easy to adjust the organizer to your needs on the fly without risking breaking it.
Each compartment of the organizer is perfectly sized and shaped to accommodate multiple utensils and tools of varying sizes. They are also each a comfortable depth, so you can fit plenty of forks, knives, or spoons into just one single compartment, which once again helps you to maximize your kitchen space.
Pros
Can be adjusted easily to suit the kitchen drawers in your RV, so that you can keep track of many utensils in one space.
Multiple sturdy compartments make it easy to keep everything organized.
The bamboo finish gives this product a beautiful appearance.
Cons
Will not fit all drawers, and you must measure your own drawers before purchasing, to ensure compatibility!
The adjustable parts along the side of the product cannot be locked into place, so they may slide about slightly in motion.
Be ready for any messes or accidental spills with this paper towel holder from Srinea. You don't need to be an expert to install this paper towel holder. All you need is a few screws and a screwdriver. Simply place it under the bottom side of an overhead cabinet, and then screw it firmly into place. 
With an impressive 13 inches of length, this paper towel holder can hold all of your favorite paper towel brands, so that you're always ready to wipe up spillages in an instant. Just make sure that the width of any paper towel roll you use does not exceed 3 ¾ inches, as that is the maximum distance between the bar and the bottom of your cabinet. 
Regardless, there is so much room on this towel holder to allow you to be constantly stocked up. The bar itself is made from waterproof stainless steel, so you can rest assured that it will be lasting you for many years and helping you to keep your kitchen tidy and clean every single day. 
There isn't much more we can say about this product without completely gushing about it. It does its job so perfectly, and helps you to save so much counter space that we simply have no choice but to recommend it to you enthusiastically! 
Pros
Can easily be installed with adhesives, or with a few screws. 
Can hold paper towels of up to 13 inches in length, and rolls of up to 3 ¾ inches in width.
Made from durable and waterproof stainless steel, in order to last you many years. 
Cons
The adhesive sealant option is less secure than screwing the product directly into the bottom of a cabinet
In motion, your paper towels may unfurl slightly, as there is no extra piece holding the roll in place
Ever looked at the shelves in your RV kitchen and wished you could add some extra layers? We've all been there. So many times we've had one too many items to put up on our kitchen shelves, only to find we could have really benefited from an extra layer.
And adding new shelves to an existing cabinet or set of shelves can be incredibly difficult and time-consuming, and could even lead to outright damage to existing shelves and cabinets. Luckily, this product from WhiteSpace requires no confusing installation process or potentially damaging sealants to install.
These shelf extenders work through the simple laws of tension! Strong and durable tension rods across the entire length of each shelf extender push out from one another with extreme force. 
The force of the heavy-duty rods extending out means that they can hold themselves aloft between two separate parallel walls. Simply place a shelf extender where you want it, and then let the tension rods on the left and right sides push outward. If done just right, your new shelves will stay firmly in place in their new position without any need for screws, sealants, or adhesives to damage your cabinets or walls. 
These shelf extenders feature a very pleasant and basic look white a clean white color scheme so that they can naturally blend with the rest of your kitchen decor. You can place countless items atop them, such as food cans, bowls, plates, or even glasses, and they will stay firmly in place. 
However, we must mention that you should not attempt to overload these shelf extenders, as they may begin to buckle when placed under too much immense weight. They can take a lot of strain, but just make sure to exercise some caution.
Pros
Can be installed without any need for adhesives or screws.
Can support a large amount of weight.
Have a simple and appealing look, thanks to the white color.
Cons
If overloaded the shelf may fall, which could cause accidental damage.
Have a maximum length of cabinet that they can be used safely in
Mixing bowls, colanders, and sifters are examples of other kitchen products that can take up a lot of space within even an average suburban kitchen, let alone a comparatively small RV kitchen! 
BOSONYK's perfectly designed set of nesting bowls is the perfect solution to this ailment. With a range of bowls, measuring cups, and other similar products all stacked together in size order, 8 unique pieces can all fit within just one! The largest bowl, a white mixing bowl is perfect for creating baked goods or other large foods, while the smallest product, one of many measuring cups, is perfect for measuring out ingredients. 
Each element of this set clips into place inside of one another, until the stack of 8 items is condensed down to take up only the space of one! This makes it a perfect organizational tool for an RV kitchen, as it can save you masses of space that might otherwise be taken up! 
Each element is made up of food-grade material, which means that there are no toxic elements in the plastics that might prove unsafe. To make the deal even better, the plastic in every product is non-stick and stainless, so that you can easily clean them each between every use!
Pros
Easily stackable, to have the incredible range of 8 pieces fit within the largest bowl, to save so much space.
Made from safe and non-toxic plastics that are also non-stick making them safe to use, and easy to clean.
Comes packaged with a range of bowls, sifters, and colanders, to create an all-in-one kitchen product. 
Cons
The extra spatula and spreading spatula cannot be stacked within the other bowls, meaning you will have to find additional storage space for them
What Are You Purchasing?
We hope that this list of some of the best RV kitchen organization products has been enough to set your imagination alight and to get you ready to get your kitchen in order. 
Each product is perfect for specific functions, but all of them help to allow you to maximize your small RV kitchen space so that you can cook and travel in peace. From stackable bowls to drawer organizers, to convertible pots and pans, there are so many cool kitchen products that you can bring with you on the road to save space without having to sacrifice your beloved kitchen goods! 
Frequently Asked Questions
How Do I Organize My Kitchen In A Travel Trailer?
Make sure to place all of your kitchen elements securely into cabinets or drawers, so that they do not shift around too much, or risk becoming damaged. Stack things such as plates vertically, to keep them from moving about and shattering.
You might also want to install tension rods or similar products into your trailer, to hold elements in place even while on the move.
How Do You Store Coffee Mugs In A Camper?
If you want to bring coffee mugs along with you in a trailer or a camper, you should aim to hang them from hooks. You can purchase simple hooks that are made to hang from the cabinet doors that you can use to hang mugs.
This keeps mugs from shifting during motion so that they don't risk smashing.
How Do I Organize My RV Glasses? 
There are a few products available that can help with this. They often come in the form of baskets with foam-padded compartments to keep each glass separate and held firmly in place when your RV is in motion. This helps to keep them from hitting against hard surfaces, or each other and then smashing.