Hey! This site is reader-supported and we earn commissions if you purchase products from retailers after clicking on a link from our site.
Electric heaters are an excellent source of heat in a variety of scenarios. Once temperatures have dropped, they keep the colder parts of our house extra cozy. When away camping in an RV they offer a quick and energy-efficient source of heat.
Some of us even choose to heat our tiny homes with these energy-saving heaters instead of installing or running a central heating system. 
Whatever we choose to use an electric heater for, one thing is guaranteed, warmth. However, if an electric heater isn't up to standard our joy of feeling extra cozy on a cold night can quickly turn cold.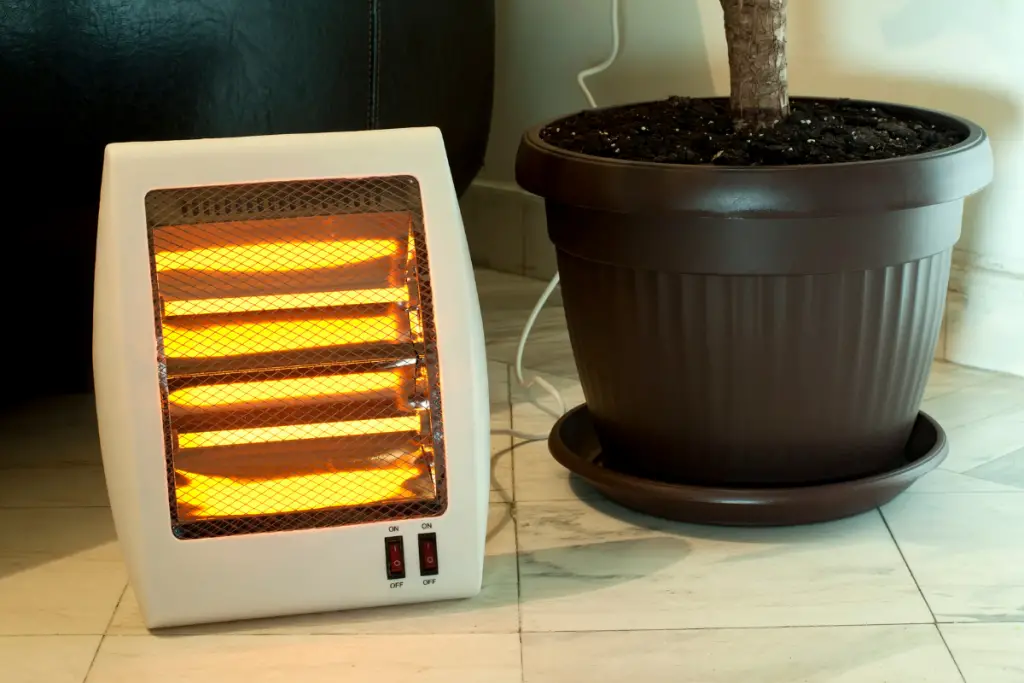 Not all electric heaters are cheap to operate and quite unbelievably not all of them come with effective safety features.
These two issues could result in higher energy costs and some nasty burns so it's important you buy only the very best electric heater.
Luckily for you, we are here to help you out. There are plenty of high-quality electric heaters on the market so we have done the research for you and produced a list of the very best electric heaters.
Whether you want to heat a cold point in your home or keep warm during an RV trip, we have something for you. 
The first electric heater on our list is a solid, stylish, and more importantly, affordable choice that heats the room you're in, not your entire house, saving you money on energy bills.
Designed with a convection heater, this product gives you personalized comfort settings so you can adjust the heat to suit your needs. 
Built into a lightweight, compact unit the beauty of this heater is its portability. Weighing just 3lbs you can easily move the heater around your house. You could even take it on your RV trip with you to keep you warm at night. 
Our favorite aspect of this heater is its safety features. The De'Longhi has a thermal shut-off feature that ensures the heater switches off before overheating occurs.
Incredibly it also has an internal tip-over switch that will turn the heater off if it falls over, again preventing overheating and any potential fires. 
In terms of design, this heater is great. Everything we need from a heater is fitted into a small sleek, stylish product that will look great around the house or in your van. 
Pros
Portable – The heater can be moved around your house or taken on holiday.
Excellent safety features – Thermal shut-off and a tip-over switch ensures your safety even when the heater is left on its own.
Variety of settings – The De'longhi electric heater has a range of temperature settings so you can find the temperature you need.
Cons
Quite loud – Some users have reported that this heater is louder than other electric heaters.
Also available at:
Equipped with a modern PTC ceramic heating element the Anna Heater raises the temperature quickly. With two different heating levels and an adjustable thermostat, you can easily heat a room to your desired temperature in no time at all. 
The compact and clever heater also features brilliant safety features similar to that of the De'Longhi. Like the De'Longhi, this heater features an automatic switch off in the event of potential overheating or the machine falling over.
Slightly bigger than the De'Longhi heater, weighing 5lbs, you can expect this heater to make a room up to 25m² in size lovely and warm. This makes it suitable for most homes and also camping trips and RVs.
When looking at the design of this portable electric fan heater you will be pleased to hear it looks fantastic, performing well both functionally and visually.
Stadler Form has designed the Anna Heater to fit in nicely in any home, not standing out but instead blending into its surroundings. 
Available in black and white, the heater is very compact, sitting solidly on a smooth metal stand. To change the settings all you need to do is move the analog wheel. 
Pros
Lightweight – Weighing only 5lbs you can easily move this heater around.
Great design – The Anna Heater won't look out of place in your home.
Powerful – This heater will warm your room up quickly.
Cons
Can get too hot – The front of the heater can get very hot so you might need to be careful when turning it off. 
Also available at:
The next electric heater on our list is slightly different, suiting those that want a more permanent heater. This may suit those that are looking to heat their tiny home or small apartment.
The EconoHome wall heater is a convective panel heater that circulates hot air around the room, saving you 50% on your energy bills.
The 400W model is one of the latest EconoHome offers, incorporating improvements that allow the heater to heat the room quicker and safer while staying out of the way. One new feature is the separate heat barrier that sits behind the heater to reduce heat loss through the wall.
When we took a look at this heater we were impressed by the paintability of this sleek, clean design. The unassuming product can be painted to fit any room's decor, giving you the opportunity to let it blend in with your house.
In regards to safety, the EconoHome heater has triple insulation for electrical safety and is perfectly safe for children and pets to be around. This is thanks to the ceramic surface that keeps the exterior of the heater cool.
Pros
Takes up little space – As it is on the wall, this heater doesn't take up any floor space.
Paintable – This gives you the chance to make the heater blend into your home.
Good heating ability – This electric heater easily heats up your room.
Cons
Not portable – You mount this heater to the wall, therefore, it isn't portable.
Also available at:
If you're after a simple, reliable heater that will take the chill out of the room you're in, the Amazon Basics heater might be a good option.
Available in black and silver, this compact ceramic heater has an adjustable thermostat so you can find the temperature that suits you.
Despite being part of the Amazon Basics range, this heater still gives you some great features. To give you further heat control, this heater has 3 output options. These are low, high, and fan only.
Perfect for keeping in the bedroom or taking on a camping trip, the Amazon Basics electric heater is designed with portability in mind. Taking up little space, the round-shaped heater only weighs 3lbs.
This makes it easy for you to move it around or pack it in your car. It also features a neat carrying handle to make transporting the heater even easier.
When it comes to safety, this heater has everything you would expect. It is TUV certified and has a tip-over switch and auto shut-off feature.
It is important to note that you can't use the Amazon Basics heater in the bathroom, laundry areas, or in any room where the humidity is high.
Pros
Super affordable – This is by far the cheapest heater on our list.
Compact and lightweight – Everything you need is built into a small product.
Solid safety features – You can confidently leave the Amazon Basics heater in a room on its own.
Cons
Not as powerful as other heaters – This heater isn't as high in quality as others on our list.
The final electric heater on our list is a great portable opinion, useful around the house and when camping. Designed with 3 heat settings and an adjustable 90° head, with this heat you have good control over how hot the room gets and where the heat is being directed. 
Though this heater may not look as easy on the eyes, it more than makes up for things with its performance. Using the easy-to-use switches on top of the heater you can easily pick what sort of heat you want.
Your options include high heat, natural wind, and low heat. Another great aspect of this heater is its amazing portability.
AEscod conveniently included a carry handle in the design of their product. This allows us to easily transport the heater whenever we need to.
Not that we need any help as the product only weighs 4lbs. In regards to safety considerations, AEscod has also done pretty well.
The ceramic heater has a high-temperature protection feature built-in. If the temperature of the heater gets too hot it will automatically turn itself off to prevent overheating.
The one downside to this heater is its unattractive appearance, but if you want a no-nonsense electric heater, look no further.
Pros
Adjustable head – Unlike other models, you have more control over the direction of the heat.
Rapid heating – The high-speed fan and PTC ceramic heating technology heat the room quickly and efficiently. 
Variety of modes – You have 3 different mode settings to choose from.
Cons
Unattractive design – This heater looks bulky and unappealing.
Also available at:
Final Thoughts
Electric heaters are a great way to heat your home but that's not all they are used for. Aside from being used to save money on energy bills or to make a room cozier, portable heaters can also be used to heat your RV when away camping.
Though electric heaters tend to differ in size and shape, almost all of them are portable. 
This makes it a lot easier to move them around your home or tuck them away in your vehicle ahead of long journeys. Whilst most heaters sit on the floor, other models are now being designed to hang on the wall.
These models are good for those who seek a more efficient energy source that takes up less space.
Whether you're looking for a basic heater that will take the chill from the room or a more permanent source of heat for your tiny home, there is something for you on this list.
Now you have this list at your fingertips, it's time to start thinking about which electric heater suits you best.
Buyers Guide
If you are still struggling to find the right heater for you, take a look at this buyer's guide. It contains information regarding things you should consider before making a purchase.
Power
You need to think about how much power you need a heater to output before buying one. An electric heater's output is measured in watts (W) or kilowatts (kW). Generally, in terms of heat, you get as much heat output as the amount of energy put into the heater.
If you only require an electric heater to warm the room a little you will likely be more than happy with a 600W heater. Larger rooms will require a heater with more output. Larger and colder rooms will need a heater with an output of at least 1.2kW.
Budget
Electric heaters vary massively in cost. You could spend $30 or $300 easily so it is important you think about how much you are willing to spend before you start looking.
You'll pay more for heaters that have a more stylish design or the latest technology. Some even have smart features so you would expect to pay even more.
However, if you simply want to buy a heater that does a no-nonsense job you can buy a cheaper model with fewer settings and a maybe not so nice design. 
Type of Heater
There are four main types of electric heater on the market. To make your final decision you need to know what to expect from each type of heater. Below you will find information about each one.
Convection Heaters
This type of heater channels air currents through the main body of the heater and into the room. They usually take longer to heat the space up, but they are a lot quieter and provide a more even spread of heat around the room.
Radiators
Electric radiators have electric elements that heat up oil inside the heater. They have fairly similar pros and cons to the convection heater but do tend to hold heat for longer, providing a more constant warmth.
Fan Heaters
These types of heaters blow air across a hot element, filling up a room with heat quickly and effectively. However, the downside to these heaters is that they are usually noisier than other heaters. They also don't typically keep the temperature in the room for long periods of time. 
Halogen Heaters
Halogen heaters are descendants of the old two-bar electrics. They radiate heat straight onto objects in front of the glowing element. These heaters are good for warming a smaller room.
They are not suitable if you want to heat a whole room with heat that is evenly distributed. You might also find the light given off by this heater rather annoying.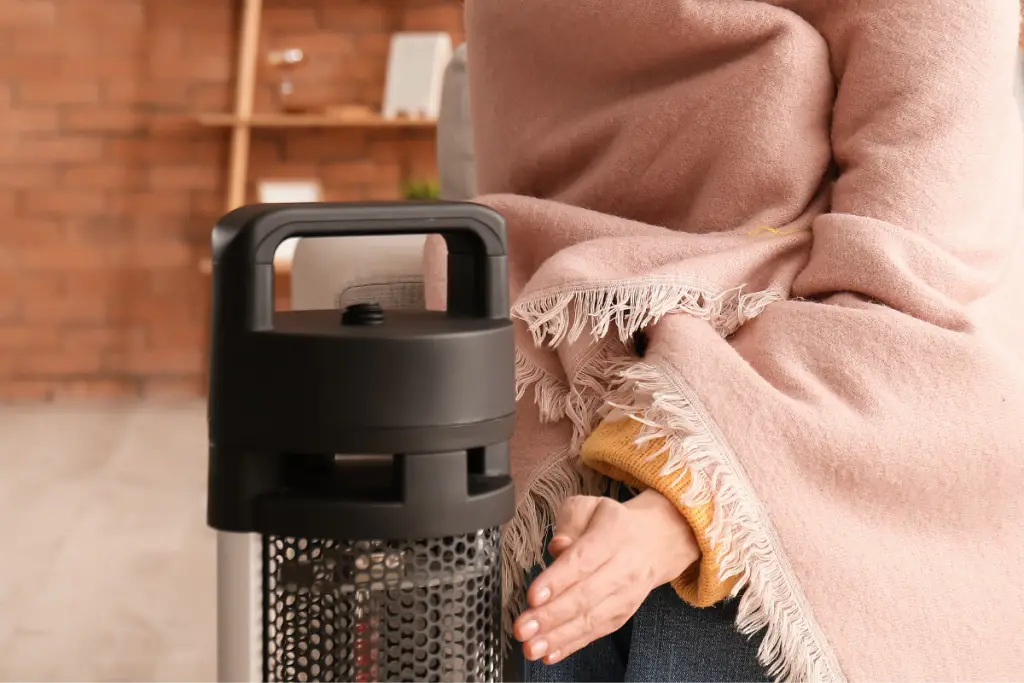 Weight
You will find that different types of electric heaters weigh more or less than others.
When buying an electric heater you need to think about this carefully because you will need to move the heater around your home or even take it away with you. If you do plan on moving the heater around, ensure you buy one that doesn't weigh too much.
If it does weigh quite a lot make sure it at least has a handle so that you can still carry it relatively easily. Luckily most electric heaters only weigh a couple of pounds, so you should be fine.
Size
The same considerations need to be made when looking at the size of an electric heater. If you choose a heater that is too big for the space you want to put it in, clearly you will encounter lots of problems.
To ensure you buy a heater that suits your needs and requirements while still fitting in your home or RV take a good look at the product dimensions.
Once you know the heater's dimensions there's no reason you can't work out how much space it will take up in your property.
Frequently Asked Questions
Which Type Of Electric Heater Is The Most Efficient?
The most efficient type of heater that won't use too much power and will cut down your energy bill costs is the halogen heater or convection heater. If they have thermostat controls then even better.
If you can also find a heater that maintains a constant temperature without running at full throttle all the time, you're in even more luck. Other heaters like the fan heater are a lot more expensive to run despite heating the room up quicker.
How Much Does It Cost To Run An Electric Heater?
How much it will cost you to run your electric heater will depend on the type of heater you own. Having said that, a general cost can be worked out.
Usually the higher the electric wattage of the heater, the more it will cost to run. The average cost to run a 1,500W heater is $0.20 per hour and $4.80 per 24 hours. On the other hand, a 750W heater costs approximately $0.10 to run per hour and $2.40 per 24 hours.
Can Electric Heaters Be Left On All The Time?
In theory, there is nothing at all stopping you from having your electric heater on all the time. However, that doesn't mean the heater itself won't cut out if left on for too long.
When an electric heater is left on for extremely long periods of time there is an increased chance of it overheating.
If this does start to happen the heater will automatically cut out. If you are going to leave a heater on all the time, we recommend you buy a wall heater so that it is out of the way and has no obstructions.
When used correctly electric heaters are perfectly safe so ensure you follow the correct procedures at all times.