Hey! This site is reader-supported and we earn commissions if you purchase products from retailers after clicking on a link from our site.
RVs are a great way to travel and live on the road while bringing all the comforts of home with you.
They include a whole range of amenities from bathrooms to bedrooms and can be customized in several different ways. However, even the most luxurious vehicle will need regular maintenance to keep it running.
A flat tire can be a pretty big problem at the best of times, but for any vehicle as large as an RV, it is an unmitigated disaster.
Many caravans and recreational vehicles will have extra large tires that are designed to withstand a fair bit of punishment. However, even these heavy-duty tires can be punctured, and when they do, it could take hours or days before you find somewhere to repair them.
This is why it is always a good idea to pack a suitably powerful air compressor in your RV, so you can re-inflate the tires whenever you need to without having to call someone out. Air compressors are very important tools in every household. They are used for a variety of purposes such as blowing up rubber balls, inflating car tires, and filling gas tanks.
There are many types of air compressors available in the market today, and naturally, for maintaining the pressure in RV tires, you will need a heavy-duty model that is up to the job. If you are looking for the best air compressor for RV tires, then you have come to the right place. In this article, we will share some useful information regarding the best air compressor for keeping your RV on the road.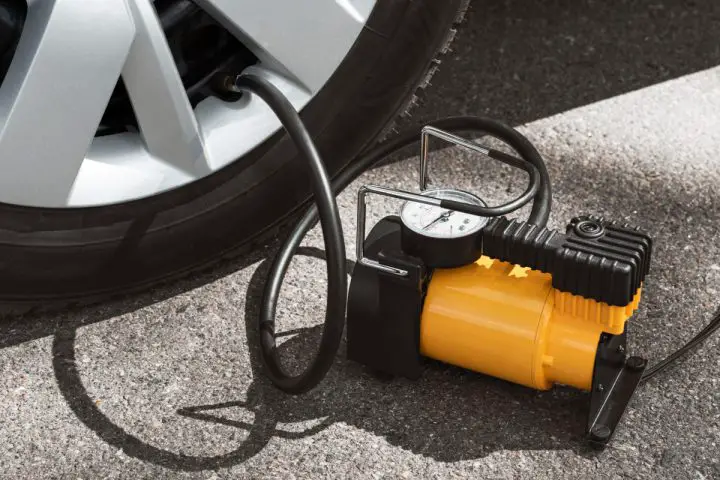 Table of Contents
The Porter Cable-CMB15 Air Compressor Kit is one of the best RV air compressors because of its quick recovery time, which allows you to inflate your tires quickly and easily. 
This kit includes a compressor, a 25ft hose, as well as valves for connecting the hose to your tires. With a 1-year warranty, you will find this compressor a safe and worthwhile investment.
It is built with a durable plastic frame around the tank to help cut back on weight. At 20lbs, this is a practical compressor for RV owners, since it won't add too much carry weight to your vehicle. 
The tank is capable of providing 2.0 cubic feet per minute (CFM) of air, at a pressure of 90 PSI. However, the max working pressure of the tank is as high as 150 PSI, which makes it a very handy tool to have in an emergency.  
It is equipped with a powerful motor that runs off 120V AC power, which means it should work fine when connected to your RV's power inverter. Since it is completely oil-free, it requires practically no regular maintenance and will work reliably in almost any condition. 
The only downside to this compressor is that it's very noisy, but this is to be expected of most machines that are powerful enough to inflate the tires on an RV. 
Pros
Comes with a 25ft hose.
Oil-free.
Fast recovery time. 
Cons
Also Available at
If you're looking for something easy to use, then the Viair 400P-RV Automatic Compressor Kit is just what you need. It has been specifically designed for RV owners who want to make sure their tires stay inflated no matter where they are. 
The kit comes with two 30ft hoses that can be connected for reaching all the tires on your vehicle without dragging the compressor behind you. As well as the hoses, there are also special connectors for attaching to RV tires.
With a maximum output of 2.3 CFM and a tank with a 150 PSI rating, this compressor can inflate 35in tires to 31PSI in under five minutes. However, it can only handle this maximum output for about 20 minutes before requiring a break to restore the pressure in the tank. 
The best thing about this compressor is that it can run off the 12V battery in your RV, although it requires quite a high amperage, so make sure you can recharge your battery afterward. 
In total, the whole kit weighs about 10 lbs, which makes it very easy to carry and transport around, especially with the heavy-duty bag that comes with it. 
The 12V air compressor comes with a tire inflation gun that has a helpful dial for keeping track of how much air is in your tires. To make this unit even better for RV owners, there is an automatic shut-off feature to stop air from leaking out while you are switching between tires. 
Pros
Compact design.
Comes with specific connectors for 35in tires. 
High PSI output. 
It will automatically shut off when switching between tires. 
Cons
Expensive. 
Requires high amperage to run.
Also Available at
The TIREWELL 12V tire inflator is one of the best options on this list if you want a reliable tire inflator that doesn't cost a fortune. 
This product has an output of 2.12CFM and a max working pressure of 150 PSI allowing it to fully inflate a normal-sized tire in just over 2 minutes. There is no need to worry about batteries or finding a power source since this device comes with an adapter for connecting it to the 12V battery in your RV. 
If you don't have a convenient cigarette lighter in your vehicle for powering this compressor, then don't worry. It also comes with a special set of clamps that can be attached to the power cable for connecting this device straight to your car, or RV's battery. While the 16.5ft hose isn't the longest, the power cable is long enough that this won't present too much of an issue. 
This inflator is lightweight, compact, and comes with a helpful bag, all of which make it perfect for traveling. Furthermore, it is easy to operate and won't take up much space in one of the storage compartments in your RV. All you need to do is plug it in, flick the 'On' switch, and watch your tires inflate before your eyes.  
Pros
Lightweight and compact. 
Easy to use.
Connects straight to your RV's battery. 
Cons
The hose isn't very long.
Also Available at
This portable compressor has a maximum output of 2.6 CFM and a tank capable of providing 150 PSI. It is slightly larger than some other units on this list, but you should still be able to find storage space for it in one of the compartments in your RV. 
Since it is built for use with tools such as nail guns, it has a quick recovery time, meaning you won't have to wait long for the tank to refill between uses. The Bostitch has a built-in high-flow regulator that prevents any air from leaking out while you are inflating your tires. 
It is also oil-free, which means you won't need to perform regular maintenance to keep this compressor in working order.  With a high-efficiency motor, this unit will start up the moment you flick the power switch, even in very cold weather. 
There are two universal couplers on the top of this compressor, which means that two people can use it at the same time should the need arise. 
The only downside to this unit is that it does not come with an air gun or hose. As such, if you are interested in this product you will need to be prepared to buy your hose and adapters for connecting it to your RV's tires. 
Pros
Built-in high-flow regulator keeps air from escaping.
Two people can use this compressor at the same time. 
High-efficiency motor for easy start-up in cold weather. 
Cons
Doesn't come with a hose or air gun.
Also Available at
This inflator is designed specifically for use with car tires and comes with several different adapters for connecting to different tire sizes. The adapter can be plugged into the cigarette lighter in your car, or you can use the special connector to clamp it straight to your RV's battery. 
Thanks to its compact size, and helpful carrying bag, this portable air compressor kit will fit into almost any compartment in your RV. As such, if you have limited storage space, then this may be the right option for you. 
Just like the Tirewell compressor we looked at earlier, this is a double cylinder pump, which means it offers better efficiency while making less noise. 
The GSPSCN Silver Tire Inflation System also comes with a pressure dial on the top, which makes it easier to prevent over-inflation and underinflation. With a max output of 2.5 CFM at 150 PSI, the tank on this model can fully inflate regular car tires in only 1.5 minutes. 
The rubber feet on the bottom of this compressor help to further reduce noise by preventing the machine from vibrating while the motor is running. 
The 11.5ft hose should be enough for reaching all the tires on your vehicle, especially when combined with the long power cable. It is not recommended to run this inflator for longer than 20 minutes at a time, as otherwise, it may overheat. 
Pros
Low noise level.
A pressure dial is more accurate than a digital display. 
Compact and portable. 
Cons
Needs to cool down after roughly 20 minutes of use. 
Our final compressor has a digital display, which is much easier to read than the pressure dials on other units, albeit slightly less accurate. 
It is a popular choice for those who own mid-sized RVs and has a 1.06CFM flow rate, which should be enough for filling most tires reasonably quickly. While it may not be suitable for tires on an exceptionally large RV, this compact and portable air compressor kit is a great choice for anyone working on a budget. 
The EPAuto Pump is equipped with a safety shut-off valve, which prevents accidental damage to the compressor. It has an adapter that can be plugged into a cigarette lighter port to run off the 12V battery in your car, which means it should work no matter where you are. 
Thanks to the light-up display, you can even check and inflate your tires at night without needing a torch. 
This compressor comes with no air-gun attachment and a very short hose, so you may want to buy a larger one for use with your RV. With three different adapters included in the box, you won't have to worry about finding the correct plug for your tire size. It also comes with a bag for easy transport, and compact storage when you aren't using it. 
Pros
Easy to carry and store.
Included plugs and adapters.
Automatic safety shut-off valve.
Light up digital display. 
Cons
Short hose.
Not suitable for larger RVs.
Buyers Guide
Air compressors come in many shapes and sizes, but they all do the same thing – Which is, take air (usually compressed) and release it into another container.
When choosing between these various types of machines, several factors need to be considered. 
In this section, we will take you through the essentials that any good air compressor needs. 
Power Supply
Air pumps require electricity to operate, either via batteries or a mains connection. 
If you require a compressor for inflating the tires on your RV, then it would be wise to invest in either a battery-powered model or one that can be hooked up to the 12V battery in your vehicle. 
These are typically cheaper than their mains-powered counterparts, but generally can't hold as much air, or run continuously for the same amount of time.  
However, since you are only going to be using it for checking and inflating your tires, then neither of these issues will justify the extra cost of a mains-powered compressor. 
Flow Rate and Compression Ratio
Flow rate determines how fast the air in your compressor gets pumped out. 
This is measured in cubic feet per minute (CFM). A higher CFM number indicates that the pump produces more volume of air per second, which will allow it to fill tires faster. 
However, a lower CFM number isn't necessarily bad; and may be more reliable since the components will have to withstand less pressure with every use. 
The best way to find out how fast your compressor works is by looking at its CFM rating. 
The compression ratio refers to how much the compressor is capable of pressurizing the air in its tank. 
This is measured in psi (pounds per square inch), and again, a higher compression ratio will result in a harder blowout. 
Some people may prefer a softer blowout, while others will want a stronger one, especially if they have a larger RV with very big tires. 
Weight
A heavy compressor is going to be a nuisance to transport and carry, as well as being less stable on rough ground, which may cause problems during operation.
 If you are traveling in an RV, you won't want a very heavy device that is going to unnecessarily weigh your vehicle down. 
So, when you're buying an air compressor, keep the weight in mind, and try to find something you can comfortably carry around your vehicle to check tire pressures. 
Storage Space
If you're planning on using your air compressor while out on the road, then you'll need somewhere to store it when it's not in use. 
Most models can fit inside small compartments or the pass-through storage on your RV, but others can be quite large, requiring a bigger storage area. Always think about where you plan on storing your compressor, and buy one that will fit in the space you have planned for it. 
Safety Features
Some air compressors include automatic shutoff valves, which automatically turn the machine off once the pressure reaches a certain level. 
Others have manual shutoff switches, which allow you to manually stop the flow of air. Either way, safety should always be a priority. 
Always make sure your compressor has an automatic or easily accessible manual switch for quickly cutting off the flow of air to prevent damage to yourself or the compressor.
Frequently Asked Questions
What Size Of Air Compressor Do I Need For My RV?
Your RV tires require the most PSI to inflate, but you may require your compressor for other uses as well. For instance, if your RV is a toy hauler, then you will also need to be able to maintain the tire pressure of your mechanical toys like dirt bikes and ATVs.
Most of the time, you'll likely want an air compressor that can supply slightly more PSI than your biggest inflatable item needs.
How Do I Keep My Compressor Safe?
Moisture is bad for compressors, and you should always try to avoid using them in high humidity or heavy rain. 
Air compressors often have rotating screws in their motors that suck in air. If the air is saturated with moisture, then it may cause these screws to rust which will spell the end of your compressor. 
Make sure to store your compressor in a safe, dry area. Some units will even come with bags for keeping them in, but it isn't safe to rely on these as not all of them are completely waterproof.