Hey! This site is reader-supported and we earn commissions if you purchase products from retailers after clicking on a link from our site.
Flawless white sands, breathtaking sunsets, and blissfully warm emerald waters. Doesn't that sound like the very definition of paradise? There's no denying that Destin, FL has some incredible beaches, and you could spend your whole time here lounging by the waves. Yet, if you want to get the most out of your vacation, you need to know about all the things to do in Destin, FL.
Luckily, you will find no shortage of activities for any age group in Destin. Check out all the Destin, FL attractions we have listed below to inspire your trip itinerary.
About Destin, Florida
Destin, FL has an interesting start. Before the area became a vacationing hotspot, it was a humble little fishing village. In 1845, Leonard Destin and other fishermen built a small town where they could live while working. Over time, Destin became known as the "World's Luckiest Fishing Village," and has become one of the most visited destinations along the Gulf Coast.
Each year, the Emerald Coast of Florida, including Destin, see about 4.5 million visitors from both near and far.
Where is Destin, Florida?
Wondering where Destin is on the map? Destin, FL is located in Okaloosa County and is part of the Fort Walton Beach-Crestview-Destin metropolitan area. Destin, FL is also part of Florida's Emerald Coast, an expanse of barrier islands and mainland that is characterized by white sand beaches and emerald-colored waters.
The Best Time to Visit Destin, Florida
Amazing things happen in Destin, FL throughout the year. Although Destin is on the Gulf Coast, the city does experience distinct seasons:
Spring – February to May
Summer – May to Mid-August
Fall – Mid-August to Mid-November
Winter – November to middle of February
For those who are looking to maximize their time near the beaches, summer is the best time to go. The weather is hot and there are hundreds of family-friendly attractions open for families to enjoy. The downside of summer? Because it is peak season, you can expect the highest prices and overwhelming crowds.
Fall is a great time if you still want warm weather but less crowds. Prices also start to drop.
Winter is cool but not frigid. Christmas and New Years bring moderate crowds and higher prices, but that is also because there are holiday-themed events around that time. Destin is a popular destination for Thanksgiving, too. Many restaurants have exclusive Thanksgiving options on their menus during that week.
Spring sees fair temperatures, beautiful sunrises and sunsets, and chilly water. Crowds are usually low, except for the week of Spring Break.
The Best Things to do in Destin, Florida
Destin, FL is so much more than a fishing town. There are so many things to see and do in Destin, FL for visitors both young and old. You can enjoy fresh seafood at the numerous restaurants, enjoy outdoor activities, excursions, or simply relax at one of the many high-end hotels and resorts in the area. You can go shopping at designer outlets, swim in emerald green water, and visit the famous white sand beaches.
In short, there really is no limit to what you can do in Destin, Florida; but if you want to get the most out of your vacation, you're going to want to know what's best. Here is a list of 30 things to do in Destin, Florida for everyone in your group:
1. Visit the Gulf Breeze Zoo
Sitting on a 50-acre patch of land, the Gulf Breeze Zoo is a magical place to visit. You can stroll through the park via a winding boardwalk, or you can hop aboard the safari line train. There are many unique experiences you can have either way. From feeding animals out of the palm of your hands to entering an aviary teeming with budgies (parakeets), the Gulf Breeze Zoo is a fun way to spend a few hours.
Children and adults alike will love the encounters you can have here. Purchase a snack for the animals at the gift shop then spend time feeding the budgies, alligators, cows, camels, giraffes, and other animals. Be sure to bring a camera to capture these rare moments.
The train ride takes about 30 minutes. Along the way, the tour guide introduces you to hippos, deer, and other animals on the preserve. If you're short on time or want to beat the heat, this is a great way to see most of the zoo. There is also a small cafe at the Gulf Breeze Zoo that sells a selection of family-friendly lunches, as well as fountain drinks and ice cream.
2. Learn About the Ocean at Gulfarium Marine Adventure Park
The Gulfarium Marine Adventure Park has been one of the must see attractions in Destin, FL since 1955. If you love sea life or have curious children in tow, then the Gulfarium should definitely be an activity on your to-do list. Aside from enthralling dolphin shows that happen throughout the day, you can interact and observe all kinds of marine life.
One of the reasons people love visiting Gulfarium Marine Adventure Park would be the encounters. You can reach out and touch starfish and hermit crabs. Sign up to swim with the dolphins or the stingrays. Other animals are also available for holding. Throughout the park, you also get a chance to see sea lions, sharks, alligators, tortoises, and more.
Children can release some of their pent up energy in the obstacle course and sandbox area. If you start feeling peckish, stop by the snack stand for some sodas and popcorn.
Since the park is located along the beach, you can walk around while looking at the ocean. After you're done at Gulfarium, spend some time at the nearby Fort Walton Beach area.
3. Rent a Pontoon Boat
When in Florida, do as the Floridians do. Rent a pontoon boat and spend the day floating on the ocean. Renting a pontoon boat is one of the top things to do in Destin, Florida. You can spend a few hours fishing from the sides of the boat, driving around the area and taking in the sights, or seeking out other pontoon boats around Crab Island (which we'll talk about soon).
Renting a pontoon boat gives you the flexibility to spend the day on the ocean exactly how you want. So if you plan on finding Crab Island and launching a paddle board or snorkeling for most of the day, you can take it nice and slow.
A boat costs upwards of $200, so make some room in your budget for this expense. This is ideal if there are multiple adults in the group who can split the cost.
4. Take a Dip With Flipper's Adventures
Looking for an excellent group experience for adults and children alike? Check out Flipper's Adventures. The boat trips are designed to ensure that you get a full day of fun. Flipper's Adventures uses boats that are 100% safe, for they were approved by the US Coast Guard.
The excursions can encompass a number of things, including parasailing from the back of the boats, snorkeling in the ocean, and finding groups of dolphins around sunset. The snorkeling adventure is one of the best you can do during the day, because the boat captains know exactly where to go for the best sights.
Depending on when you go, the tour is either 1.5-2.5 hours long. Whether you are going as a couple or as a larger group, Flipper's Adventures will accommodate your needs. Make sure to book in advance!
5. Enjoy Nature at Henderson Beach State Park
One of the reasons people love visiting Henderson Beach State Park is the picturesque white sand beaches of Appalachian quartz. Not only does the sand look amazing in photographs, but it also stays cooler in the summer sun. This means you can walk across the sand without having to do a crazy dance and yowling the whole time. Besides, what is a prettier image than those greenish-blue waves lapping at a pure white beach?
But there is more to Henderson Beach State Park than enjoying the beaches and water. Removed from the crowded attractions of the city, the park offers a quiet and relaxing atmosphere that will leave you feeling refreshed. There are plenty of trails for hiking, picnic and grilling spots, and also campsites for overnight stays. Whenever you go on a walk here, there is also a chance of glimpsing some of the Florida wildlife that thrives along the coastline.
Henderson Beach State Park is also a prime spot to see the sunset at the end of the day. If you happen to love this location, it's recommended that you stay at the Henderson Beach Resort. You'll be close enough to the park to visit every single day, if you wanted.
The park is open from 8AM to sunset every day of the week. It costs $4 for a single occupancy vehicle or $6 for a vehicle with 2-8 people.
6. Do Some Golfing at Golf Garden
The Sunshine state is well known for its golf courses, and Destin is no different. If you love golfing, you are definitely going to want to take a few swings during your trip here. One of the best experiences is at Golf Garden, a 9-hole executive course. While it might not be as sprawling as some other golf courses, a trip here is always rewarding.
Golfers of all levels will enjoy the regular golf course. Optionally, children can visit the 18-hole putt-putt course. Meanwhile, you can practice your swing at the driving range.
It costs about $27 per ticket, and you can schedule your visit online. Don't have any clubs with you? Rentals are available on site.
Another option is the Kelly Plantation Golf Club, located along Choctawhatchee Bay. The golf course has 18 holes and is regularly frequented by PGA pros. The visuals from the golf course are amazing, including views of the ocean and bayous. Once you're done on the course, head to the Clubhouse, where the snack foods are complimentary. The full service bar also sells entrees that come with a free cookie.
7. Ride Go-Karts at The Track
Do you have a need for thrills and adrenaline? What about speed? If you're getting tired of all the salt air and sand between your toes, it's time to check out one of the best things to do in Destin, Florida that doesn't involve the beach. That would be The Track.
The Track is open all year long and has been a popular attraction since 1989. Kids and adults have a blast here. There are dozens of thrilling options, including bumper cars and boats, mini golf, and go-karting. The signature track is the 3-level Wild Woody track, a go-kart course that requires some skill to tackle.
If you don't want to hop on the go-karts, no worries. Take a walk over the Thrill Zone, where amusement park rides like the Skyflyer, Skycoaster, and Hurricane 360 can be found. Smaller children can head to Kinds Country, where gentler rides like a carousel and spinning tops can be found.

Overall, the Track is an excellent and budget-friendly way to spend time with your family and friends. Whether you're looking for a rush of adrenaline or something more laidback, this park has a little bit of everything.
8. See the Destin Harbor Boardwalk
Boardwalks are always the sites of something fun and amazing. If you're looking for a fun way to spend an evening that doesn't cost a whole lot, then the Destin Harbor Boardwalk is for you. The boardwalk is a newer addition to the city, as it opened in 2012. Usually, the Destin Harbor Boardwalk is at the top of the list for free things to do, since you don't have to spend a dime to get something out of it.
Aside from a lengthy walk in a festive area, there are gorgeous views, food shops, clothing stores, and carnival games. Plus, the Harbor Boardwalk hosts dozens of events throughout the year, including the Destin Seafood Festival.
Take a stroll along the boardwalk during dusk. You'll be rewarded with a jaw-dropping sunset, as well as the scintillating scents of baked goodies and fried seafood.
Note: This isn't to be confused with the HarborWalk Village. While HarborWalk Village is connected to the boardwalk, it has a slightly different vibe. This is where you will find a number of rental and tour companies offering paddleboards, kayaks, jet-skis, and fishing trips. HarborWalk Village also has restaurants and live music throughout the year.
9. Visit Uncle Bucks FishBowl and Grill
Some places are meant to be unforgettable. Uncle Bucks FishBowl and Grill is one of those spots. Wildly entertaining and uncommon, this restaurant and bowling combination is going to be a winner among the kids and adults in your group. Why? Because you're bowling underwater.
Yes, you read that right. At Uncle Bucks, you can choose to dine among the fishes then bowl in lanes where sharks are swimming. The whole experience is immersive and captivating. You might go for the bowling or the food, but you're going to leave thinking about how cool it is to see sharks and other fish up close.
The overall atmosphere is great for both children and adults. You won't be disappointed in the food or drinks either. Everything is high quality, right down to the smaller details, like bowling balls decorated with marine creatures. And since Uncle Bucks is indoors and air conditioned, it's a great place to get out of the sun for a bit without missing the ocean.
10. Get Schooled at Destin History & Fishing Museum
Destin would never have become a world-famous location if it wasn't for fishing. That's why a trip to the Destin History & Fishing Museum is a great way to kick off your trip. Hidden near the Destin Bridge, the museum is a gem tucked away from the public eye. It opened in 2005 and continues to be a highlight of every trip.
Besides, who doesn't want a quiet place to visit when it's cold and rainy? The Destin History & Fishing Museum gives you unique insight to how important fishing is to the community. You can study various exhibits, including ones about antique fishing equipment, fish that populate the waters, and even information about Destin's characteristic white sand.
If you're wondering if you should go or not, there is something you shouldn't miss—the docent-led tour. You learn more about the exhibits during the tour, including the world's oldest seine fishing boat. There are also kid-friendly scavenger hunts held at the museum.
The best part is that the museum is cheap. Adult guests pay $5, while children and students pay $3. If you have children 6 years and younger, they can enter for free.
11. Make a Splash at Big Kahuna's Water & Adventure Park
Water parks are often thought of as places for children, but adults can enjoy this fun attraction in Destin, too. Big Kahuna's Water & Adventure Park is one of the coolest places to beat the heat. There are dozens of rides, slides, pools, and kiddie rides for everyone in your group. Slide down the Monkey River or climb to the top of the Temple of Doom for a crazy plummet to the bottom. Surfers can get some thrills at the Honolulu Half Pipe, while tired parents can put their feet up on the Lazy River.
You can find some tasty food options here, too. The Cove, Kowabunga Cafe, The Bombs Away Cafe, and the Gulf View Food Court all have delicious and healthy options. Even picky eaters will be able to find something to munch on.
Spend time refueling at one of the cabanas for rent then check out the Adventure Park. Although this segment of Big Kahuna's isn't as developed as the water park, it's a great place to dry off after your time in the water. There is a large mini golf range set up, as well as a sky coaster to get your adrenaline pumping.
12. Hike Around Grayton Beach State Park
While Grayton Beach State Park is a short drive from Destin, it's also one of the best beaches and RV camps in the area. The park ranks consistently for being one of the most beautiful beaches in the US, but that's not all you will find here. Head to the Western Lake if you want to spend your day paddling around on a kayak or fishing. Otherwise, there is an option to hike the 4 miles of trails.
The state park also consists of a forest that has been warped by the salty breeze. It makes for a mesmerizing landscape that you will definitely want to take pictures of. For those who love bird-watching, Grayton Beach State Park is part of the Great Florida Birding Trail. You can see ospreys, bald eagles, and shorebirds throughout the park.
If you plan on staying overnight, consider renting a fully furnished cabin. As mentioned earlier, there are RV hookups available and regular campsites. You can enjoy Grayton Beach State Park at your pace. Just make sure you wake up early enough in the morning to catch a glimpse of the fiery sunrise.
13. Spend Some Time at Indian Temple Mound Museum
There are many historical attractions to visit in Destin, FL. A trip to the Indian Temple Mound Museum will put into perspective the value of the region. From an educational standpoint, this is a top-rated museum for teaching kids and adults about the influences of Native Americans.
You are definitely going to want to visit this museum.
The Indian Temple Mound Museum has been around for over 40 years and has taken that time to gather artifacts stemming over thousands of years. Some of what you will see goes back to the prehistoric eras. The museum also has a collection of items from early settlers, pirates, and explorers who had come to Destin long before it was founded.
Whether you are interested in Native American history and culture, or you simply want to know more about Destin, this is an excellent museum to visit. You can spend a lot of time here looking at the artifacts and reading the exhibits. All of that costs only $5 for adults, and children can enter at a discounted rate or for free, depending on their age.
14. Visit Fudpuckers Gator Beach
If you want something to call home and tell your parents about, this is it. Fudpuckers Gator Beach calls itself the World's Greatest Alligator Park, and whether that is true or not, it's definitely giving other gator parks some serious competition.
First off, you have the culinary option. By eating at Fudpuckers Beachside Bar & Grill, you get free access to Gator Beach.
From there, you can walk around Gator Beach, observing the gators as they lounge. You might even have a chance to feed the alligators while you're there. If not, you can watch entertaining shows with brave handlers or head to the Gator Museum. Overall, it's a highly educational journey, one that hopefully leaves you with a newfound sense of understanding.
Don't forget to see the park's star, Pearl. She's one of the few albino alligators alive in the world.
15. Shop at the Village of Baytowne Wharf
Wondering what to do in Destin, Florida when you have exhausted your arms and legs swimming? You go shopping at the Village of Baytowne Wharf. This quaint area in Choctawhatchee Bay is open to both visitors and residents. Aside from the annual festivals and live music events, Baytowne Wharf is a prime location for an invigorating shopping trip.
The buildings around the village are charming and unique. You can find boutique stores featuring homemade soaps and skincare, premium boutique clothing, handmade chocolates and candies, art galleries, jewelry, sporting goods, shoes, and so much more. While you're wandering around the stores, pause for a moment on the wooden bridge and snap a selfie or two with your friends and family.
At night, the Village of Baytowne Wharf is also great for adults. There are several locations with amazing nightlife, including Drunken Goat Saloon, Hammerhead's Bar and Grille, Fat Tuesday Daiquiri Bar, Rum Runners, and John Wehner's Village Door Nightclub.
16. Be a Pirate on the Buccaneer Pirate Cruise
Young kids deserve an epic experience, too. Ideal for children 3 years and up (and their parents), this amazing nautical journey will keep you so enthused for the ride that you won't even know if the boat moves (it does). Buccaneer Pirate Cruise is designed to be a family-friendly high seas adventure that begins the moment you ascend the gangplank.
The crew on board does an excellent job of making the ship come alive, with water gun fights, treasure hunts, sword fights, and even a chance to swab the poop deck. It's fun and interactive, and it will even have adults giggling like crazy. If you love pirates, this is the cruise for you.
You need to reserve about two weeks in advance to make sure your family has a place onboard. The cruise takes about 90 minutes and happens multiple times throughout the day.
17. Go on the Dolphin Sunset Cruise
Before you even go to Destin, you will start seeing advertisements everywhere for sunset cruises and dolphin tours. Turns out, the waters here are teeming with dolphins, so you never have to look too hard to see them. Although you can see the dolphins from the beaches, it is so much more amazing when they are close by or interacting with the ship.
One of the best ways to see dolphins—aside from the Gulfarium—is a dolphin sunset tour. The tour is about two hours long. Most boats have a snack bar, but you are allowed to bring whatever you want to eat on board, as well as alcohol. During the tour, the guides will pass out crackers or chips for you to feed the seagulls. Some will land on your outstretched hand to gingerly take a treat.
The boat is also glass-bottomed. Depending on the weather and intensity of the waves, you could potentially see a lot of dolphins and fish passing by. As the sun begins to set, you will be directed to the dolphins playing in the waves.
It's about $25 for a single ticket, but it is definitely an adventure you should consider splurging on, especially if you love dolphins.
18. Take a Romantic Walk at James Lee Park
Free to visit and full of natural wonder, James Lee Park (also known as The Crab Trap Beach) is an excellent place to hike. Destin residents will tell you that this is a great place for a romantic walk on the beach as the sun goes down, and it truly is.
The park has 3 pavilions, 9 dune walkovers, restrooms, changing rooms, a playground for children, and dozens of picnic tables. You can bring a cooler and some beach chairs and spend the whole day here if you wanted to. There are also rental beach chairs to save you the trouble of hauling your own around.
19. Check Out Wild Willy's Adventure Zone
Do you and your family love amusement parks? Then you're going to love Wild Willy's Adventure Zone. The complex has over 17,000 square feet of indoor attractions, as well as an outdoor area, to keep the whole family entertained, regardless of the weather. The first thing you notice is the expansive arcade area, featuring over 65 games, such as an RPG flight simulator and Skee Ball. There is also a game area for children under 5 years old.
Outdoors, you can play a rousing game of mini golf or try out the thrilling Ptero Jump (a combination of trampolines and bungee jumping). If bungee jumping isn't for you, tackle the amazing Tree Top Challenge Ropes Course. Make it to the 60-foot tall wall, and you are rewarded with breathtaking views of Okaloosa Island.
Wild Willy's Adventure Zone also has go-karting, laser tag, frozen yogurt at Yogo Mogos, and an incredible 4D movie experience. If you're looking for things to do in Destin, Florida, don't forget to add this place to your list.
20. Visit Boogies Watersports
Some of the best things to do in Destin, FL are on or in the ocean. Don't know where to go to get started? Try Boogies Watersports. Any aquatic experience you're willing to try is available at Boogies. The experienced crew will ensure that your parasailing and wave running experiences are top notch. In fact, Boogies Watersports is so trusted that they see over 250 parasailers a day.
You can rent waverunners or pontoon boats to do your own thing, or you can go on a jet ski dolphin excursion. The company also provides narrated glass bottom boat tours. In short, this is one of the best places to go when you are looking to do more than swimming.
21. Be Wowed By the Maximum Magic Show
Head over to the HarborWalk Theater one evening for a jaw-dropping experience. You have never seen illusions like the ones at Maximum Magic show. For kids and adults, the show makes you question reality. Noah and Heather Wells are the magical duo who take you on a visual ride. They also know how to keep an audience intrigued, so the entire show leaves you on the edge of the seat.
Regularly, audience members are chosen to help with certain tricks. Who knows, maybe someone from your group will be picked? Wouldn't that be something to talk about!
The Maximum Magic shows run in the evenings and sell out fast. Make sure you purchase your tickets well in advance. The show lasts about 75 minutes and features both comedy and masterful illusions. If you upgrade your ticket to VIP status, you can also get some free souvenirs and meet the illusionists backstage after the show.
22. Eat at The Best Restaurants in Destin
There are many places to eat in Destin, FL that provide mouthwatering meals and beverages. But if you're going for the gusto, you might as well head to the restaurants that are consistently ranked among the best. Destin is well known for its fresh seafood, so naturally, a lot of the top tier dining experiences deal with succulent shrimp and fish.
That's not to say you won't find a delectable burger on the menus, though! Here are some of the restaurants you need to visit while in Destin, FL:
Marina Cafe – a fine dining experience with an amazing happy hour and even BOGO entree specials. Try the jumbo shrimp and grits or the vegetarian plate.
Boshamps Seafood and Oyster House – Southern cooking in a casual setting. Try the fried green tomatoes, spinach and artichoke dip, or one of the seafood baskets with either grouper or snapper.
Surf Hut – tacos, burgers, and so much more. This is an excellent place to try a new twist on seafood.
Mimmos – a vibrant Italian restaurant with a vast menu.
Harbor Docks – a family-owned restaurant that processes their own seafood daily and has a humongous sushi menu.
La Paz – if you're craving Tex-Mex, head here. Their iron skillet fajitas are famous in the area.
The Back Porch – an amazing beachfront dining location that has innovative seafood sandwiches and oysters.
Vinny McGuire's Irish Pub – check out their Sunday morning brunch, which features Irish Coffee and French beignets, Belgian waffles, omelets, eggs Benedict, and bottomless mimosas.
23. Learn How to Build a Sandcastle at the Beach
If you only ever created sandcastles by dribbling mud or overturning a jam-packed pail and hoping for the best, your dreams for aid have been answered. Yes, you can learn how to make incredible sandcastles in Destin. Head on over to Beach Sand Sculptures, a highly rated experience for the entire family.
The experience comes with a Sandcastle Tool Kit that gives you items to help you make a far more elegant sand sculpture. Then, with the assistance of the Sandcastle Coaches, you learn techniques for more masterful construction. This is one experience you are bound to never forget, and it gives you the opportunity to have fun with your entire family or group for a reasonable price.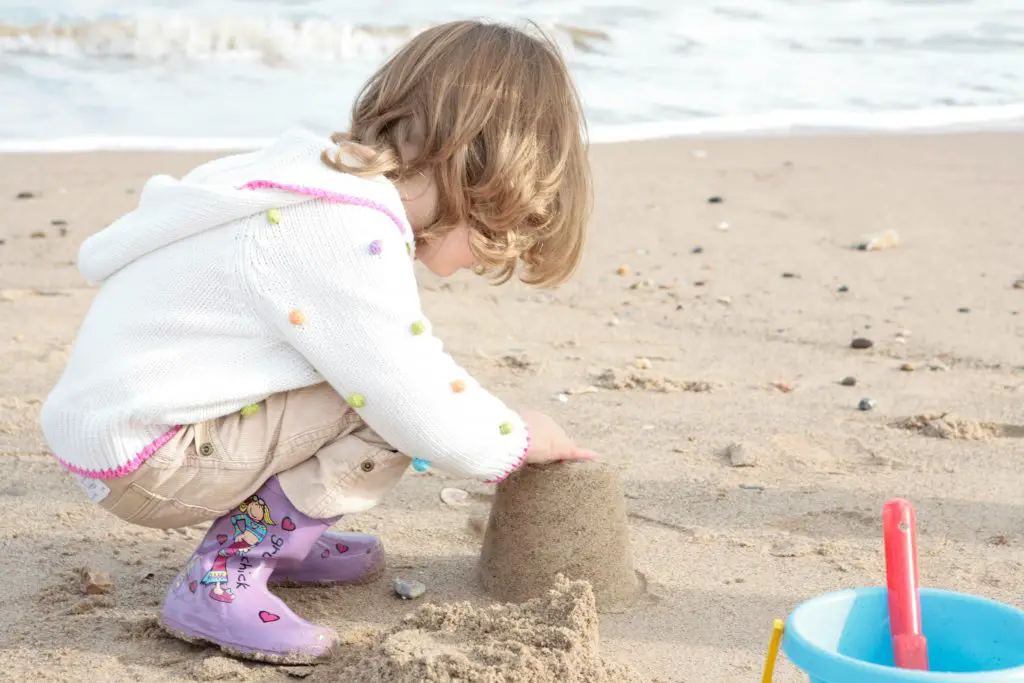 Best of all, if there are children 4 years or younger, they can take part in the lesson for free.
24. Ride a Banana Boat
There are many interesting things to do in Destin, Florida, such as riding jet skis, parasailing, snorkeling, and zooming across the waves on the back of a…banana.
Yes, you can ride a banana boat with several other people. While the banana boats are self-propelled, you can hop aboard the banana and be pulled through the waves by a larger vessel. Between four and six people can ride one banana at a time, making this a memorable experience for groups.
You get an hour to enjoy your majestic tour of the coastline on the back of a banana. It's definitely an experience that you will want to tell others about. Make sure you get a picture or two of the boats, too. Otherwise, people might not believe you!
25. Take a Trip to Crab Island
Here is something you absolutely cannot miss in Destin, FL. Crab Island is a bit of a misnomer, as there is no island. Rather, it is a massive sandbar in Choctawhatchee Bay. The water level comes up to about waist height with adults, so children are definitely going to need an inner tube or water wings.
Since this area can only be reached by boat or jet ski, it's highly recommended that you rent a pontoon to explore this area. Upon arrival, you will notice that there are many floating restaurants in the area. These are kind of like food trucks but without tires.
Crab Island can get a little crowded and crazy by midday, so it's best to go early if you have children. Otherwise, you can spend an entire day out here, lounging on the pontoon, swimming off the snacks, and then wading back to get more food for the food boats.
26. Visit the Emerald Coast Wildlife Refuge
Located in Crestview, the Emerald Coast Wildlife Refuge is one stop to make if you love animals (or if you want the trip to be entertaining and educational). At the wildlife refuge, the animals are treated with the utmost level of care and respect, and it's truly a heartwarming thing to see. Close to three dozen species are being housed here, including sloths, tigers, and lemurs.
You can learn a lot here, especially if you take part in the special Encounters that happen throughout the day. Since admission is only $8 for adults, this is also a budget-friendly attraction.
27. Hop Aboard a Destin Helicopter Tour
Being that Destin, FL is so astoundingly beautiful, a view from the ground alone isn't enough to get the full effect. That's when you need an aerial view. Seeing the city and the emerald waters from a helicopter should do the trick.
Destin Helicopter Tours offer packages that let you see Destin from new heights. Plus, you get to ride in a helicopter, which is an experience in and of itself. Yes, riding in a helicopter can be a bit frightening if you have never done it before, but you're in good hands with Destin Helicopter Tours.
Once you're flying over Destin, you will be amazed by the scenery of the beaches and water. Be sure to head out with your special someone, as this can be a truly romantic and memorable moment for the two of you.
28. Find Luxury at Destin Commons & Crystal Beach
Were you thinking about where to stay in Destin, FL? A hotel or rental near Destin Commons would be ideal. Destin Commons is a high end community with a large entertainment complex for people of all ages. You can easily see a movie, get some food, and then head to Crystal Beach for a walk on the sand.
Speaking of Crystal Beach, it's a must-see. Aside from the pastels of the beachfront cottages and the properties around Destin Commons, Crystal Beach is picturesque on its own. The white sands, the golden sunsets, and the crystal clear water make this a breathtaking location. Wade out into the water and you'll be able to see all the way to your toes!
So consider spending a day on the beach, soaking up some vitamin D and snorkeling until your arms fall off. Afterwards, head to Destin Commons to grab some food and finish of the night exploring the stores and artistic murals throughout the area.
29. Head to Fat Daddy's on a Rainy Day
On the off chance that the weather takes a turn for the worst, you're going to want something to do. One of the best rainy day activities in Destin, FL would be a trip to Fat Daddy's arcade. There are over 120 arcade games to enjoy at this location, and they make it easy to bring home a couple of prizes. Plus, you don't have to worry about cumbersome tickets and tokens, as everything is stored on a convenient card.
There are both retro and modern games, including partnered shooters, basketball hoops, driving games, and interactive ones like Fast and The Furious, Fruit Ninja, and more.
This is also a great option for when you have wired kids and nothing to do at the hotel or campsite. An hour or so at the arcade will ensure that they sleep well.
30. Enjoy the Seasonal Events
Throughout the year, there are incredible events unfolding in Destin, FL. In the summertime, you can see fireworks almost as often as you would at Florida's Disney World. Between Memorial Day and mid-August, fireworks illuminate the city. Find them on Tuesdays at The Village of Baytowne Wharf, Wednesday at Okaloosa Island Boardwalk, and on Thursdays at Harborwalk Village. The fireworks shows last between 5-7 minutes and are extremely impressive.
During the fall, you can enjoy fishing tournaments, beer gardens (and the Baytowne Beer Festival), art festivals, and more. Many events are aimed more at adults than children.
In the winter, the attractions and excursions are limited. However, that doesn't mean there is nothing to do. You can set up bonfires on the beach. In November, you can head to Baytowne Wharf, where the Sparkling Wine and Holiday Lights Festivals happens annually. December brings the Destin Lighted Boat Parade.
Springtime is another great period of events. On Memorial Day weekend, there is a huge kickoff for the season, including live music, fireworks, and kids activities.
Whether you are looking for someplace fun to visit for Thanksgiving or for summer vacation, Destin is a wonderful destination anytime of the year.
Have the Time of Your Life in Destin, FL
Now that you know about all the things to do in Destin, FL, you're probably itching to go. There are many top attractions in Destin that are ideal for families with young children, as well as groups of adults. You can go swimming, fishing, beer-tasting, sailing, parasailing, and so much more. Whether you're a thrill seeker or just want a relaxing week on the beach, Destin, FL has something for everyone. What are you most excited to try?
FAQs
1. What is Destin, Florida best known for?
Destin is known for a number of things, including stunning beaches and sunsets, thrilling watersports, world class restaurants and seafood, and, most importantly, fishing.
2. Is Destin, Florida expensive to visit?
That depends on your budget. On average, it costs about $1,073 for one person to visit Destin, FL. A two week trip for a couple could end up being around $4,290, if you are using a mid-range hotel and eating out for every meal. If you are traveling with children, you can expect the cost to be a bit cheaper, because kid's tickets, meals, and hotel rooms are slightly discounted. Keep in mind that this depends on the excursions you are doing, too. For instance, one boating trip might cost you $400 for a group ticket.