Hey! This site is reader-supported and we earn commissions if you purchase products from retailers after clicking on a link from our site.
If you're like me, you prefer the feel of your feet walking across a nice wooden RV deck. Yes, many campgrounds offer permanent sites at ground level with expanded laying concrete pier blocks or pads laid out with additional concrete blocks areas specifically for your outdoor grill or furniture, but in many cases, these can be rough and uncomfortable to walk on, or too smooth and when wet can be very slick to walk on.
For many RVers, the alternative to bare concrete blocks, gravel, or in the case of boondocking in some remote areas in the southwest area of the U.S., the desert and dry, baron part of our country. Many RVers choose to lay down a piece of carpet or indoor/outdoor artificial grass for extra living space, but the problem with those applications is that they hold sand or dirt, and worse yet, water or moisture. Hence, some start thinking of RV deck ideas.
When you break camp to move on to your next seasonal site, do you really want to roll up and load up a piece of wet carpet to one of your storage bays? My guess is no, and in this article, we'll look at a great alternative for providing comfortable seating and lounging area with the RV deck, that is easily assembled and transported in your RV, whether you drive a 5th wheel, travel trailer, or any other type of motorhome.
That's where the RV deck comes in, so let's dig into some RV deck ideas to help you create and build a deck.
The Decking
These 24" x 24" RV deck blocks are made from Ipe (pronounced "EE-pay) wood, dense wood that comes from South America. Much like teak, its density allows its longevity to be far longer than most lumber made from softer woods such as pine or maple. In fact, when properly care for, it can last for over 75 years making it very suitable for an RV deck.
I never refer to an RV, an RV deck, or any of its accessories as an investment, and I won't with this product either. However, buying a product with a longevity of 75 years is well worth the extra cost of many of its competitors with similar designs.
Connecting Your RV Deck Blocks
The tools needed for securing your portable RV deck panels in place for long-term stays or short stays are easy when using the DeckWise connectors. I recommend using the four-way connectors.
Each RV deck panel comes with a pre-drilled countersunk hole that lines up with the floating deck connectors and those connectors hold the RV deck tightly in place.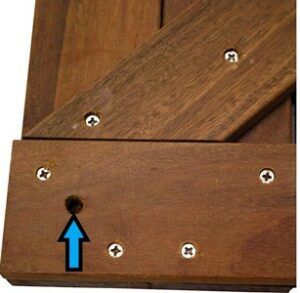 Once in place on the RV deck, these connectors will hold your portable deck securely and are easily removed and installed between visits to various camping locations. In fact, an 8' x 10' portable wooden RV deck can be quickly assembled in less than an hour once you have learned how easy it is to accomplish this floating deck task.
One of my favorite DeckWise connector designs is that they include pre-molded lines on the underside of the connectors that allow you to bend them so that they detach from the other part of the connector on the RV deck. This makes it easy to hide your connectors under the framework of your RV deck on its outer sides.
On the downside, it's likely that while your properly cared for Ipe wood decking boards will last 75 years, these plastic components will last a fraction of that time. In fact, I would expect them to fail within 3-5 years as they can't hold up to moisture, UV light, and other natural elements that the RV deck will be exposed to, so you should plan on inspecting or replacing them on a regular basis.
Proper Care for Your Ipe Wood
Ipe wood is extremely dense and as such it doesn't absorb protective oils as easily as softwoods. However, the real reason to apply an oil treatment to Ipe is that it shields the RV decks from UV exposure or rather, sunlight damage.
As a rule, Brazilian Walnut or Ipe, will always have a rich, dark grain much like teak wood or ebony. However, over time sunlight will bleach these hues out of the wood grain and the wood will eventually become more of a gray tone so I would apply some wood oil to prevent this from happening.
DeckWise Ipe Oil Hardwood Deck Semi-Transparent...
RESTRICTED: Ground Shipping ONLY: Can NOT be shipped to California areas including but not limited...
Perfect for all exterior hardwood and thermal wood surfaces including decking, fences and railings
Trans oxide pigments offer a slight brown tint for UV defense and enhances the natural wood beauty
Last update on 2023-11-05 / Affiliate links / Images from Amazon Product Advertising API
It will also cause some additional cracking on the RV deck surface, and while not taking too much away from its longevity, you would be well advised to regularly care for your decking and its connectors.
Are There Other Alternatives?
Yes, but you'll find that most alternatives will have more components and will take you longer to set up. For example, this product made of Acacia wood comes in 12" x 12" panels that are secured in place by using Polypropylene carbonate (PPC) framework forms that allow you to snap them in place piece by piece.
flybold Acacia Wood Patio Flooring Interlocking...
LONG-LASTING UV PROTECTION : Coated with oil and UV protection, our interlocking deck tiles resist...
TOUGH AND STURDY : Made of 100% solid acacia wood, our pack of 10 tiles (12x12 inches each) have a...
MULTIFUNCTIONAL OUTDOOR FLOORING : Our wood floor tiles go by many names, including snap tiles,...
Last update on 2023-11-05 / Affiliate links / Images from Amazon Product Advertising API
Related:
Best RV portable decking
Teardrop Trailer Build: Decking Your Trailer
Best RV Accessories
RV Accessories & Tech
What Is Acacia Wood?
Like Teak and Ipe wood, this lumber is very dense and is a plantation type of wood. In other words, it grows quickly, is good for construction in outdoor locations and it's easily harvested using shorter growing timelines. While Acacia wood can be farmed in South America's wetter locations, it's best suited for harvesting in places located in southeast Asia and this helps to keep it's cost lower.
Acacia wood does require some maintenance such as staining, or it will discolor over time. To be honest, staining the wood can add a few years of life onto the wood, but in all reality, it won't be much.
Using Plastic Polymers for Framing
The biggest problem I have with using Polypropylene carbonate (PPC) forms for holding your wood products in place is that as a rule, plastic is unreliable in terms of when it's matched with environmental issues. Too often, these plastic substrate products don't stand up to varied temperatures, ultraviolet lighting and uneven surfaces and are likely to fail far more quickly than using a design that is based upon a long lasting wooden slat design such as the Ipe wood framework.
Final Thoughts
Whatever your choice is when choosing a portable deck to travel with, keep in mind that these components will take up storage living space in your camper as well as time to set them up when you decide to use them. Are those factors something you're willing to deal with during your travels? Also, having a portable deck is defiantly a way to make eating outdoors more pleasurable.
If they're not, then buy yourself a small piece of indoor/outdoor carpet and use it instead. On the other hand, if you intend to stay at a location for an extended stay, then a nice wooden RV deck would work better for you. It's really all about what you prefer to do, as is all traveling the country in your RV.
As always, thanks so much for following along with my RV deck ideas and I'm happy that I can share my thoughts with you. Once again, my friends, I wish you safe travels and I hope to see you out on the road someday.