Hey! This site is reader-supported and we earn commissions if you purchase products from retailers after clicking on a link from our site.
There are lots of reasons people might wonder, "How much does it cost to build an RV park?" Some folks might wonder how a campground can justify its prices, while others might be looking to take a deep dive into the RV industry to see for themselves.
Like many new businesses, the RV park start-up cost will vary from situation to situation. If you're buying undeveloped land and building your own RV park, the RV park construction costs can be well over $100,000 and take two years or longer to complete. Things like a complicated RV park septic system cost can increase this number dramatically.
The cost to build a campground is much lower if you can find a completed one on the commercial real estate market. This is a quicker and better way to step into an already profitable business that will make revenue from day one of ownership.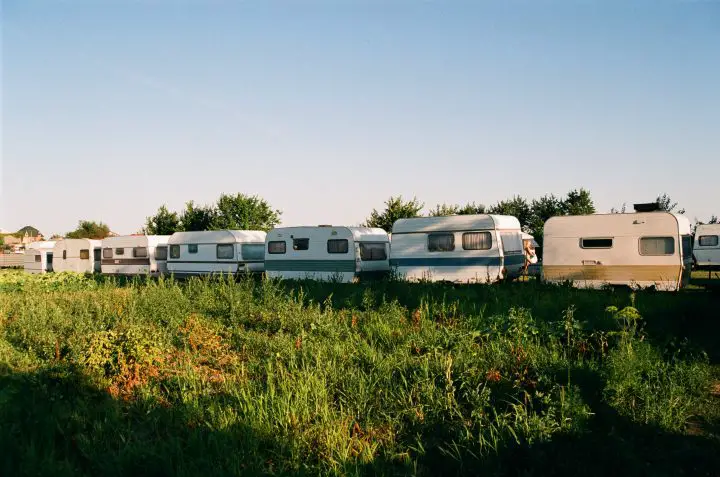 The RV Park Business Plan
As with any major business undertaking, starting a successful RV park should not be done on a whim. While the dream of passive income and a low-cost campground business can blind the best of us, true business prowess comes not from daydreaming but from careful number crunching and research.
All businesses start with a plan. Once you formulate a scheme to set up an RV park, contact the local SBA office, which can help you write your business plan.
While it might seem academic to start writing formal documents early in the process, making a business plan and putting it on paper forces you to do the research. While dreaming up all the amazing things you'll do, it's too easy to put too much time into researching the ideal bits, your strengths and opportunities, and too little time researching the bad news; your weaknesses and threats.
A key part of the business plan is a careful market analysis. That means you study your customers and identify who they are, what they will spend, and where they will spend it. This is vital to your success, lest you build a park that no one wants to stay at. Many market segments are lumped together when you talk about RVers. In other words, there are many types of RV parks catering to different groups, and you need to figure out which niche is yours and whether it will be profitable.
Getting solid answers for questions like this will require boots on the ground, not clicks on the internet. Early on, you can research locations and competitors and get some general information (like our article on how to design and build RV Parks) online. But once you've honed in on your target market and location, you'll need to start visiting with local authorities to find out about zoning and permitting issues.
You'll want to find folks who have done it before. One great resource is the ARVC, the National Association of RV Parks and Campgrounds. They host an annual conference worth visiting and have lots of resources for newbies.
What Should I Know Before Starting My Own RV Park?
Before diving into the deep end and pouring your first RV pads, take a while to start researching the lifestyle and the business. There's a lot of material to research. The most important thing to remember, though, is to research information from the point of view of your customers.
Plenty of flashy marketing promos and get-rich-quick videos promise investing in RV parks is a great business. But you won't find success easily if that's your focus–the best RV parks are owned by people who know their customers and what they want.
Here are just a few topics you'll want to familiarize yourself with before you start making business decisions.
RV destinations
RV and camping community, what they're looking for, and how to communicate with them for marketing
Competition near you, their offerings, and amenities
Current opportunities and threats to business, both in the industry and in your area specifically
Local state, county, and city zoning and codes for RV parks and campgrounds 
Local construction costs for planned work
Budgeted operating costs and a break-even analysis
How Does a Successful RV Park Business Work?
RV parks don't operate on a complicated business model. Visitors rent a spot for a night, week, month, or longer. In exchange for rent, you provide utilities and maybe some amenities.
The key to understanding how and why an RV park business makes sense is narrowing down why guests will stay at your park. If you know why they come, you can cater to them better, make them happier, and encourage more people like them to come.
So why do people come to RV parks? There are two main reasons–either the park is near an attraction that people are coming to see, or the park is an attraction in itself.
The attraction that folks are visiting doesn't need to be big, but it's a focus in your business. A majority of parks and campgrounds operate this way. If people are coming in and staying to see something else, the amenities of your campground can be minimal. After all, these visitors are here to see something else; they just need a place to stay.
On the other hand, a destination RV park and campground requires a lot more thought. In this case, you're setting up the spot you want to draw visitors into. In essence, you're creating a resort gated community from scratch. This can take on many forms, each customized to the park's location and competition.
It's important again to consider how segmented the RV community is. There are retirees, full-timers, families on vacations, and those looking for a permanent spot to set up camp. Each group is looking for something different when they shop for RV parks, so you need to plan and target your marketing and business accordingly.
If you don't know much about the RV industry and the people who enjoy life on the road, consider taking a job for a year in the business. A year of working for another company will open your eyes to the possibilities and fine-tune what you want (and don't want) to do with your RV park.
Location, Location, Location
Probably no other factor affects your business as much as the location will. RVers and campers come to stay because there's some attraction. Either that's nearby, and your park is conveniently located to it, or your park is so appealing in itself that it draws folks in. Most parks fall into the first category.
Remember that the attraction that draws visitors need not be fancy. It's not always Yellowstone or Disney World–sometimes the attraction is just a small town you love. Sometimes the attraction is even more mundane–how many successful RV parks have only one claim to fame? They are located right off an exit on a busy interstate highway.
Many people are traveling full-time and have already seen the big sights and now want to avoid the crowds. They're now looking for something a little different. If there's a cute little town in the mountains that draws tourists, but there are few RV facilities in the local area, the chances are good that there is some demand you can tap into.
If there is no draw at all, there is no inherent reason for RVers and campers to be anywhere near your area, then you need to create the reason. Your job is much harder than you might imagine if this is you. Getting creative and being hyper-focused on your target market is the key to finding a business model that will work.
Where Should I Build an RV Park?
It has been said that there are three tenants of real estate: location, location, and location. Well, it might be doubly true for the RV park business!
When you first start considering opening your own RV park, you might focus on well-known camping destinations like Yellowstone or Glacier National Parks. While these are great examples of the business, it's important not to look beyond your hometown as well.
You see, campgrounds are important everywhere you go. People are traveling and on the road all the time. There are plenty of "full-timers" out there who are looking for places to stay that are new and unique.
Most folks who get into the business of owning an RV park already have some connection to the location that they're interested in. Maybe it's their hometown, or maybe it's just a location they came to love while exploring.
So, where do you want to start an RV park? The basic process of finding a site, whether you want to build or buy it, should be done analytically. You may love the Florida Keys, but can you make enough money there to recoup the extreme land acquisition and insurance costs? Will customers pay enough for spots to help you break even?
On the other hand, you might pick a location where land and setup will be much cheaper. But it's out in the boondocks, with no obvious draw and no existing traffic flow and customers. Will you be able to convince people to come out of their way and pay for a night of camping?
RV Parks – Buy vs. Build
At some point in your research, you'll likely come across the possibility of buying an existing park rather than building your own from scratch. Does it make more sense to buy?
First and foremost, purchasing an existing and operating RV park will certainly be less hassle. Zoning and permitting will already be complete. You won't have to find planners and contractors or juggle the hundreds of different people and projects to get the park ready for visitors.
The process won't be without issues, of course. Any big commercial real estate deal will have hurdles and challenges, and an RV park is no exception. But the reality is that purchasing an existing park solves many of your initial problems. You won't have to deal with zoning and permitting as much, and you'll likely not have nearly the same problems from the local community. In addition, if you find a park in the area you want to be in, you can always improve it and make it into your vision.
The other benefit of buying an existing park, especially if it's in operation, is having income from day one. If you're building a site from scratch, you can anticipate one and a half to two years before seeing a dime. You will spend all of that time spending money without making any return. It's a long game.
You can find RV parks and campgrounds for sale everywhere, in all states of operation; from the bustling and profitable to the abandoned and forgotten. However, much research is still required when purchasing even a profitable park. If the park has a bad reputation in the community, it can be very difficult to turn it around. Changing the type of customers a park serves and appeals to can also be very difficult.
How Much Does it Cost to Build an RV Park?
As you can see, there's a big difference between campers' various options. Accordingly, the money they'll pay for their site varies with the location and amenities.
All of these factors should come together in your research. Then, once you have an idea of where you want your park to be and the type of competition you'll have, you can start narrowing down your niche.
Campgrounds, RV Parks, and RV Resorts Defined
Different terms are used to describe the amenities a camper can expect at your facility. Matching your customer's expectations with the realities you offer is one key to getting happy customers–and happy customers are customers who come back and tell their friends.
Places to stay are usually ranked on a scale, starting with the least amenities to the most luxurious. The scale goes from "campground" to "park" to "resort." Of course, the price you can charge as a business depends greatly on how you market your park and how its amenities stack up against the competition.
Campgrounds
Campgrounds offer only the most basic level of service. Campers expect the place to be "rustic" and more like staying in many parks, like a state park or national monument. Generally, people come to campgrounds to be closer to nature. So campgrounds are set up with more emphasis on nature and less on comforts and amenities.
RV pads are usually not paved and have only basic hookups, although power and water are sometimes present. Sewer hookups are rare, although a dump station may be near the bathhouse. The bathhouse will usually be pretty basic as well.
Campgrounds are built to serve various campers, from tents to motor coaches. But if you have a very long rig, you need to double-check that a campground has the facilities to support you. In some cases, you might not be able to access the location. Campgrounds may be privately owned, but most of the time, these facilities are found in national parks, forests, or recreation areas.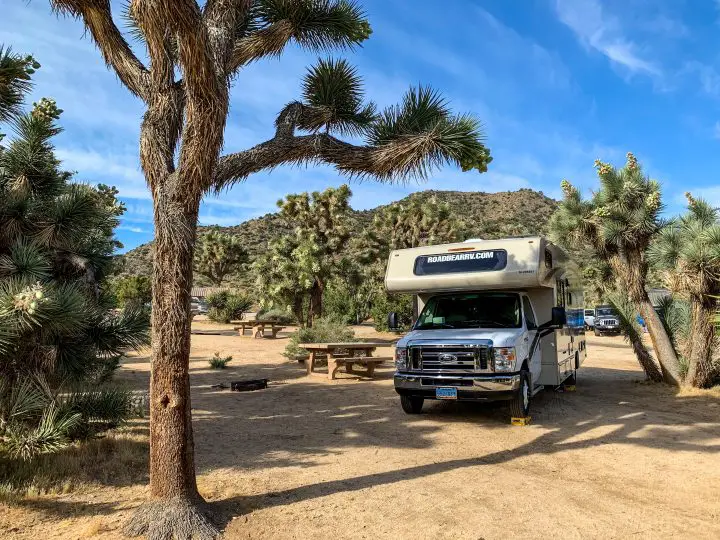 RV Parks
The term "RV park" is usually reserved for a privately-owned campground with a few more amenities. It's not luxurious and a destination in itself, but it's comfortable for larger rigs. Individual sites will usually have sewer hookups and are usually paved. These will usually be found near popular tourist attractions.
Since a park is a middle-of-the-road term, it takes some features from a campground and some from a resort. RV campers must check each facility in advance to know what they are getting. Will there be a pool, as with most resorts? Is there any access to nature, like hiking trails or lake access like there would be with a campground?
RV Resorts
Finally, resorts represent the highest level of RV camping. At a resort, campers expect there to be paved spots; often pull-through with easy parking. There will be full hookups at each site, and some sites will be designated for larger rigs.
Resorts, as the name implies, are designed to feel more like a hotel than a campground. There's usually a pool and other outdoor activities like shuffleboard or tennis. There are probably walking paths and dog areas.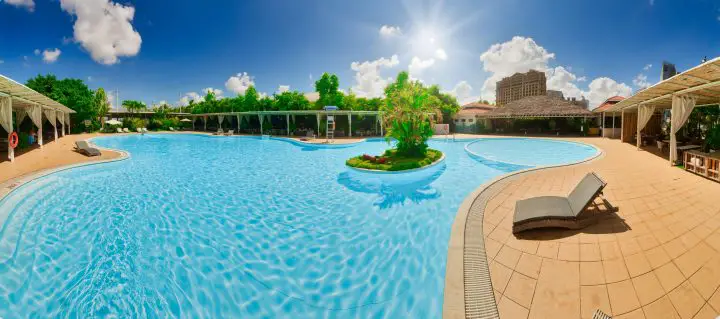 Amenities
As we look at the cost to build a campground, it will become clear that one of the easiest ways to shave off some of your setup costs is to skimp on amenities. But doing so will mean that you lose some potential customers. Worse still, you might be making yourself less competitive than your neighbor, so you'll have to compete on price instead. A campground cannot charge resort prices.
As with all business setup tasks, figuring out the amenities you'll install is all about the dollars and sense. But not putting something in ignores the opportunity cost of having it. 
The best tool here is to do some market research and get to know some campers. Maybe in your first year of business, you start asking why they stayed and what they wish you'd offered. Maybe you poll campers staying nearby to find out what is missing in your area. 
Social media and online marketing can be powerful tools that can help you reach potential customers but can also help you build custom audiences, target specific types of people, and interact with them.  
Here are some of the amenities that are typically found at an RV park or resort. But, of course, each business is different and offers a different mix of amenities:
Paved RV pads with pull-through options to avoid backing in and a privacy buffer
Full hookups at each site (water, electric, sewer, cable TV)
High-speed Wi-Fi internet access
Bathhouse with private showers
Laundry facilities (coin-operated washers and dryers)
On-site rentals (park model trailers or cabins)
Dump station
Campground office, camp store, or convenience store
Swimming pool and patio
Grills, picnic tables, and pavilions
Parks and playgrounds for kids
Dog parks and trails for pets
Walking trails and fitness options
Outdoor game options (tennis, shuffleboard, horseshoes, corn hole, volleyball, disk golf, etc.)
In addition, many RV parks foster a friendly and welcoming community spirit with special events or sporting events throughout the year. These are great ways to build a fan base (read: customer-base) that want to keep returning.
Live music
Food truck events
Seasonal food festivals (clam bake, crab boil, chili cookoff, etc.)
Outdoor movie nights
Pancake breakfasts
Stargazing 
Yoga classes
RV group rallies and meetups
Costs to Build an RV Park from Scratch
Estimated Cost Breakdown to Open an RV Park
| | |
| --- | --- |
| Land | Between $1,000 and $100,000 per acre |
| Design, inspection, and permitting | Varies based on the project |
| RV site pads | Between $1,000 and $4,000 each |
| Asphalt for driveways and roads | Between $7 and $13 per square foot |
| Electrical hookups | Up to $3,000 per site |
| Water pipe | Between $20 to $25 per foot of pipe |
| Drilling new well | $5,500 (national average, depends on the depth of the well) |
| Single septic tank and drainage field | About $7,000 |
| Public bathrooms | $20,000 and up |
| Guest Wi-Fi system | $3,000 to $4,000 setup, plus monthly fees |
| Office and administrative open spaces | New construction ranges from $100 to $550 per square foot |
| Other amenities | Varies based on the project |
Cost Breakdown to Open an RV Park
Acquisition of Land for an RV Park
Finding the right piece of land will be your first big hurdle if you want to build an RV park.
Not only do you need the property, but you'll also have to secure the proper zoning and approvals for your plans. In some locations, this can be an uphill battle. If the local community is opposed, be ready to wade into some murky waters as your first task will be building support for your business. The locals may see you as an outsider if you're a newcomer. That's a very bad place to start.
Here's a great discussion led by RVLife about why RV parks get denied.
Most commercial real estate agents estimate that land acquisition costs for an RV park project will run between $1,000 and $100,000 per acre. That's a pretty ridiculous spread, but it makes sense. A plot of land on the Pacific Coast Highway in California will be a bit more pricy than a lot in Wyoming.
To buy land for a big project like this, you'll need to work closely with a commercial real estate professional in your area. They can help negotiate the best price, but they can also point you toward vital resources and community leaders that can make all the difference as you set up your new business.
Campground Construction Costs
Now that you've got the land picked out, it's time to start the process of making a plan. To secure permitting, you'll want to have some details worked out in advance. For example, how many sites will it have, what land will be cleared, and what will access and road structures look like?
Designing Costs For An RV Park – RV Park Building Plans
As a general rule of thumb, you can plan on putting ten campsites on every acre of land. The number is flexible, of course. In some instances, you might find that you allocate a little less open space. But generally, it is preferred to err on the side of providing more green space and privacy in between sites.
Local Regulations – Permits and Zoning Applications For An RV Park
You can expect the fees and taxes associated with your campground to be proportional to the site plan and cost of initial purchase. All of this varies based on the size of the project and the local government requirements.
No matter where you are building, each construction phase will have planning, permitting, and inspection processes. Each will require a certain amount of help from local contractors and professionals.
Cost of Building RV Sites
Like everything else, the cost to build RV pad sites will vary for each project. The biggest factors include whether or not you want every site paved and what utilities should be installed. Most estimate it will cost between $5,000 and $50,000 per site.
Unimproved sites will be cheaper than pavement. If you choose to pave, a smaller pad will be cheaper. But by putting smaller spaces, you will inherently reduce the number of rigs that can fit.
A 16-foot by 40-foot by 6-inch concrete pad would cost about $6 per foot, or $3,840. You could reduce this considerably by making it only eight feet wide, halving the cost.
And while planning the cost of creating each campsite, don't neglect the cost of the roads and driveways needed to access each one. Asphalt driveways cost between $7 and $13 per square foot, but the number is tied to the price of crude oil.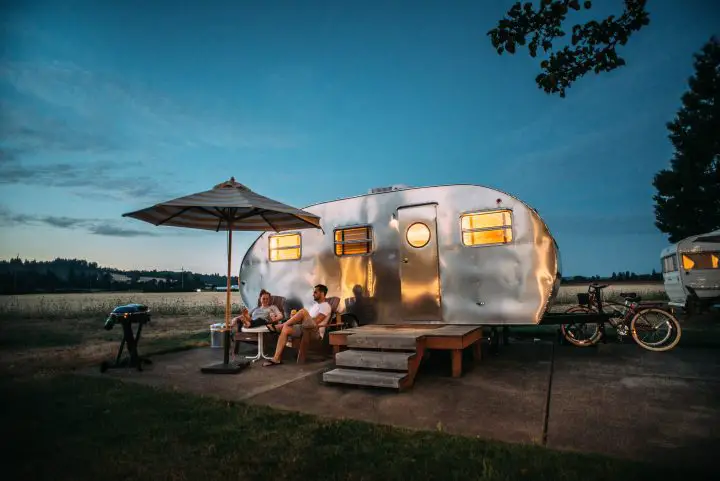 Electrical, Sewer, and Wi-Fi Costs
Electrical Hookups
Other big components of each site's cost are the utility hookups. For maximum flexibility for your campers, you might be inclined to install 15, 30, and 50-amp outlets at each site. But remember, it's much more involved than just putting outlets in. The wiring must be sized correctly to provide the rated service when the campground is full!
So having 50-amp service at every site can get expensive–upwards of $2,000 to $3,000 per site. Many campgrounds instead install services aimed at the customers anticipated for each site. In that case, you'd only wire 50-amp service at the sites where larger rigs would park, i.e., paved pull-throughs that are extra long. Depending on the expected demand, other sites would only have 15 or 30-amp service.
In addition to power, water lines will need to be added to each site. Expect a cost of $20 to $25 per foot of piping laid. If you're in a rural area and need to dig a well, the cost varies from $25 to $65 per foot. The national average for drilling a well is $5,500.
Campground Septic System Cost
Sewer hookups at each site can be very expensive. Unless you are near one of the more densely populated cities with a public sewer network, you'll have to build your own self-contained septic system. But, remember, it's not just the hookups and the piping, but the extra septic tanks and fields to support them all. For example, a large park may need many tanks and drain fields.
For a single tank and field, the RV park septic system cost will be around $7,000, not including the labor and piping to set it all up. Many campgrounds will favor a single dump station near a public restroom. This can reduce the overall cost of your septic by as much as 75 percent.
How much does it cost to build a campground bathroom? Public restroom facilities are relatively cheap and can be built from the ground up for around $20,000.
However, if you're looking to compete with a higher-end market, you may need to invest more here to improve the offerings. The best camp bathrooms are those with well-appointed and modern facilities. Fully private showers and changing rooms–not just curtains–are the way to go.
Campground Wi-Fi Systems
Wi-Fi cost for a campground is a tough one. On the one hand, campers are so used to unreliable campground Wi-Fi that most people no longer rely on it. But, on the other, not offering Wi-Fi or offering poor-functioning Wi-Fi is a recipe for angry customers and big headaches.
By far, the best option for Wi-Fi is to contract the service from a company that specializes in setting up large shared networks for hotels, marinas, or campgrounds. Doing so may cost you a pretty penny, but it's the only fool-proof way to ensure that your customers have reliable service and tech support. The initial setup will cost between $3,000 and $4,000, and monthly service is usually between $250 and $500.
The worst thing you can do is set up a shared connection from the campground office. A steady Wi-Fi connection needs a system of repeater antennas and enough bandwidth to allow multiple users to use the network simultaneously. If you can't afford to install a proper system, advertise the service as a Wi-Fi lounge or dedicated space.
Other Amenities
As discussed above, your park might have a lot of amenities, or it might have very few. Each one requires some research and consideration. Everything you add will cost something in the installation or upkeep. Some things, like swimming pools, are quite expensive on both ends.
The overall cost needs to be weighed with its importance to your customer base. Pools look great on brochures, but they are seldom used in some locations. Shuffleboard and pétanque courts might be must-haves in South Florida but unheard of in the Mountain West.
Knowing what is expected in your area requires knowing your customer base. The good news is that most RV park owners have enough flexibility to install these types of things gradually over the first few years.
Most importantly, amenities do not add to your profit potential beyond their ability to help you book your campsites. There are a few exceptions, however. Any lodging facilities you have on the property will be rented at a nightly rate, which may be much higher than the cost of a campsite. Cabins or park model cabins that are rented can be profitable, but there are also a lot of costs involved in their setup and upkeep.
Some costs will be involved to build office space and administrative support buildings. Plan on spending around $100 to $550 per square foot, depending on your area and the sort of facility you're looking for.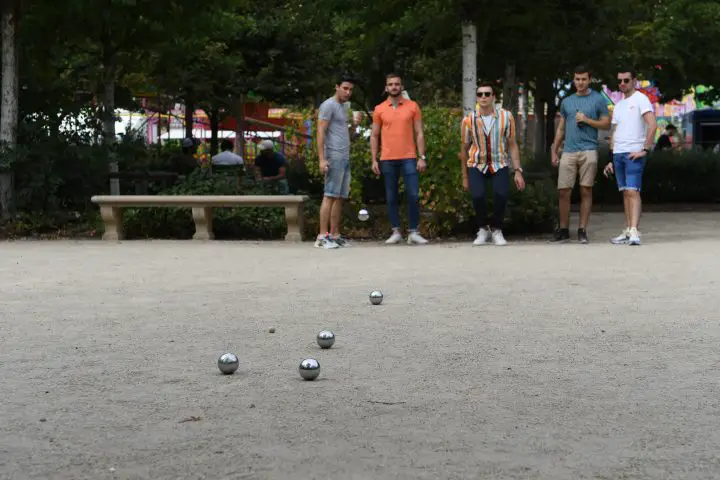 Operations and Ongoing Expenses – Keeping the Business Profitable
How Much Does it Cost to Run a Campground?
| | |
| --- | --- |
| Liability insurance | $450 to $1,500 annually |
| Business permits and licensing | Varies depending on revenues and location |
| Utilities like electric and water | Varies depending on the size of the operation |
| Employee payroll | Varies based on location–management averages $40,000 per year, grounds caretakers average $20,000 |
| Real estate taxes | Varies depending on your location |
| Grounds maintenance | Varies |
| Marketing and advertising | Varies |
| Events and entertainment | Varies |
How Much Does it Cost to Run a Campground?
Insurance, Legal, and Permit Fees
Insurance for a business like an RV park is not an insignificant cost. Depending on the size and location of the operation, expect the bill to be between $450 and $1,500 per year for $1 million in liability coverage alone. It pays to shop around for insurance since rates vary significantly from company to company.
Utilities
Utilities are going to be a major factor. Most parks are on well water and septic systems, so garbage and electricity are the highest costs.
Employee Payroll
Employees come to work to get a paycheck, so you must include payroll in your estimates of how much it will cost. Employee compensation varies considerably between geographic areas, so you'll have to check carefully to ensure your workplace is competitive with other local businesses.
Land and Taxes
Tax bills will be for the business, its assets, and the land. You should have a pretty solid idea of what these costs will be. If you don't, find a good CPA in your area who can help you budget for these costs.
Grounds and Site Maintenance
If you don't keep your campground and RV park in tip-top shape, you cannot charge tip-top prices. Unfortunately, this is an area where some campgrounds skimp but at their own risk. The condition of the grounds is one of the first things customers notice, and letting it slide immediately sends the wrong message.
However, well-manicured and tidy grounds do not necessarily mean high-maintenance and expensive grounds. Hiring a local landscaper to maximize the use of xeriscaping will reduce costs dramatically. Xeriscaping is the art of using local plants that require no additional water or tending. The less space that requires irrigation, mowing, and chemical fertilizers or weed killer, the better.
There will be a cost associated with all spaces, from basic cleaning to road maintenance and vehicles. Pools require daily cleanings, chemical balancing, and regular shocking and filling. Septic systems must be professionally drained and cleaned every three to five years. You'll likely also need a fleet of support vehicles for maintenance work, all of which will have associated costs.
Marketing and Advertising
For a business like an RV park, advertising is vital to attracting new customers. There are countless business websites and apps that many RVers use to find their next stops, and you want to appear at the top of their lists. Some of these are free listings, and many have a premium boost option.
A solid and professional web presence is key. Ensure your website is SEO optimized and can easily be found using targeted keyword searches. Social media provides an excellent return on investment thanks to your ability to tailor specific messages to specific customers. But it's tricky to branch into, and if you need help, don't hesitate to outsource web marketing.
Entertainment and Events Costs
Finally, expect some cost to bring in events. Some RV parks never do this, while others find it's a great way to boost community engagement and make the place feel a little more special. But, again, it depends entirely on your group of visitors, how long they stay, and their interests.
The good news is that it doesn't cost much to try a movie night or potluck dinner and see how it goes.
Making Money – Revenue Source for Campgrounds
Campground Revenues
| | |
| --- | --- |
| Campsite rentals | Between $10 and $100 per night, per site |
| Other rental properties (camping cabins, lodges, hotel rooms, etc.) | Between $75 and $750 per night |
| Camp store sales | Varies based on offerings |
Campground Revenues
How Much Profit Can a Campground Make?
Calculating a business's anticipated revenue is one of the hardest things to do. It's easy to wear glasses that are a bit too rose-colored, underestimating expenses and over-guessing occupancy.
In truth, campgrounds don't have a lot of ways to increase their revenues. Instead, your fixed and variable costs will determine the site's price per night, your break-even point, and your local competition.
Setting prices isn't rocket science, but it is scientific. Raise them too high, and customers disappear as demand dries up. Lower them too much, and occupancy rates increase as you attract visitors, but you miss the opportunity for more revenue.
Ideally, prices can be set with a little trial and error until you reach peak occupancy and maximum profits. But, of course, this is easier said and done. Every area has a natural ebb and flow of seasonal visitors, and the tourism industry is cyclical.
To complicate matters more, many campgrounds use peak pricing park models that vary the price seasonally. Areas with a limited tourist season must capitalize on times of peak demand. On the other hand, you might give discounts during slow times of the year. It's best to consider this from the beginning so that the peaks and valleys are planned and anticipated.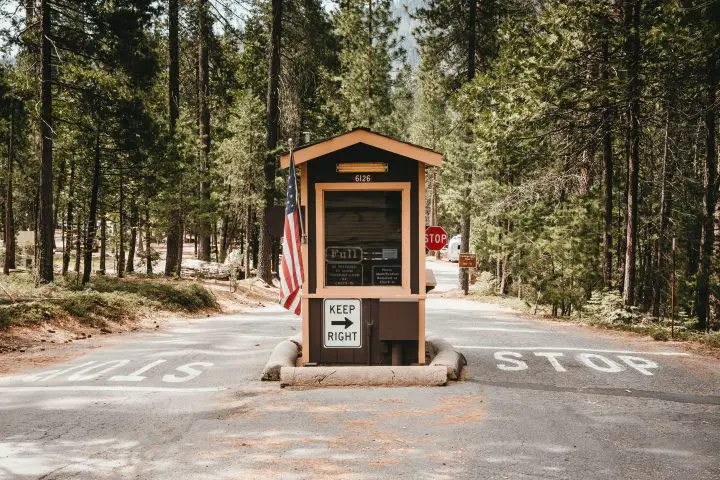 How Much Can Visitors Pay to Stay at Your RV Park?
All of this means you don't have much flexibility regarding how much you charge for a spot.
It can be tempting to charge more for extra services, like Wi-Fi, electric hookups, or swim passes. But if other campgrounds are charging flat fees in your area, nothing will irritate your customers quicker than being "nickel and dimed to death."
Keep in mind that all spots do not need to be priced equally within the framework of a flat-rate spot. Spots with premium features fetch more. After all, it only makes sense that a pull-through spot for a 40-foot rig would cost more per night than a tent spot, right?
Review – How Much Does it Cost to Build an RV Park?
Most experts agree that the cost to build an RV park ranges from $15,000 to $50,000 per site. The total cost depends dramatically on where you're building and the sort of park or resort you want. No matter what it will look like or where it will be, building one from scratch is a major multi-year undertaking.
Purchasing an existing campground is a more attractive option for many startups. The ROI (return on investment) for a well-run RV park can be between 10 and 20 percent, making it one of the best in the entire tourism sector. In addition, purchasing a running park means bypassing tricky permitting and zoning procedures and settling right into an operating business that's already creating revenue.
FAQs (Frequently Asked Questions)
How much does it cost to build a campground?
Campgrounds usually have more basic facilities compared to RV parks and RV resorts. Therefore, a campground is likelier to have unimproved RV pads and only basic hookups. You can save thousands by installing a shared dump station next to the bathhouse compared to installing individual sewer hookups. Overall, however, the cost of a campground will depend on the cost of land acquisition. The amenities and offerings of the park should be determined by the target market and the nightly rate needed to break even.
How much does it cost to start an RV park?
The cost to start an RV park depends mostly on two factors. First, are you planning to purchase an existing park and take over, or do you want to build it from scratch? Building an RV park can take years of planning as you find the land and dive into permitting and construction. The second factor that affects the cost to build an RV park is the location. How much land costs in the area may be the single greatest factor that affects your business.
How much does it cost to run a campground?
Overall, the cost to run a campground is lower than similar business. After the property has been constructed, operating costs are limited to upkeep and maintenance. Of course, there will be payroll for employees and utility costs to pay, along with everyday business expenses like taxes and marketing.