Hey! This site is reader-supported and we earn commissions if you purchase products from retailers after clicking on a link from our site.
Using a toilet in an RV is not always the easiest of tasks.
Not only do bathrooms in recreational vehicles tend to be quite small, but the toilets in these vehicles are a little different from those found in standard homes. 
This raises the question: What is the best toilet paper for RVs?
The answer to this question depends on what type of toilet you have, how often you use it, and whether or not you are using a chemical toilet. The most common types of toilets found in RVs are waterless, chemical, and electric.  
When buying RV toilet papers, you will need to buy a variety that is specifically designed to be used in these vehicles. Regular toilet paper may not suffice. 
To help you find the best toilet paper for your RV, we have selected some of the top products on the market. You may want to consider using these products if you own an RV.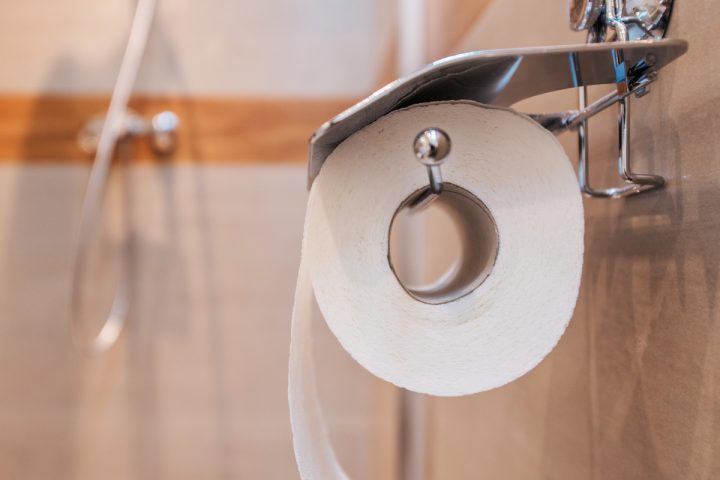 Table of Contents
First, this toilet paper set from Firebelly Outfitters will be an outstanding option for RV owners. The product can be used in more than just in RVs, but also septic tanks and for camping. 
This is because they are completely biodegradable. We are thrilled with the quality of this toilet paper and would encourage any passionate RV fans to give them a try.
Pros
8 super rolls in 1 pack: saving you plenty of money, this RV toilet paper pack is an absolute bargain. This substantial pack will keep you going for a while, meaning that you do not need to spend money and energy on buying more toilet paper. Never again will you have to experience running out of toilet paper when you need it most. 
Rapid dissolving: compared to typical toilet paper, this product has been constructed to dissolve much quicker. Plus, it will dissolve more entirely. This will reduce the risk of your RV toilet becoming clogged up. This can also result in your septic tank having a larger capacity, as it will not be filled with undissolved paper. 
2 ply: The Firebelly Outlet toilet paper has a soft feel that will be gentle on your skin.  Even if you are cursed with sensitive skin, this toilet paper will feel comfortable. 
The USA made: this company is proud to be American. If you are also patriotic, you may want to consider buying from Firebelly Outlet.
100% biodegradable:  this toilet paper is great for the environment, as it is fully biodegradable. This means that it will naturally decompose. 
Cons
Non-recyclable plastic packaging: though this paper is better for the environment than most standard toilet paper brands, the plastic packaging somewhat negates this. 
When it comes to RV-safe toilet paper, Scott is one of the leading brands.
 If you have owned an RV for quite a while, you may already be familiar with the brand. We decided to put this product to the test. We were looking for good quality, low price, high absorbency toilet paper. We found it in the Scott Rapid-Dissolving Toilet Paper! They did not leave any residue behind when used. 
It can be used in RVs, buses, boats, and other vehicles, resulting in it being a versatile product. Plus, it is completely biodegradable. We would recommend this toilet paper to anyone.  
Pros
Sewer and septic safe: when using this RV toilet paper, you can rest assured that it will not be harmful to your RV. Instead, it can safely be used in numerous settings. 
Sustainable: Scott is a brand that is concerned with sustainability. This product is approved by the Forest Steward Council (FSC) and is 100% made using wind power. They were the first toilet paper brand to be recognized by the FSC. If you care about the environment, you may want to consider using this sustainable brand. 
96 rolls: this pack comes with a whopping 96 rolls. You will not run out of toilet tissues quickly, as there are 231 sheets per roll. If you want to buy in bulk and reduce the risk of running out of RV toilet paper, you should think about investing in this pack. 
Recyclable packaging: unlike the previous product, these rolls come in packaging that can be recycled. This shows Scott's dedication to the environment. 
Cons
1 ply: this may not be the most comfortable of toilet paper. This is because it is only 1 ply, meaning that it is not constructed of many layers. If you have sensitive skin, particularly in the areas where you would use toilet paper, it is not recommended that you use this toilet paper. 
Also available at
Up next, we have Bamboo Toilet Paper by Nature's Call. This toilet paper is perfect for those who prefer natural products. 
This toilet paper is made from bamboo, which is a renewable resource. It is also biodegradable, so it does not harm the environment. This toilet paper has been tested on animals, and it was proven to be non-toxic.
 It is also hypoallergenic, making it suitable for people with allergies. This toilet paper is soft, yet strong enough to withstand rough usage. We decided to put it through its paces. 
Pros
100% bamboo fiber: This natural product is very environmentally-friendly. If you are looking for a natural alternative to traditional toilet paper, this will be a wonderful product for you. Despite being different from other toilet tissues, the paper manages to be both soft and sturdy. 
Super-absorbent: You can keep your skin dry thanks to this paper. 
Quick dissolving: If you are worried about clogged drains, this paper will speedily dissolve. This feature will also eliminate unnecessary spills in your bathroom.  
Fragrance-free: This product has not been covered in an overpowering fragrance. As a result, it is safe for all the family to use, including babies.  As mentioned, this paper is also hypoallergenic. 
FSC Certified: Like the previous Scott product, this toilet paper has been backed by the FSC. Therefore, you can use them in the knowledge that they are suitable for both you and the environment. 
Cons
Not very cost-effective: Compared to its rivals, this product is quite expensive. Other products offer a higher number of rolls at a more affordable price. Consequently, they are better value for money. As a result, you should only think about buying this brand if you are happy to spend a little more on your toilet tissues.
Next up, we have Aqua-Soft Toilet Tissue for RV. This toilet tissue is ideal for people who like softer toilet tissues. This toilet tissue is soft but still holds up well against rough usage. It is also gentle on the skin, likely because it is 2-ply.
If you are looking for a medium-sized pack, this one will be more than suitable. 4 packs are included making it the perfect option for a couple or a person living alone. 
Even a small family can use these for a while. After hearing positive things about this product, we decided to give this brand a try. 
Pros
Wide range of uses: not only can this be used in an RV, but it can even be used as ordinary toilet paper and marine toilet tissue. Moreover, it can be utilized in portable toilets. As a consequence, it is an incredible value for money. 
Snowy white: this toilet tissue is available in a wonderful white color that will fit into most RV bathrooms. 
396-sheets per roll: if you are looking for a medium-sized pack of toilet tissues, this Thetford product will be ideal. 
Water-absorbing: these tissues are highly absorbent, meaning that your skin will be left completely dry. If you have any bathroom accidents, these tissues will be able to make it look like nothing went wrong. 
No clogging: this toilet paper actively stops clogging due to its rapid dissolving. Therefore, you do not need to panic about your septic system being overwhelmed. 
Cons
Expensive: if you are shopping on a small budget, this pack will not be the best product for you. Though its price tag is not overly high, you only get 4 rolls for this price. As a result, you may be better off paying more money for a larger pack, as it will probably save you money in the long term. 
Also available at
Lastly, we have Camco 40276 Toilet Paper. This toilet paper is great for anyone who likes a firm feel. As a result, this toilet paper is ideal for people who suffer from arthritis or other joint problems. 
The Camco product works well both as a standard toilet paper as well as one that can be used in RVs. As the packing states, it has been constructed for RVs and Marine use.
Pros:
Bang for your buck: this product is quite cost-effective, particularly if you only want a handful of rolls. It comes with 4 rolls, with 280 sheets per roll. 
No dyes or perfumes: Camco's tissues will not irritate your skin or your nose. This is because it has been made without any pesky perfumes or dyes. 
Clog-resistant: blocked septic tanks will be a thing of the past thanks to this feature. 
Marine-safe: this product is not only suitable for RVs, but it is also safe to use in marine sanitation systems. 
Cons:
1-ply toilet paper: this product will not be suitable for everyone. It is quite thin because it is only 1-ply. Therefore, you may not have the most comfortable of experiences. If you prefer a softer sensation, you may want to opt for a two-ply tissue. 
Also available at:
Buyer's Guide
The above product suggestions will have given you a deeper understanding of RV toilet papers. 
Now, you will be able to identify the main advantages and disadvantages of some leading brands. Consequently, you may feel that you are in an advantageous position to start shopping.
Before you start shopping, we would like to warn you that finding the right type of toilet paper for your RV can be considerably more complex than you may have initially thought. 
The reason for this is that you will have to consider numerous factors. These factors will affect your enjoyment of the product. To help you, we have highlighted some of these primary factors. We urge you to think about them before your shopping experience. 
Price
This is probably the most obvious factor to consider.
 As with most products, RV toilet rolls are sold at a wide range of prices. Unfortunately, products that are designed for RV use can be more expensive than regular toilet paper. 
For that reason, price is something that you must weigh up against the other factors. This will be especially prevalent for people shopping with a smaller budget. Therefore, if you are on a budget, you should be aware that your options will be more limited.
On the other hand, if you are willing to spend a little bit extra, you will find that you get what you pay for. More expensive products are more likely to be of high quality. 
For instance, you may find them softer than cheaper brands. They may also last longer. Of course, you can still find some awesome brands for low prices. However, if you are looking for a bargain, you should look elsewhere. 
Quantity
You will notice that many RV toilet rolls come in large packs. This is because they are designed to be used by families. 
If you are only going to be traveling by yourself, then you will not need such big quantities. You might even prefer to buy just one roll. Of course, it is always useful to have more on hand. 
On the other hand, if there is someone else in your family, then you will need more than one pack. If so, you should consider buying a large pack. In many cases, you can save money by buying in bulk. 
Though these products will have a heftier price tag, they will likely be cheaper per toilet roll. While this is the case, you will need to find somewhere to store all of these rolls. This can be an issue in RVs, which traditionally come with very limited storage space.
 Therefore, you will need to weigh up what size pack you should get. 
Softness
Another important factor to consider is the softness of the toilet paper. Some people prefer softer toilet paper while others prefer firmer ones. 
You should try to find out what kind of softness suits you best. If you are unsure, then you should go for a medium-soft option. It will give you a good balance between these two opposing poles.  
Though it is often more affordable than other papers, one-ply toilet paper can be quite harsh on your skin. As a result, you should think about getting 2-ply toilet paper if your skin is sensitive.
 If you have young children or elderly relatives, it is recommended that you get at least two-ply toilet paper. You can even stretch to 3-ply if this is the case. You may want to splash some extra cash on ensuring that your RV toilet paper is soft and does not irritate your sensitive skin. 
Biodegradability
We strongly advise you to invest in biodegradable toilet paper. They will make your life much easier and will make cleaning and emptying your toilet system much simpler.  Thankfully, a lot of the RV toilet paper products out there are entirely biodegradable. 
Sustainability
For many people, their toilet paper must be sustainable and environmentally friendly. This is because it lets you know that you are using products that are not harming the environment. 
Luckily, there are plenty of sustainable brands out there for you to try. Two tremendous examples of this are Nature's Call Bamboo and the Scott Rapid-Dissolving Toilet Paper. 
Dissolving Speed
Most special toilet paper will be quicker at dissolving than standard models. It is recommended that you get a pack that will dissolve rapidly. Otherwise, they could be stuck in your sewage system for a long time. 
Fragrance
The last factor that you may want to think about is the smell of the toilet roll. This will be especially important if you are irritated by certain smells. This will also be crucial if you have young children. Some toilet paper brands have chemical-like smells that are very off-putting. Try to avoid these products.  
Frequently Asked Questions
Do You Need To Use Special Toilet Paper For Rvs?
Yes, you will need to use a specific type of toilet paper for your RV restroom. The most common types of toilet paper that you will see in RVs are:
1. Soft, non-woven tissue
2. Cotton squares
3. Microfiber squares
4. Biodegradable toilet paper
5. Reusable toilet tissue
How Long Does It Take For Toilet Paper To Dissolve?
On average, it will take approximately 20 minutes for toilet paper to completely dissolve.
However, this time can vary depending on a few factors. For instance, the thicker paper will take longer to entirely dissolve.
Moreover, more dense papers will also take longer. This is why you need specific RV toilet paper, as it has been designed to dissolve far quicker.