Hey! This site is reader-supported and we earn commissions if you purchase products from retailers after clicking on a link from our site.
If there is one topic that no one likes discussing when it comes to RV ownership, it is the holding tank. When having your own private, clean bathroom while out in nature is pretty convenient, if you do not utilize an RV holding tank treatment, you run the chance of meeting a stinky, dirty mess.
Dropping an RV holding tank treatment into your waste tank may help clear and avoid blockages, keep your RV odor-free, and save you the time and trouble associated with dirty sensors and a smelly holding tank.
But what kind of treatments are the best? We've produced this list of the best holding tank treatments for RVs to answer this question for you.
At the end of this article, we have also added a buyer's guide so you can see everything that you should consider when buying these tank treatments.
Now on with the list!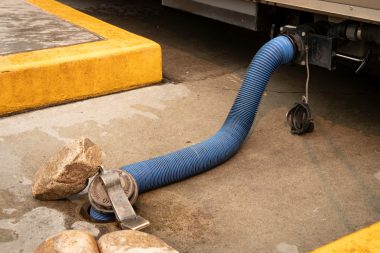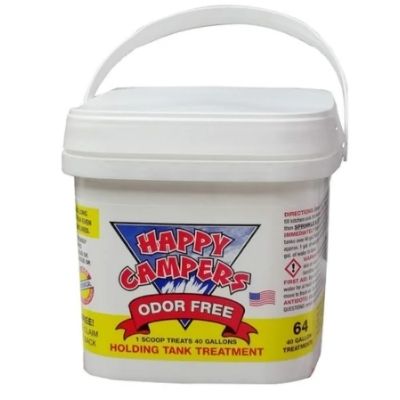 Specs
No. of treatments – 8
Type – Granule-based
Formula – Enzymes plus probiotics
There are several reasons why Thetford Campa-Fresh Ocean Breeze RV Holding Tank Treatments are preferred by many RV users. It's powerful and efficient, works quickly, contains no toxic components, and directly combats odors.
This treatment digests waste while minimizing residual collection, clumping, and clogging through the use of a special combination of enzymes that includes helpful probiotics.
It is safe for septic tanks and marinas, biodegradable, and does not contain any formaldehyde or bronopol. Additionally, it is suitable for use in campgrounds and does not emit a strong odor. The granule-based solution is easy to sprinkle into your RV's holding tank and successfully reduces odors and problems, especially in hot weather.
Pros
Can dissolve everything in the holding tank, including toilet paper and solid waste
Very easy to use thanks to the individual single-use packets
Environmentally friendly and can be used on campsites 
Gentle on your septic system
Keeps tank and sensors clear and clean
Cons
Ocean scent may not be appealing to you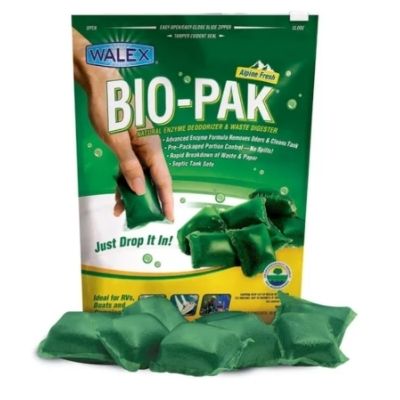 Specs
Weight  – 12 ounces 
Brand – Walex
Model– BIO-11530
This treatment from RV company Walex is available in water-soluble pods for easy tank dosing.
The Bio-Pak does not only mask smells; it entirely removes them, leaving no leftover scents. The recipe's unique enzymes aid in the digestion of waste by the characteristic green pods.
This also means that you may use any brand of toilet roll without having to worry about this clogging your pipes or failing to disintegrate correctly. Additionally, they are California-safe, and keeping a bag in your RV will provide a more enjoyable trip for a longer amount of time.
Pros
Breaks down and dissolves waste which means fewer dumping trips are needed as you can then fit more in the tank
Environmentally friendly
Works well in all temperatures
Cons
10 doses per purchase so may have to keep buying more if you spend a lot of time in your RV
Needs water to activate the solution
Specs
No. of treatments – 64
Type – Powder
Formula – water-activated mineral blend
Treatments for RV holding tanks can be pricey, especially if they are packed in single-use pods or packets. However, if affordability and value are important considerations, the Happy Campers RV Holding Tank Treatment is a good choice. 
This powdered combination is not only available in quantity, but it is also competitively priced. Additionally, you will receive good results each time you apply this powder to your holding tank. It is septic-friendly but strong, and it liquefies waste solids and the bulk of standard household toilet rolls, eliminating the need for RV-specific toilet paper.
Even better, you won't have to worry about temperature extremes, since this remedy is effective up to 100 degrees, eradicating odors and waste.
What is the one disadvantage of this approach to treating RV holding tanks? In really hot weather, you may need to use additional products to keep the scent under control. Given how cheap this bulk product is though, this should not hold you back from purchasing it.
Pros
Very affordable
Can breakdown with toilet paper and solid waste
Works well in all temperatures
With just one scoop you can treat a 40-gallon tank
Cons
While this treatment works well in all weathers, in very hot temperatures you may need to use more scoops of the product to keep the smell under control
Specs
Weight – 3.55 pounds
Brand – Camco
Model – 41553
Pods greatly ease the process of waste tank treatment, which is why Camco offers these TST Max treatment pods. Camco's pods are water-soluble, which ensures that the exact amount reaches your tanks without creating a new mess, and one pod easily treats 40 gallons. Also, this container has 30 pods, which should provide for at least a year of RVing.
The lavender scent creates a tranquil atmosphere that hides any offensive odors emerging from beneath your RV. By enclosing the pods in a sturdy container, they are protected from becoming wet by mistake, which would be rather messy.
Unfortunately, this treatment does not digest or degrade waste or toilet paper, which means that it may not be suitable for you if you are traveling for a lengthy amount of time.
Pros
Very easy to use
Keeps the tanks clean and smells fresh
Has 30 pods and will probably last you a full year 
Can treat a 40-gallon tank
Does not create any pressure buildup
Cons
Does not break down waste or toilet paper
Needs to be kept in a hard, waterproof container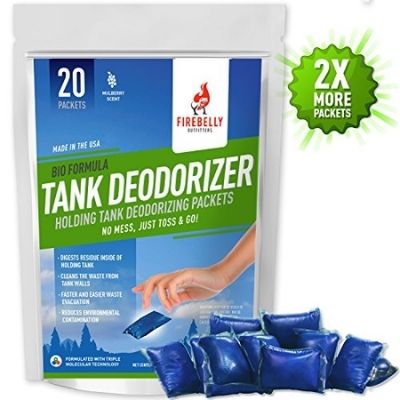 Specs
No. of treatments – 20
Type – pods
Formula – Enzymes and triple molecular deodorizer
Put an end to foul odors with Firebelly Outfitters RV Septic Tank Treatment, a convenient pod-style tank treatment designed specifically for odors. This concentrated solution acts similarly to other treatments in terms of washing and dissolving waste and toilet paper. 
However, due to the compounds included in it, it is particularly effective against musty odors. With a specifically designed toilet tank enzyme cleaner, septic tank enzymes, and a super-concentrated toilet deodorizer utilizing triple molecular technology, you'll experience long-lasting smell control during your camping vacation. 
Additionally, one pod is sufficient to treat a 40-gallon tank. Also, this product is backed by Firebelly Outfitters' Promise, which ensures a complete refund if you are not happy with the outcomes.
The only downside of these RV holding tank treatment pods is that they do not dissolve in water. They decay slowly, taking several minutes longer than typical pods.
Pros
Specialized treatment that fights odors and keeps your tank smelling fresh
Dissolves toilet paper and waste
Cleanses the whole system, from the toilet to tank
Has a money-back satisfaction guarantee
Cons
Takes a few minutes to dissolve
Specs
Weight  – 2.4 pounds
Brand – Unique Camping & Machine
Model – 431 – az
Perhaps pods are not a good fit for you and you prefer to measure liquids when treating your tank. If this is the case, Unique RV's medication is worth considering, as its liquid formulation promises rapid results. Once inside your tank, the treatment will target and remove sediments, making dumping straightforward. Due to its liquid nature, it will also clean the pipes leading to the tank.
Additionally, this system is compatible with septic tanks, which benefits RVers who already possess a septic tank at their primary residence. 
Despite the liquid's benefits, it does have a few drawbacks. One of them is a mess, since the liquid may be challenging to deal with. Additionally, because this is a larger container of treatment, at 32 ounces, finding a suitable location for the bottle can be difficult. However, in the long term, it will eliminate offensive odors and keep your RV in tip-top shape.
Pros
Dissolves clogs and blockages easily
Clears out both the pipes and the tank
Makes dumping easier by ensuring that the tank drains faster
Keeps the septic system in good condition
Cons
It May be difficult to store due to the large container
Liquids are harder, and messier, to use
Specs
No. of treatments – 10
Type – Liquid 
Formula – enzymes 
If you dislike the strong synthetic odours included in many RV holding tank treatments, you'll appreciate the Valterra Odorlos Holding Tank Treatment. This fragrance-free solution includes nothing that covers odors. If you put it in your RV's tank, you'll know whether it actually removes odors. 
The 100 percent biodegradable, eco-friendly liquid mixture is non-toxic and formaldehyde-free, and a little dose (4 ounces) cures a complete tank. It is completely safe and effective when used with all types of holding tanks and RV toilets, including those constructed of plastic. 
Once poured into your toilet, this solution will help to speed up the natural composting process occurring within the holding tank, while also preventing the production of hydrogen sulfide emissions, which are the gases responsible for bad smells.
While this RV holding tank treatment successfully removes odors without concealing them, the effect may be temporary. In certain instances, depending on the amount of use your holding tank receives, odors may reoccur after a few days.
Pros
Scent-free, though this is only an advantage if you do not like artificial smells 
Safe to use no matter what type of septic system you have in your RV
Prevent hydrogen-sulfide gas from forming, which in turn prevents bad smells
Safe to use for all RV toilets 
Cons
The odor-eliminating effects may only work for a few days before you start to notice it again. This depends on how RV toilet treatment occurs
Specs
Weight – 1.68 pounds
Brand – Rid-X
Model – AX-AY-ABHI-55917
If you've ever had a septic tank problem, you're probably familiar with Rid-X products. However, this liquid solution from a respected manufacturer is designed exclusively for RV tanks.
The key to this treatment is that it inoculates your tank with natural bacteria and enzymes, guaranteeing that it remains clean for at least ten days following application. These are designed to locate and remove waste particles that may be impairing the performance of your RV's tank.
The pleasant aroma tells you that it is there and active, and it properly cleans both the tank and its sensors, keeping both in peak shape. 
However, Rid-solution, X's has one big downside, and that is the demand for continuous usage. This RV toilet treatment is effective only when applied consistently and natural bacteria build up in your RV's tanks. As a result, once you begin, you must keep adding more for a lengthy period of time.
Pros
A few fast-working solutions
Breaks down and dissolves all waste
Cleans both tank and sensors, ensuring that everything is kept working properly
Cons
Requires consistency to keep working, which may be hard for some people to keep up
As it is a liquid it could be messy to use
Specs
Weight – 12 ounces 
Brand – Walex
Model – TOI-91799
In many ways, an RV toilet is a giant porta-potty, and installing a Porta-Pak greatly minimizes the odor that can occur when this type of toilet is used. This treatment is packaged in an easy-to-use water-soluble pod that simplifies dosing — simply drop one in and let it work. 
Not only is this treatment very good at eliminating odors, but it is also able to break down waste and toilet paper  
While this is not a digester (it will not completely dissolve the sediments in your tank), it will nonetheless decrease them so they can easily flow out and into a proper dumping place. This will result in a big reduction in your RV's weight. 
There are, however, a few drawbacks. For starters, once the pods become wet outside the tank, they become unusable, so they must be stored in a very dry place. Second, they require water to activate, which may not be possible for you if you do not have liquids in your tank.
Pros
Gives you a pre-measured amount of formula so you don't have to do it yourself
Very simple and easy to use
Works very efficiently in breaking down waste and eliminating bad smells
Cons
Needs water to active
Needs to be stored carefully
Buyers Guide
Here is everything you need to consider when buying RV holding tank treatments:
Types Of Treatment
1. Liquid
Liquid treatments need some effort to activate. Measuring and diluting is necessary, which can be time-consuming and also a bit messy if you are not careful. They do, however, have one advantage, they are often more effective than tablet treatments.
2. Tablet/Pod
Several RV owners will agree that these are the most natural methods to use. Their biggest benefit is that they do away with the need for measuring. Simply throw in the correct amount of pods into the tank and you are done. For the majority of people, the primary drawback is that they must soak and degrade before the tanks can be emptied.
3. Powder
Many older RV owners are familiar with this kind of tank holding a treatment. It is very effective at dissolving solid waste. This method frequently requires inoculating the tank with bacteria, which contain germs that help in waste decomposition.
Odor Control
Is the RV holding tank treatment you've chosen genuinely odor-targeting and odor-eliminating? Or does it just mask them without tackling what is causing the bad smells? While almost every RV holding tank treatment solution has a pleasant scent, some only mask the odors. 
Rather than that, you want to look for a treatment that can effectively reduce odors at their source, in your waste. A modest amount of fragrance may be good, particularly if the treatment requires time to act, but it should not be overbearing as you may not like the smell.
Is It Biodegradable?
While this may seem little compared to other key characteristics, the best holding tank treatments are biodegradable, environmentally friendly, and devoid of formaldehyde.
This chemical is more dangerous than others due to its proven carcinogenicity, extreme toxicity, and flammability. Essentially, you probably do not want to damage the environment with your waste as well as the treatments, so keep an eye out for friendlier products.
Effectiveness
Users should look for a product that is both fast and efficient. It should be extremely effective in dissolving or unclogging. Additionally, it should be capable of reducing foul sewage odors. A product that satisfies all of these criteria is the one to utilize.
FAQs (Frequently Asked Questions)
How Do You Use The Treatments?
Using these products is usually very simple. To begin, either drop it into the bowl or pour it in – the approach will differ based on the type of treatment used. After that, flush it down and allow it to soak in the black or grey water tank until it is properly disposed of.
How Do You Clean An RV Holding Tank?
The tank will need to be cleaned after emptying. RV owners should first fill the tank with fresh water and bleach. After that, close the toilet lid to avoid inhalation of harmful vapors. After around 10 minutes, drain and refill the tank with freshwater. Continue draining until the water flows clear.