Hey! This site is reader-supported and we earn commissions if you purchase products from retailers after clicking on a link from our site.
If you own an RV you will have a first-hand experience of just how much joy it can bring to your life. RV's offer comfort, an easy way to travel, and an opportunity to make long-lasting memories with your family.
However, if you don't keep on top of the maintenance side of things the joy your RV brings can quickly become a nightmare. One thing often overlooked when maintaining an RV is the roof sealing. Maintaining the seals on an RV roof isn't something you can avoid indefinitely.
Not keeping on top of your RVs roof sealant can result in serious leaks and water damage, rendering your RV useless. Today to help avoid this potential risk and maintain the seals on your RV we have put together a list of the best roof sealant products on the market, looking at how easy they are to use and how they can protect your RV.
If you're looking for the perfect RV roof sealant, make sure you keep reading!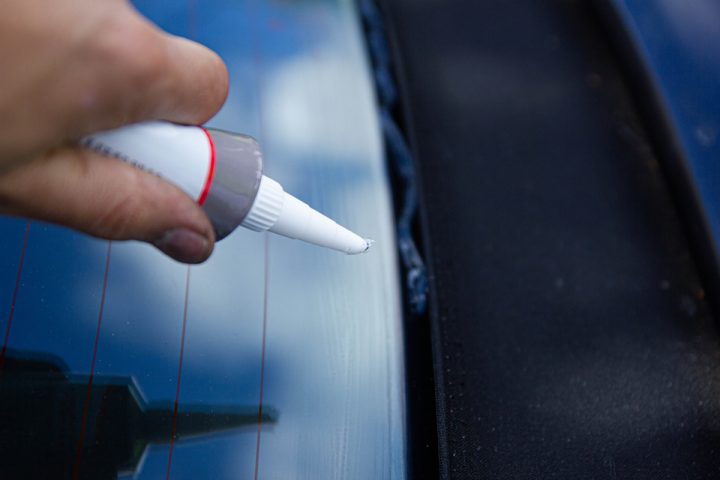 Table of Contents
We'll kick off the list with a solid, affordable sealant that will get the job done with little effort. Coming in a ten-ounce tube this sealant from Geocel works fantastically on aluminum, fiberglass, glass, wood, coated steel, steel, and vinyl surfaces. 
This sealant has brilliant contraction and expansion properties that easily withstand movement within the joints of most recreational vehicles including your RV.
The fast-acting sealant bonds to your vehicle almost immediately even when surfaces may be slightly damp, frozen, or oily. As soon as the sealant has set you can expect protection against the harshest of conditions. 
When we took a closer look at the Pro Flex RV sealant we were impressed with how easy the sealant was to use. Even if you've never used a flexible liquid sealant before, you won't struggle to seal your RV with this product.
To make sure you're doing things right you can always use the easy-to-follow manual that comes with the sealant. 
This non-stringing formula is the ideal product you should keep a tube of in case of emergencies. It makes applying and cleaning up super easy.
Pros
Very cheap – This sealant is available at a great price.
Easy-to-use – You'll have your RV sealed in no time.
Versatile – The Geocel RV sealant can be used on a range of materials.
Cons
Doesn't work on some materials – Despite its versatility, this sealant shouldn't be used on single-ply rubber (TPO) or synthetic rubber (EPDM).
Also available at:
If you travel in your RV a lot then it makes perfect sense to have a spare roll of this micro sealant tape. EternaBond microsealant is a very sticky gray tape that creates a strong, sturdy bond with almost every type of roofing material. 
While the manufacturers don't recommend sealing the whole of your RV roof with this product, it is a very cost-effective, versatile product to use if you need to seal a large chunk of the RV roof. Despite costing more than other sealants, with every purchase you receive a 50-foot long roll of tape that's 4 inches wide. This will keep you going for a very long time. 
We found that the white color of this tape comes in handy because it blends in nicely with the RV, not sticking out like a sore thumb. Unlike the Geocel sealant, you should only apply the tape when it is dry and your RV roof is clean. You should also avoid using it on silicone surfaces. 
Thanks to the unique molecular structure of the EternaBond tape, this product is extremely stable and resistant to the degrading effects of nature. This gives RV owners long-lasting repairs in an easy-to-use one-step sealant. What more could we ask for?
Pros
High strength – This tape will keep your roof sealed for an incredibly long time.
Works on all roof types – You can use the EternaBond tape on any RV roof surface.
Long-lasting – The tape should last for 5 years if you store it away correctly.
Cons
More expensive – This is a more expensive type of roof sealant.
When it comes to finding an easy-to-use roof sealant, things don't get any easier than the RV roof sealant from Premier Pro Products. This adhesive roof sealant comes in a handy squeezable pouch that simplifies the application process. There is no need for a caulk gun. Simply squeeze the pouch to place the sealant on the desired area.
This makes the sealant an excellent emergency repair product, suitable for fixing leaks or sealing up small cracks in your roof. One 750ml pouch can cover 130 lineal feet with ease.
The beauty of this sealant and our favorite feature is the resealability of the product. If you make a mistake when using the sealant you can easily remove it and start again, using the same bit of sealant. This can all be done with no mess.
Compatible with asphalt, metal, wood, rubber roofs, and many more, Premier Pro Products have taken 30 years to master this product. The end result is an extremely practical product that does a solid job.  
As well as being great for sealing an RV roof, you can also use the product to seal guttering or make farm repairs.
Pros
Easy-to-use – This sealant is arguably the easiest to use on this list.
Reusability – If you make a mistake you can start again using the same sealant.
Good value for money – This sealant is very affordable.
Cons
Not for larger areas – Premier Pro Products sealant is the best product to use if you need to seal a larger area.
Dicor is one of the most reputable companies when it comes to roof sealants. When you take a look at this sealant it's not hard to see why. Dicor's acrylic coating will help maintain and extend your RVs roof quite dramatically.
For easy application, you should consider also buying the Dicor RV roof cleaner/activator. This will help get the roof ready for the acrylic coating which should take just two coats to successfully seal your roof.
Each gallon of the Dicor acrylic sealant will cover 125 square feet of roof. Once the sealant has been set, you can expect your roof to require little maintenance until the next time you need to use the sealant again, which should be a long time away.
When we reviewed this product we were impressed with how easy it was to apply. We found that using the Dicor roof cleaner/activator gave enhanced adhesion that provided the roof with plenty of protection from everything nature threw at it. The sealant also extended well, offering good, flexible protection that we expect to last a seriously long time. 
Pros
Perfect for rubber roofs – Owners of an EPDM roof will love this sealant.
Easy application – Simply coat your roof with this product.
UV protection – Dicor's roof sealant will give your roof protection from UV rays too.
Cons
Not as versatile – The acrylic coating can't be used on a wide range of materials like others on this list.
Another fantastic liquid coating sealant that will extend the life of your RV roof is the RV roof coating sealant from Liquid Rubber. The best thing about this sealant is how easy it is to apply to your roof. Designed with easy coating in mind, you can roll, spray, or brush this sealant onto your roof. 
In just two or three coats your RV roof will have long-lasting protection from even the harshest weather and UV rays. Not only suitable for rubber RV roofs, this versatile sealant can also be used on metal roofs, mobile homes, campers, gutters, and trailers. 
To apply the sealant simply paint on the desired area. Liquid Rubber recommends using a minimum thickness of 1 gallon per 50 square feet. You can buy the coating in one to five-gallon pails. A five-gallon pail should cover RVs that are up to 30 feet long.
As if that wasn't enough this sealant is a water-based roof coating containing no harmful solvents or odors. 
Overall, the Liquid Rubber RV Roof Coating sealant is easily one of the best sealants on the market if you want a product that is easy to use and does an awesome job.
Pros
Applied with ease – You can apply this sealant as if you were painting.
Protects a range of roofs – This sealant works well with a variety of roof materials.
Contains no solvents – The Liquid Rubber roof coating is solvent and odor-free. 
Con
Expensive – The roof sealant will set you back.
Final Thoughts
Sealing your RV roof is something you can't avoid. Eventually, you will have to get it done so that your RV lives a longer, happier life. If you don't maintain the seals on your roof you could face serious problems such as leaks or water damage. 
Using a high-quality sealant and a little bit of effort you can protect your RVs roof. A good sealant will protect an RV from harsh weather, UV rays, and of course water damage. 
The sealants on our list are all brilliant at sealing a variety of different RV roof types. Though they may differ slightly in style or application, they all share one thing. They all work very well and extend the life of your RV.
As the sealants on our list are all quite different, each one offering something unique, it is your turn to do some research. Now you have our list, take some time to find out which RV sealant suits you best. By doing this you should then be able to make a decision you can be pleased with.
Buyer's Guide
With there being so many things to think about finding the best RV sealant for you can be tricky. To give you an extra help in hand, here are some things to consider before making your final purchase. Taking these into consideration will help you make a decision you don't regret. 
Damage Level
If you haven't been able to maintain your RV roof and there is already damage it is important you assess how bad the damage is before looking for a sealant. Sealants vary in terms of what they can fix. Some are designed to be used on small cracks or leaks, whilst others can easily fix extensive damage. 
There is a big difference between extensive damage and a small crack so you need to examine how much of your RV roof seal needs repairing. If you only need to fix a few cracks you can buy a sealant that works accordingly.
Alternatively, if you have extreme damage you will need to buy a sealant that covers a larger area. If damage is so extreme you might need to skip the sealant process altogether and get the roof replaced.
Roof Material
Not all sealants work on every type of roof. Therefore, you need to ensure the one you choose is suitable for your roof. Using the incorrect roof sealant on your RV can damage the seals that are already there, creating a larger problem. This is not what you want or need, especially when you're buying the sealant to solve the problem.
To avoid this before you start looking at sealants identify the type of roof you have. Most RV roofs have rubber, metal, or even fiberglass roofs. Once you know for sure, you can start looking for a sealant that suits your roof material. If you're still unsure which sealant works on your roof you could always ask the manufacturer for some advice.
Flexible Sealant
One key thing to look out for when choosing a sealant is its flexibility. Your RV will change a lot in temperature throughout the year as seasons change. As a result of this, your RV will expand and contract.
This makes it super important to find a sealant that is flexible enough to expand and contract with the RV roof. This will help provide better protection and prevent future damage.
When looking for the perfect sealant check the product description and reviews carefully. It is here you will find information regarding the flexibility of the product. If it isn't flexible, we recommend you look elsewhere.
UV Protection
If you're storing your RV under cover or under shade your RV will be exposed to direct sunlight all day every day. Though sunlight doesn't typically cause any major issues, seals on an RV roof can quickly get damaged. 
To prevent this from being an issue simply look for a sealant that is UV resistant. A UV-resistant sealant will be able to handle direct sunlight with ease, protecting your RV for longer. Most sealants come with UV resistance but it is always a good idea to check just to make sure. 
Price
Just because a sealant might cost more doesn't mean it is better. Different sealants are better for different scenarios. Some may be more expensive because they work over a wider range of materials or you simply get more with your purchase. 
There are plenty of amazing cheaper options that might suit you better. For example, Premium Pro Products sealant is only cheap but seals an RV roof brilliantly, working well on cracks. Liquid Rubber's coating sealant costs a lot more because it covers the whole roof.
If you don't need to coat the whole roof it makes perfect sense to go for the cheaper option that covers exactly what you need. Buying the more expensive sealant to only use on a small area would be silly.
Frequently Asked Questions
How Many Times Should You Reseal An RVs Roof?
It is impossible to pinpoint exactly how many times you should reseal your RVs roof. This is because every RV is different and everybody's scenario is different. If you keep your RV undercover the chances are it won't need to be resealed as frequently as an RV left outside all year.
Having said all this you should at least check your RV monthly. This doesn't mean you have to seal it monthly, it instead gives you the opportunity to monitor any changes or situations that may be developing. By doing this you will spot any issues in advance before they become a bigger problem.
How Do You Clean An RV Before Resealing It?
The best way to clean an RV roof before resealing it is to use a diluted mixture of a cleaning solution such as OxiClean and water. By using this mixture and a truck washing brush to scrub the roof clean you can easily clean the roof without causing any damage or creating any stains. 
How Long Does An RV Roof Last?
How long your RV roof lasts depends on a number of factors. The main factor that affects this is how well the roof has been looked after. If you maintain and care for your RVs roof and do regular checks there is no reason the roof won't last for at least 20 years. 
However, this isn't a guarantee. Some roofs might last longer or less depending on how much they are used and if any accidents occur.