Hey! This site is reader-supported and we earn commissions if you purchase products from retailers after clicking on a link from our site.
Did you know that it's illegal to visit Bend, OR and not float the river? Okay, that may be a bit of an exaggeration, but that is because it's an experience you cannot miss. The Bend River Float is one of the must-do things in Bend. In fact, many Bend citizens will repeatedly float the river in the summer months with their friends and family because it's so much fun.
But if you're visiting or stopping by, the whole process of the Bend River Float can seem a bit daunting and confusing. Where do you launch your floats? Where do you get out? So today, this article is going to give you all the information you need to have a successful Deschutes River float!
Table of Contents
What is the Bend River Float?
First and foremost, you need to know what this whole floating thing is about. Basically, the Bend River Float refers to the summertime activity of grabbing an inner tube and floating down the Deschutes as if it was the Lazy River at a waterpark. Now, while this might seem like an easy way to pass the day by, it can be a little hectic. You see, the popularity of floating on the river in Bend, Oregon has increased by a lot.
In fact, in 2020 the Bend River Float attracted more than 200,000 people. This means you're going to have to know how to plan ahead, what you need, how to get to the river, and how to snag some rental tubes for your friends and family.
Check out this video guide that shows you how to float the river in Bend, Oregon:
Planning Your Bend River Float Experience
The first thing you need to do is gather all the information you can about floating the Deschutes River. The good news is that you're already here! Some things have changed over the past few years, and in 2021 the Bend River Float required a reservation for some of the services. While this may change in the future, assume for right now that you will have to call ahead and make reservations.
The Bend River Float happens between Memorial Day and Labor Day. The earlier you reserve your float, the easier it will be to secure rental tubes. The recommended company is Tumalo Creek Kayak and Canoe. Of course, there is also a Walmart close by where high quality floaties are always in stock!
You must also consider the following:
Where you plan on parking
How you plan on traveling along the river
How you will return to your car
What are the rules?
All these points will be covered below.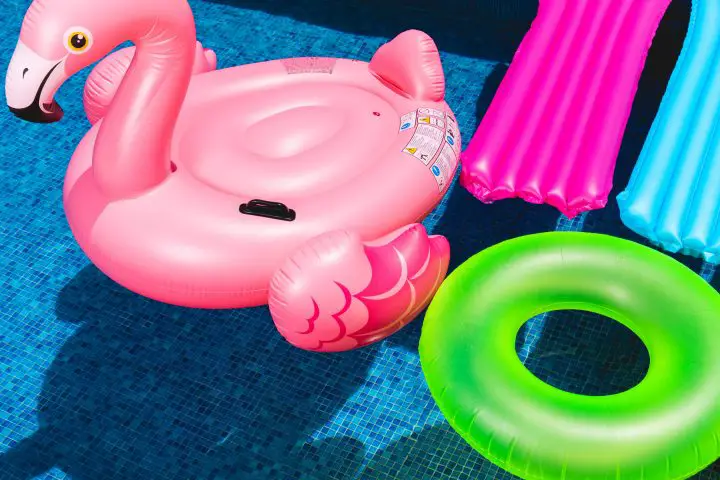 How Do You Float The Deschutes River?
There are a couple things you will need to do the river float successfully:
An inflatable inner tube or raft (or a paddleboard, kayak, or other transport)
Protective water shoes
Sunscreen
Hydration
Dry bag
Life jacket or PFD
Towels
Float or Boat
The main thing you need to consider when planning to float down the river in Bend is what kind of vessel you're going to use. If you plan on renting (more on that in a moment), you won't have to worry too much about the kind of inner tube or floatie you have.
Planning on bringing your own? Most of the inflatables that you find in the store for the pool aren't durable enough for the river float. While you will see plenty of people out there with floating pizza slices and swans, you are going to want an inflatable tube or raft with durable seams.
Some sections of the Deschutes river are pretty shallow. Your tube or raft is going to be scraping along the bottom of the lake, and there are plenty of sharp stones.
Keep in mind that the following watercraft are not recommended for the rapids:
Flatwater canoe
Pool lounger and inflatables
Flatwater kayak
Paddleboards
Other Necessary Items
Once you've figured out what kind of tube, raft, or boat you will be using, the next thing you need is shoes. As mentioned above, the river has some sections full of rocks and branches. Use a well-fitted pair of shoes to protect your feet. Never go barefoot into the river.
Other things you will need include a personal flotation device or life jacket. Oregon state law mandates that everyone using a boat must have a life jacket. Now, "boat" is an overarching term that encompasses canoes, kayaks, inflatable rafts, and even several floating tubes tied together. It's best to play it safe and make sure everything, even children, has a life jacket.
Be sure to slather on sunscreen then stuff it in the dry bag with your car keys, phone, and other items that you don't want getting wet.
Where to Get In and Get Out Along the Deschutes
So you're strolling along and see a bunch of people merrily floating down the river. How did they get there? If you have never tried the Bend river float, figuring out where to launch and leave the river can be confusing. Here is what you need to know.
You have a few options:
A 1-hour float from Riverbend Park to McKay Park
1-hour float going from McKay to Riverbend Park
A 2-hour float from Riverbend Park to Drake Park
For rapids and adrenaline, start at Bend Whitewater Park
While these float routes are the most common, there are other ways to go about this adventure. For example, if you want to try the Bend river float but don't have a lot of time to drift downstream, launch your boats at Riverbend Park. Float down to the Colorado Avenue Bridge. Hop out of the water there and bring your boats for a short walk back along Shevlin Hixon Drive. You will arrive back at Riverbend.
Alternatively, you can launch at Colorado Avenue Bridge then descend the river to Drake Park.
The favorite route for those with children is riding from Riverbend Park to Bend Whitewater Park. You get about 45 minutes of a relaxing float before hitting the rapids. Don't worry. The rapids are nothing crazy, and they take about 2 minutes to slide through. Sometimes the area gets a little backed up with all the crowds, so you may have to wade around before getting your turn.
Once you have reached Bend Whitewater Park, you can repeat the rapids as much as you want and go swimming.
Riding The Fish Ladder
At Bend Whitewater Park, you will notice that there are distinct channels to venture down. Much of the area is a natural habitat for wildlife, including the fish ladder.
It's definitely something to check out.
At Bend Whitewater Park, you will find a couple of trails to walk along. One of them takes you to the beginning of the fish ladder, which is 12 tiny rapids. While they don't look very intimidating, the water rushes along quickly, and the rapids can ruin less durable floaties. Therefore, it is recommended that you tackle the fish ladder with only the best inflatable tube or boat.
When you prepare to ride the fish ladder, use a little technique to stay upright. It is best to point your feet downstream and center your float in the middle of the channel. Others may be joining up on the fish ladder, so try to maintain some distance (so you don't crash into each other).
Getting to the Bend River Float
Since there are some residential areas that require parking passes or permits, your best option for parking is at Park & Float, which is located opposite of The Pavillion on Bradbury Way and Simpson Avenue. The lot is open from Memorial Day to Labor Day everyday of the week, and the gates open at 10AM. It is recommended that you arrive to Park & Float early, since there can be lines of cars awaiting entry.
After you have parked, grab a shuttle pass for Ride The River. These tickets are $3 for the whole day. Inner tube rentals are also available at the same spot (from Tumalo Creek Kayak & Canoe), but you can pick up some at Riverbend Park, too.
River The River staff assist you with loading your tubes into the trailer that the bus tows along. Generally, the shuttle operates between 11AM to 5PM during the summertime. There are two stops: Riverbend Park and Drake Park.
If you decide to get off at Bend Whitewater Park, you're in luck. Park & Float is a short walk away.
Don't Just Float, Explore The Deschutes
There are many other things to do besides the Bend river float. If you have already hopped onto your inner tube and drifted down the Deschutes a few times, you may find yourself wondering what other adventures await you. Maybe you want to tackle some larger whitewater rapids? Further along the Deschutes are some incredibly challenging rapids that can be accessed with Sun Country Tours' Big Eddy Thrill Ride.
You can also enjoy world-class fishing. There are many spots along the river where you can find brown trout, rainbow trout, steelhead trout and more throughout the year.
Don't forget to check out the nature surrounding the Deschutes River with all the trails. For instance, the easy Deschutes River Trail provides 12 miles of beautiful views. You come up to the spectacular Benham Falls, one of the most scenic areas in Central Oregon. There are several offshoots from the Deschutes River Trail, including the Archie Briggs Canyon Trail and Mt. Bachelor Village Trails.
Want to take your mountain bike for a spin? You will find plenty of mountain bike routes along the Deschutes River Trail, too.
Lastly, if you are looking for additional fun in the sun in July, there is an event called Munch and Music. The festival happens at Drake Park and begins at 5PM. You can float up the festival in style then have a blast until late in the evening.
Tips For a Better Bend River Float
Setting up your river float adventure is more simple than you probably thought. Here are some tips to make your day on the water even better (and safer).
Practice Leave No Trace—whatever you bring with you leaves with you. If your inner tube pops, don't abandon it along the river. Bring it with you and dispose of it properly.
Alcohol and drug use is prohibited, even those allowed for recreational use. As of 2021, there is a significant fine in place if you are caught with drugs.
Be prepare for roadwork and construction along the main thoroughfare leading to and from Park & Float.
There are no lifeguards stationed along the river. Therefore, you must wear PFDs and be cautious as you float through crowds.
Do not jump off any of the bridges along the river. Jumping from the bridges is both illegal and extremely dangerous, as there are unseen obstacles laying beneath the water.
Remember that parking is best at Park & Float. Some places, like the areas around Drake Park and Riverbend Park, require parking permits for long stays. You don't want to ruin your watery fun with a hefty fine.
To avoid crowds, it is recommended that you start your float earlier. The busiest times on the river are between 11AM-3PM. Consider starting around 10AM or after 4PM.
The Real Lazy River
If you are looking for the top thing to do in Bend, Oregon, don't pass up the chance to float the river. Long and winding, the Deschutes River is the perfect place to grab an inner tube and drift. Hopefully, you now know everything you need to make your Bend river float a fun, memorable time for everyone in your group!
FAQS
How do you float the river in Bend, Oregon?
The Bend river float is an easy way to spend the day. In order to float the river, you will need a durable tube or whitewater-rated paddleboard or kayak. From there, you launch your boat at Riverbend Park and enjoy a 1-2 hour float down the Deschutes River. You can then choose to ride the rapids at Bend Whitewater Park and leave from there or continue on down to Drake Park.
How long is the Deschutes River float?
The length of the Deschutes River float depends on where you enter and exit the river. If you begin at Riverbend Park and exit at Bend Whitewater Park, it takes between 45-60 minutes to complete. If you continue on past the Colorado Avenue Bridge and onward to Drake Park (the last stop), it takes around 2 hours.