Hey! This site is reader-supported and we earn commissions if you purchase products from retailers after clicking on a link from our site.
The more you travel and live in your RV, the more things you may find don't work for you or could be improved to fit your lifestyle or interests. While some of these upgrades may be major such as installing a solar power system, others may be much simpler like solving a way to dry towels or swimsuits while you're traveling. In this article, I'll share some things that work for people that travel in larger RVs and in a few examples, and some ideas for people traveling in much smaller RVs with limited space.
Higher quality tires
Most RV manufacturers put the lowest grade tires for the base weight on their models to save themselves money and maximize their profit. Once you have added several hundred pounds of additional weight such as clothing, small appliances, and other accessories, you have increased the load on those tires considerably. While I agree with the principle of maximizing profit, I truly believe that many of these manufacturers are putting their customers and the general public that are traveling alongside some of their RVs at risk of personal injury (or worse), and certainly a monetary damage to the owner's RV.
Consider this – when a tire blows out while you're traveling down the road at a good rate of speed, it's not a pretty sight. The tire doesn't just lose air and go flat. Instead, it usually disintegrates into smaller pieces that it throws out into other motorist's lanes or vehicles who are also traveling at a high rate of speed. Often, some of this rubber will stay attached to the original tire and will beat along the undercarriage of your rig until you have safely stopped causing far more damage than the cost of buying a better tire rated for more weight. Read my recent article on RV tires to learn more about how to understand your tire specs and what's the right setup for your rig.
I once had a tire on the passenger side of my 5th wheel blow out just as I was merging onto I-94 in Michigan. As luck would have it, I was merging in between to semi-trucks traveling at 55 to 60 miles per hour. At that speed, I only heard a small "pop" and when I immediately checked my mirrors, I could see (and feel) that my rig was now swaying behind me at a high rate of speed on a very highly traveled interstate.
The first semi traveled on of course because he or she driving it was probably unaware of what was going on behind them. However, the driver of the semi behind my rig took immediate action by quickly decelerating and when I think about it today, I remember that that action by him or her gave me a sense of relief because I knew that they knew what was happening and they were doing their best to give me room and keep their rig safe and under control. At that point, I was able to concentrate on what was in front of me and slowing my rig down without having to worry about the 72,000-pound vehicle behind me. Please remember folks, this all took place in less than 10 seconds.
Solar power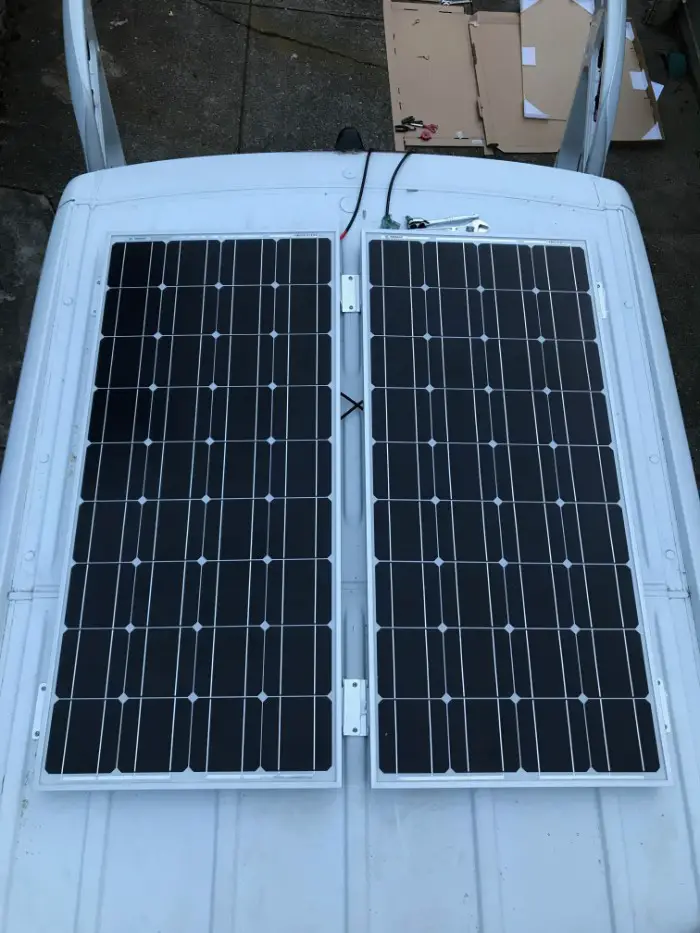 I love boondocking and I am a huge supporter of alternative energy. That said, it should come as no surprise to those that follow my column regularly, that I believe in using solar power when you're on the road. In the past decade or so, solar power has begun to drop in price making it more affordable to the average RVer or consumer. Advanced technology has helped to facilitate the popularity of this alternative power source and the economic theory of "supply and demand" continues to hold fast making this technology more affordable to most RVers.
Our recommendations: The best RV solar panels
In short, I believe that the demand for solar power will continue to increase and suppliers will continue to improve the quality of solar components while also maintaining the demand. In fact, I foresee manufacturers of many RVs including some components designed to operate solely on alternative power sources as standard equipment or more likely as options that one can request when ordering an RV.
Today, RVers install their own solar systems or hire those with the knowledge and familiarity to install solar power for them. I could expand further on the importance of having a solar power set-up when camping or boondocking and how to install a system that works for your needs, but I would suggest that you visit my colleague Lindsey's article where she walks you through the installation of her solar system on her van design.
On demand hot water
Short of installing solar power, this is probably one of the best upgrades I have done to my RV. By installing an on-demand water heater, I have eliminated the need to carry a 12-gallon tank of water dedicated for use as hot water only with me when I travel. This has reduced the weight of my 5th wheel as well as the constant need for propane and electricity to maintain a constant temperature of a tank of water that I only use two-to-three times a day.
Last update on 2023-09-10 / Affiliate links / Images from Amazon Product Advertising API
Our recommendations: Best RV water heaters
If you're having issues with your current setup, read our guide on troubleshooting your RV water heater.
A ceramic toilet
Some may ask as to why I chose this as one of my choices for a favorite or recommended upgrade to my RV, but if you have an RV with the standard model installation of this type of toilet, then you know that it is made of plastic.
Last update on 2023-09-10 / Affiliate links / Images from Amazon Product Advertising API
Quite often, its bowl is finely textured for aesthetic purposes. This may look nice at the time you purchase your RV, but believe me, over time it will be harder to clean, and it will take on a lot of staining.
A ceramic toilet will always be much easier to keep clean and maintain and the same can be said for replacing your bathroom sink with a ceramic or stainless model as well.
Our recommendations: The best toilets for your RV
In short, stay away from the cheap plastic sinks and toilets because they degrade too quickly, and they just look cheap because they are. If you're buying a new model motorhome or trailer, consider upgrading your purchase with modifications, and if you're remodeling an RV skip the "manufacturers recommended equipment list" and install ceramic or stainless equipment. I cover this topic in more depth in my guide on remodeling your RV bathroom.
Dumping the onboard RV propane tank
When I bought my 5th wheel, it had an onboard propane tank that required me to visit places or stations that could only fill it manually using a special nozzle. These places did not allow me to use their equipment to fill my rig and I soon discovered that their cost for portable tanks such as a 12-25-pound tank was far lower than an onboard tank that measured by gallons as opposed to weight.
Since that discovery, I have removed my original manufactured holding tank for propane and replaced it with an access area that holds four twenty-pound propane tanks. This way I can rotate them as needed and never have to worry about whether a propane tank filling station will have the correct fitting to fill an onboard tank. An added bonus is that I save money by filling the tanks by weight and I don't have to haul my entire rig to a site to be filled, as I can simply put my empty tanks in my tow vehicle and take them to the filler of my choice.
Pro tip: Always try to find someone who will fill your tanks by weight and try to avoid using exchange tanks that you find outside many gas stations and retailers.
First, having your tanks manually filled will save you money, and secondly, you will get more propane. Typically, the cost of having a 20 lb. tank filled will cost you around $15 while an exchange will often be priced at $24.99 in most places. Also, exchange tanks are usually only filled to two-thirds capacity so in actuality, you're purchasing (exchanging) a tank that has only 13.33 lbs. of propane and you're paying more for that than you would if you had it manually filled to its full capacity.
Wireless backup camera
Installing a wireless backup camera is probably one of my favorite upgrades. Installation was less than twenty minutes and it has saved me a lot of time and trouble when backing my rig into tight places or in areas with a lot of people (especially children) milling around. In the past, I would have to continually get in and out of my truck when parking in a site and this camera has minimized that process immensely.
Sale
RV Backup Camera Wireless Recording 2 Cameras -...
►【Newly Upgraded Dual-antenna Signal for 2023】The rv backup camera adopts advanced chips,...
►【Recording Function】The wireless trailer camera system has a recording function, like a ''DVR...
►【Compatible with Furrion Pre-wired RVs】With a bracket adapter and tail wire plug, the rv...
Last update on 2023-09-10 / Affiliate links / Images from Amazon Product Advertising API
Our recommendations: The best RV wireless backup cameras
This unit has also come in handy when traveling down the road as I can be more aware of vehicles directly behind me in my blind spot where mirrors can't see. Many new models of RVs come with these already installed, but if you are remodeling an older RV, you may find that these cameras will give you some more peace of mind while driving and especially when backing into congested or crowded areas.
Removing some of the factory installed carpet
Over the years I have found that the carpet installed in most RVs lacks the quality of the type you would typically install in a sticks and bricks home. Just as manufacturers try to save money on the tires as I explained earlier, they do the same for many other components too.
When I purchased my 5th wheel used, I was pleasantly surprised to find that the carpet was in such good shape for a rig that was nearly 20 years old. The elderly lady I purchased it from lived in it full-time but did no traveling. Her and her late husband had purchased it new from a dealership less than five miles away and lived in it for 18 years before she decided to move to assisted living facility.
When I decided to travel with it, I discovered why the carpet was in such good shape. It had been replaced and whoever installed it when right up and over the slide. So, when I tried to put that in, it stopped, and the motor started to hum. That's when I discovered the after-market carpet install and I had to use a utility knife to cut a slit in the carpet so the slide could retract.
I also discovered that the slide motor had a hard time fully retracting the slide and it would usually stop about a half-inch short of being fully retracted. That's when I decided to pull out the carpet in the living area and replace it with ceramic tile. Now my slide retracts like it was intended to and I have found that it is much easier keep the area clean and free of dog hair. While I do sometimes miss it being fully carpeted in the living area, I now have several plush throw rugs that I can shake out or launder them as necessary.
So folks, these are a few of the upgrades I have done to my rig over the years and I sincerely hope that some of my articles give you some good ideas and the inspiration to hit the back roads of wherever you live and explore some amazing sights and adventures. As always folks, stay safe, stay healthy and enjoy your travels. And remember, I hope to see you there on the highways and byways of this beautiful country of ours.