Hey! This site is reader-supported and we earn commissions if you purchase products from retailers after clicking on a link from our site.
In all my travels as an RVer, be it full-time or part-time, apart from only one fellow RVer, I have never met anyone that didn't dread having to fool around with sewage disposal. That gentleman's name was Don, and I'll get back to him later.
Look, I'm just like most RVers, dealing with sewage disposal is the last thing I want to do. Recently, while doing some research on another subject, I came across numerous articles that listed various ways to properly dispose of human dump RV waste, and frankly, in this article, I'm going to debunk some of the other DIY columns and tell them how it is.
Table of Contents
Most other writers deal with this subject because they have the belief that it saves money by emptying their sewage at home and they always recommend these three methods:
The Bucket Method
This scenario involves using buckets of various sizes to gradually drain your sewage tanks one bucket at a time so you can dump them into your home's toilet. Sure, that's legal, but do you really want to carry buckets of raw sewage through your home only to gradually dump them down the toilet while waiting for the toilet to refill with fresh flushable water from the fresh water tank? My guess is no.
The Macerator Pump Plan
A macerator pump is almost as foolish as hauling out your natural dump RV waste one bucket at a time. The exception of course is that the people who elect to do this process prefer to use this pump that grinds the solid RV waste to the consistency of a common milkshake and then pumps it through a common garden hose into their home's bathroom toilet.
Flojet 18555-000A Portable RV Waste Pump with...
Connects directly to the RV waste outlet, elimates 3" sewer hose
Dump longer distances and drain holding tanks at home using any convenient sewer receiver
Garden hose discharge port, fresh water rinse capabilities
Last update on 2023-09-08 / Affiliate links / Images from Amazon Product Advertising API
Depending upon how close you can get your RV to your home, you are made to have several lengths of hose available and you will have to drag the hose through your home and into your bathroom.
This method may be slightly more sanitary, but hose connections are prone to leaking and I wouldn't feel comfortable pumping raw sewage through my house to save a few bucks on having to pay to dump the black tank and gray tank at a proper facility.
Related: Black Water Tank and Grey Water Tank Guides
Another factor to consider when using a macerator pump is the cost. I have seen these units sell anywhere from $49.99 to $249.00 dollars. Additionally, several connectors are needed as are hoses, and this adds even more costs. If I do decide to use this method, I would probably purchase a higher-end model in the hopes that it would be the least likely to fail or leak which would cause even more issues for you to deal with, such as clean-up and sanitizing a contaminated area.
Using Your Home's Septic Tank Cleanout
Have you ever walked through your yard or around the outskirts of your home and found one of these in the grass? This is the cover to a septic cleanout pipe also known as a Charlotte Pipe. While these ports are generally not used to pump out your septic tank, they do allow an easy access port for various maintenance duties that might need to be performed on your septic system during your home ownership.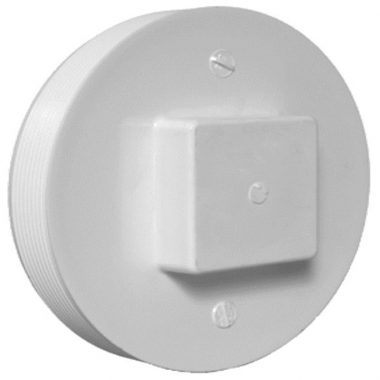 Although rarely used, these pipes are an excellent way to drain most RVs because they are directly connected to your home septic tank or its municipal wastewater treatment system. Using this method to empty an RV's gray tank and RV black water tank systems would certainly be my preferred method if I really felt it was necessary to bring sewage home with me.
However, if you do decide to use this alternative, it's likely that you will need to purchase an adapter or fitting that will connect your RV's sewer hose to the Charlotte pipe. These fittings are relatively inexpensive, easy to install, and well worth the expense as they will save you a lot of time and labor when emptying your camper's black and gray water tanks at home. In a future article, we'll look at how to install a cleanout or Charlotte pipe and how best it will work for you.
Doing the Right Thing – Would I Try These Three Methods?
I wouldn't have an issue draining my gray and black tanks into a Charlotte pipe, but I would pass on the macerator pump method and of course the hand-held bucket method. Those two methods are just unsanitary, and unnecessary and frankly, I have a hard time believing any serious RV or DIY writer out there would endorse those two methods for your RV's sewage disposal. Yet, here they are doing just that.
Look, the best thing to do when you're heading home with your RV is to empty your tanks on the way back home. Sure, the distance between the campground you stayed overnight yesterday, and the drive home tomorrow may be a long haul, but you should consider draining your black and gray tanks before you leave for home.
Anyway…
If you stayed at a campground with an RV dump station that had those services included with your lot RV rental, take advantage of those privileges before you hit the road. This will reduce the weight of your RV and will help to improve your gas station mileage as well as the wear on your rig.
Most campgrounds will have these facilities available but if they don't, consider looking on websites such as rvdumps.com or sanidumps.com as these sites will give locations of RV dump stations that may or may not charge a fee for those services. In fact, some states have rest areas along their roadways where dumping sewage tanks are allowed free of charge in nearby dump stations.
If you've drained your RV waste tanks prior to driving home, you'll need to put a moratorium on the use of the onboard restroom when you're heading home. The best thing to do when traveling with others that may need to use the restroom in this scenario is to set up a schedule. Tell your friends and family that the onboard restroom is closed and make periodic stops at rest areas or stores/attractions during the drive home.
There are a lot of better options than carrying several five-gallon buckets of raw sewage from your rig to your home to save a few bucks.
As always folks, thanks for following my articles and reading along. Stay safe and I hope to see you on the road sometime.
Dealing with some unpleasant issues? Check out our full breakdown of your RV water system and these related articles.