Hey! This site is reader-supported and we earn commissions if you purchase products from retailers after clicking on a link from our site.
We love hearing from other RVers and van lifers, how they got started, their renovation process, and their travels and adventures. Recently, we had the pleasure of being introduced to Jenn and Kendall, a couple from Canada who are full-time RVers and now parked in La Paz, Mexico where they continue to work on their rig and have started a business! We loved hearing about their travels and their RV renovation process and hope you will too. Their story is below, enjoy!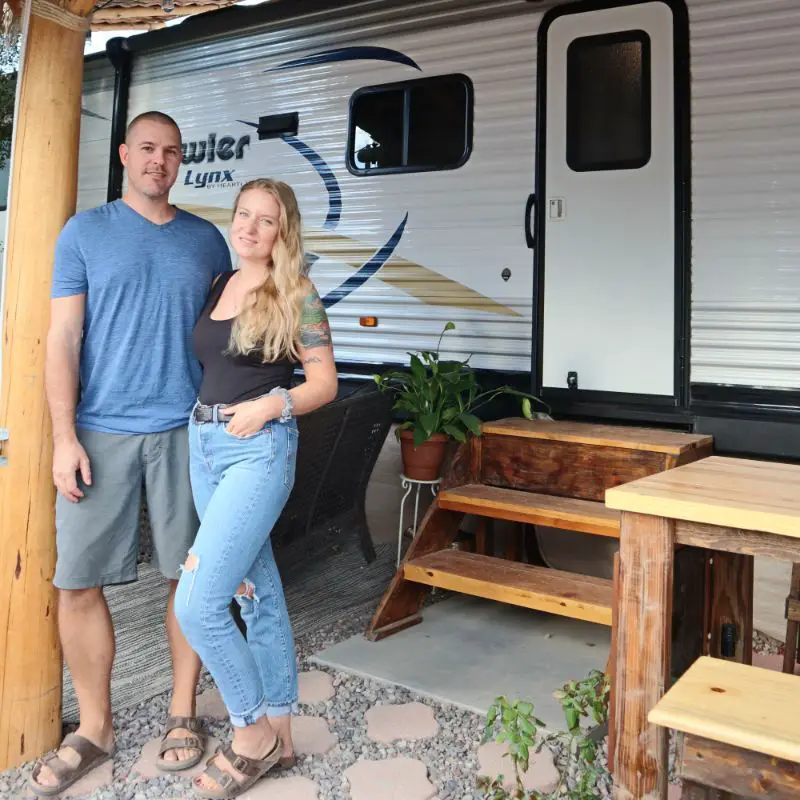 Getting Started
Full-time RV life was not our original plan…When we first discussed buying an RV, it was going to be our holiday home – a "cottage" – on Prince Edward Island in eastern Canada. We were driving around looking at cottages and suddenly decided that we should summer in PEI. From that point on we were on an exciting path to full-time RV living!
No more than two weeks later we were back in Alberta, trailer purchased, and starting renovations. When we purchased our new-to-us 2015 Prowler travel trailer, it was technically our first home together. Our dreams for our first RV renovation were big!
Our RV Renovations
We actually did two rounds of renovations. The first round of renovations was completed in the fall of 2019; the second round was in the spring of 2020 – yes, in the middle of the pandemic.
Over the winter during our renovation break, we had a lot of time to think. During this time, we decided to throw caution to the wind and make the leap into full-time RV life. Knowing we were going to live in the trailer full time meant that we needed to ensure that everything was the way we wanted it to be and was fully functional for our lifestyle.
The goal for this RV renovation and kitchen renovation was to create a super functional space in this travel trailer. We wanted to create a mid-century modern and minimalist aesthetic. Our color palette was neutral with white and gray scale, browns, and accents of green.
Renovations for the entire RV
Overall, we kept the configuration of the trailer but removed and transformed the bunk beds into an office space.
Throughout the RV we painted the walls white. Painting the walls white brightened everything up tremendously – we recommend light walls to make the space feel bright and welcoming. We also updated the lighting by spray painting the covers gold and installing LED bulbs. Lastly, throughout the RV, we removed the window valances and replaced them with custom wooden ones.
Master bedroom update
For the master bedroom, we did minimal changes because it is a tiny space and was already at its peak functionality. For this room, we updated the headboard and replaced the mattress.
The headboard was an easy upgrade. We took strips of MDF, cut them to length, and installed them using glue and Brad nails. The beautiful green color was chosen because it reminds Jenn of plant leaves. (In our condo in Calgary, we had around 20 house plants).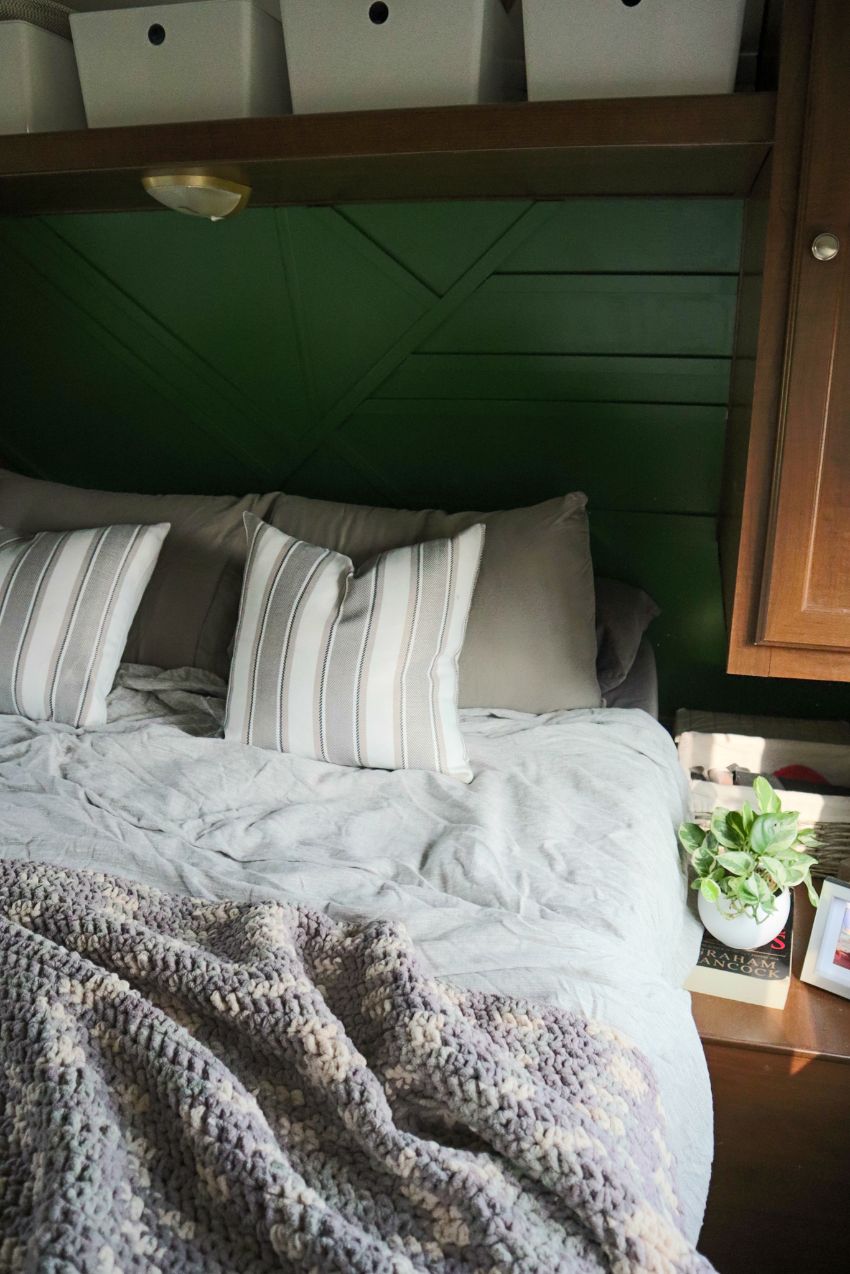 Living room & dining room update
The living room and dining room of an RV is probably the most used space! To make this space super functional for us, we altered the factory dinette to make it an "L". This allowed for extra room for our residential couch. (The couch was so big that it had to be brought in through the main window!) Keeping the dinette was also a purely functional choice – we wanted the storage.
Before
---
After
---
RV kitchen renovation
This unit's kitchen was well laid out, but we saw some opportunity for improvements.
First up was completely redesigning and installing custom countertops. Kendall installed custom laminate countertops for under $150 in both the kitchen and bathroom. Along with the counters, he installed a deep, residential sink and faucet – a must for full-time living!
The only other change in the kitchen was the peel-and-stick backsplash. Overall, it was easy to install and has held up well. While it is definitely not the same as real tile, it looks good and makes the space feel more like a home.
---
Bathroom update
For the bathroom, we also upgraded the counter and faucet. The custom counter allowed us to claim a few more precious inches of space.
To help make this RV bathroom feel less like an RV and more homey, we painted a bold geometric color block on the wall. Behind the sink, we installed cedar fluting to play into that mid-century vibe.
Sometimes you need to choose function over aesthetics. In the bathroom, we chose to keep the existing shower, tub, and toilet. They are that almond color you commonly see in RVs. Not the most beautiful, but we covered the shower and tub with a cute shower curtain. Similarly, we kept the existing sink. It is super small, but it serves its purpose well. We chose to have more counter space over a larger sink.
Office renovation
Lastly, the office is definitely the best space in our RV. Kendall created this fully functional and gorgeous space.
Originally, the office was corner bunk beds. We removed those and reworked the area so that all of the plumbing and mechanical components are accessible.
Our Full-Time RV Adventure
Like we mentioned, our original intent was not to become full-time RVers. But that path quickly revealed itself to us and after our initial plans in the summer of 2019, we started working towards full-time RV life with most of the year spent in Mexico.
Despite the state of the world in 2020, we were able to start our RV adventure – with a few adjustments. Originally, our plan was to drive across Canada and spend the summer in Prince Edward Island with Kendall's family. From there, we were going to drive across the US, making our way to Mexico as it got colder. We had planned to drive south along the coast to Florida and then travel west across the lower states.
Unfortunately, PEI had very strict restrictions in place during that summer and we were unable to enter the province. From there, we had to modify our entire RV plans.
Instead, in July 2020 we moved into our fully renovated 2015 Prowler 285LX. Jennifer's job as a project coordinator was coming to a natural end due to lack of work. Kendall took some time away from his inspection job in northern Alberta. We both planned on taking 3-6 months off of work with the intent of building up to full-time remote working.
We made our maiden voyage down to southern British Columbia and planted ourselves at PV Ranch just outside of Grand Forks. Our summer in BC was beautiful – we really forgot about the outside world in this quiet town. The entire summer was warm and peaceful.
However, we had to make it to Mexico because the cold weather was fast approaching. In October we made the drive down to Mexico. It was a nine day journey and it really solidified our lack of desire to travel with our current rig and truck. The trip was overall not enjoyable because we had a break-neck schedule and way too much stuff. We were traveling with stuff for full-time stationary life like patio furniture and a BBQ grill. These types of things are tricky and expensive to find in Mexico.
The worst part of the drive was Salt Lake City. We hit that part of the freeway during the afternoon rush and the highway was under construction. It's all a blur, but from what we recall (obviously we have blocked it out), it was four narrow lanes all moving way too fast for us and the trailer.
RV life in Mexico
Now, we are fully stationary in La Paz, Baja California Sur, Mexico. Our rented spot is just a couple minutes walk from the beach. The community that we live in is a short 15 minute drive to the city but we have all the conveniences that we need right in our village.
Upon arrival, we had a permanent structure installed overtop of our RV and we have made a little home for ourselves here. We have doubled our living space with a fully equipped outdoor kitchen and comfy living room. Plus, Jenn has all new plants in her garden.
Overall, living in our travel trailer full time has been wonderful. We are just around nine months into this lifestyle and absolutely love it. While our summer plans didn't turn out as they were originally planned, we have had a wonderful summer.
The summer without work gave us lots of time to think (lots of design and renovation ideas in the works) and we have started an RV company – RVSPotDrop! RVSpotDrop is a service for full-time RVers looking for short-term and long-term RV campsites.
Full-time RV life and living in Mexico has also given us new perspectives and made our relationship even better. We have spent more time together than ever before in seven years! Prior to RV life, one of us always worked out of town or on night shift – usually Kendall. So in the last seven years, we have only spent three months on the same schedule, in the same city. It was definitely a bit of an adjustment spending more time together – all while in a much tinier space.
---
Thanks so much for sharing your story, Jenn and Kendall! We hope you will follow them in their journey, you can find them at the links below.