Hey! This site is reader-supported and we earn commissions if you purchase products from retailers after clicking on a link from our site.
While building my van interior was fun, I couldn't wait for it to be done so that I could decorate it and make it my own space. With only so much space, I had to be careful about not making it overwhelming because if it was up to me, everything would be covered in color and photographs and glitter. In this article, I'll show you some decorating decisions I made as well as small ways to add your own flair to your tiny space.
Color!
A lot of vans I see on Instagram have either all-wood interiors or all-white interiors. Both options offer a certain aesthetic; the all-wood is very earthy and outdoorsy and the all-white is very clean and open. I'm not really either of those, so I went somewhere in the middle and opted for sunshine yellow cabinets in my kitchen, glossy wood walls, and white upper cabinets. I think the combination of the three offers a very warm feeling inside the van as well as some diversity and still makes it feel open. I also have a Frida Kahlo-inspired quilt on my bed that brings a great amount of color to my van.
It's All In the Details
Every piece of your van build is a choice – so why not make it a personal one? Instead of opting for regular knobs in my kitchen, I found fun sunflower knobs online that are almost always the first thing people notice when they enter my van. I also lined all my cabinets and drawers with colorful drawer liners (which also worked to hide some painting mistakes I made).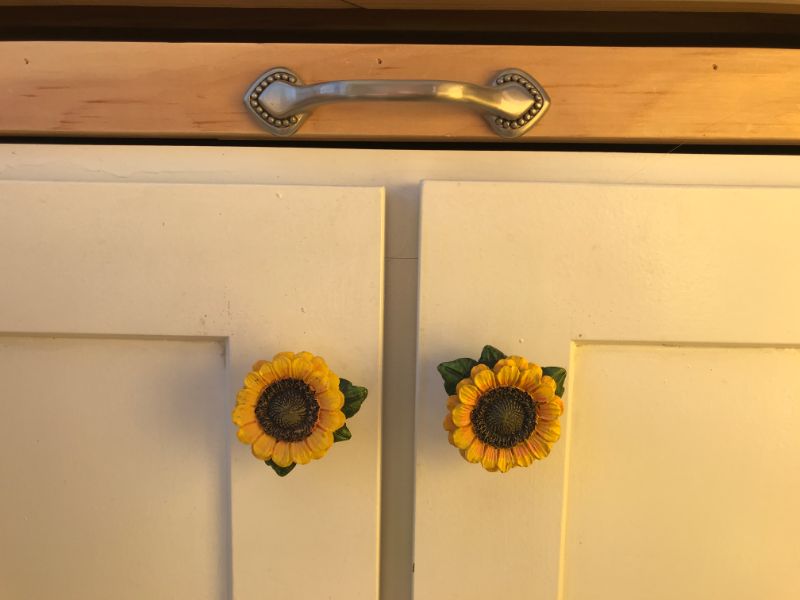 Think about what makes a house a home – decorative pillows, photographs, a welcome mat, a kitchen area rug. Just because you have a small space doesn't mean you can't incorporate all of these things! I like having photos of all the people I love and I have them hanging all over the van. I found string lights that have clips for photos that I've hung on one of the walls of my van. The lights add a soft aesthetic and I'm able to have photos to look at each night. I also made a flag banner to add a pop of additional color on my wood walls.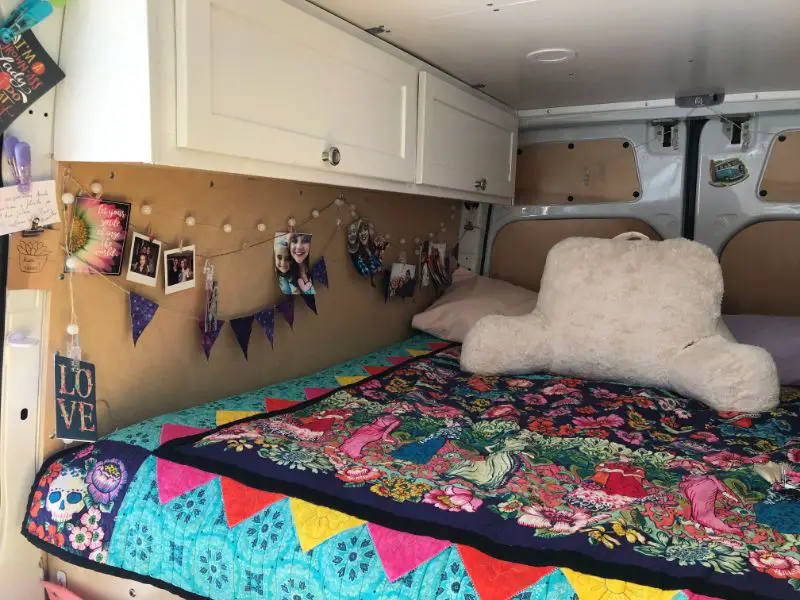 Tracking Your Travels
Want to keep track of your travels? Here's an awesome scratch off map of the United States that I've used to follow my journey.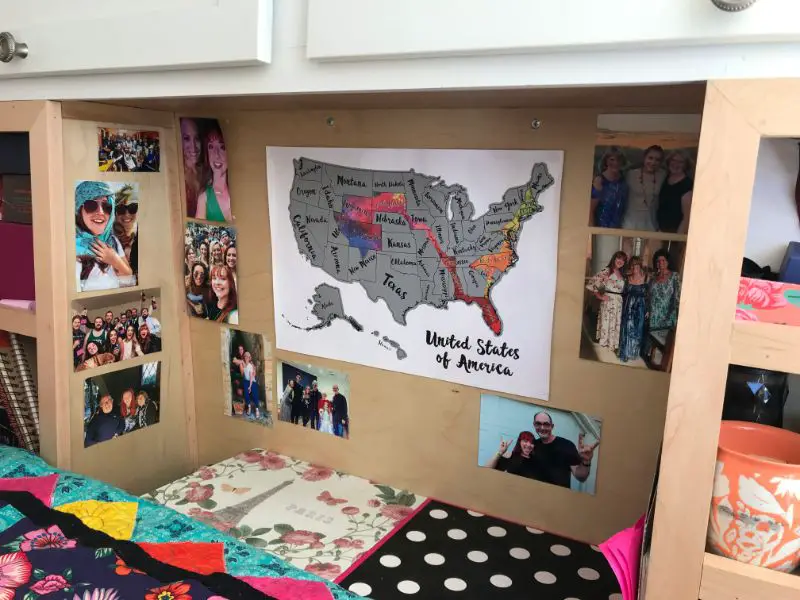 What do you use to make your van your own?