Hey! This site is reader-supported and we earn commissions if you purchase products from retailers after clicking on a link from our site.
Venice, the white sandy beaches of Florida, with tall elegant palm trees, who's branches spread out obscuring your body from the intense heat of the scorching rays of the fireball in the sky. Unless you'd much rather prefer being exposed to the sun's rays, and letting your gorgeous skin take on a brilliant golden glow, as you lay with your backs pressed against the soft warm sands. Ah what a place to be.
When you're looking for the perfect holiday, to escape the dreary winter months of England, then Venice Florida is the perfect choice!
A place to enjoy some peaceful time, whilst having lots to do!
Table of Contents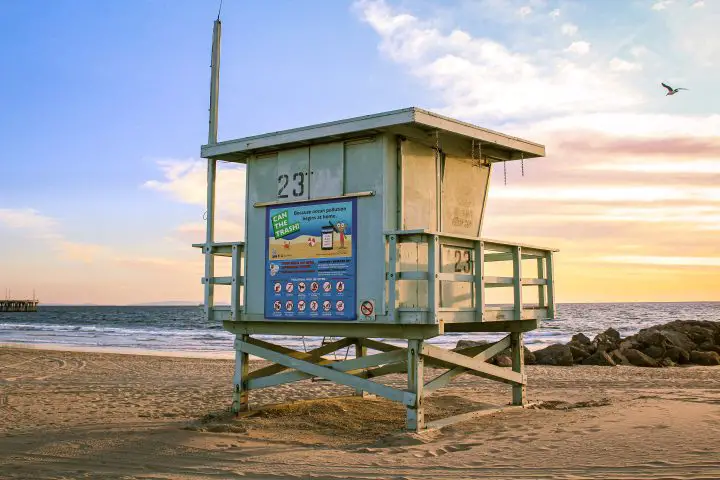 What Is Venice Florida Best Known For?
Venice, also known as the "shark tooth capital" hosts a yearly festival in mid-April celebrating the large carnivores who's fossils have been scattered across the lands of the people who walk so confidently today. Though you may involuntarily cringe at the mere thought of sharks having inhabited the very place that you roam about so freely, rest assured that they are not there anymore – at least not alive. Millions of prehistoric sharks teeth, happen to wash up on Venice's sandy beaches, and many tourists enjoy hunting for these precious little gems especially with an almost guaranteed success rate, why not?
Aside from the very fun, children-friendly shark tooth hunting activity, this festival also happens to showcase sharks' teeth, sharks' jaws, stingray spine fragments, stingray teeth, and more! Just imagine the incredible sights you'll be seeing up close of the fish that would normally have your spine-crawling and teeth chattering in fear, it's an absolute mind-blowing experience to be so close and personal with these much-loved but terrifying creatures.
There are also stalls selling home crafts, jewellery, clothes and sea-related treasures that would make wonderful gifts to be taken home for friends and families. Of course you will be blessed with delicious barbecues, fun rides for kids and lots of music for you to sing along and dance as crazy as you like!
What Is There To Do In Venice Florida?
Amongst the fun things to be done in Venice Florida, there are a range of wonderful attractions, for those who especially love their vehicles of transportation, you could take a trip to the cars museum and showroom in Venice, or check out the beautiful rural areas of Venice Florida, and catch a few precious pictures of magnificent birds that are spotted in these special areas, as well as the largely appreciated shark tooth hunting festival, that not only you as adults will adore, but your kids will have a blast looking for these large gems, to keep as prideful owners when they return home, just image the pride they'll hold at their delightful accomplishments!
Lets take a look at the fun things to do that would attract any adventure thirsty tourist roaming the pleasant, warm streets at Venice Florida:
Venice Beach
Downtown Venice
Venetian Waterway Park
Caspersen Beach
Venice Museum and Archives
Historic Venice Train Depot
Centennial Park
Venice Fishing Pier
North Jetty Beach
South Jetty
Oscar Scherer State Park
Myakka River State Park
Fort Myers
Tampa
Detwiler's Farm Market
Ideal Classic Cars, Museum and Showroom
Venice Beach
Of course the most famously attractive beach of Venice Florida is Venice beach, which is located just a short walk away from downtown Venice. This beach is one of the best places to come visit, if you're vacationing in Venice Florida. It'd be hard to resist these gorgeous white sandy beaches that are as pristine as any in Florida, with glorious views of the city's skyline, just visible from the shore. You'll find yourself walking along the brilliant coast where you can enjoy a tasty snack or meal at the cafes or restaurants, and relax the day away with the cool breeze tickling your cheeks. You can even have a little dip in the sea, or go full on swimming if you fancy, the calm clear waters at this beach are perfect for you to enjoy all year round.
Downtown Venice
Downtown Venice is the heart of the city, and is home to the some intriguing historical buildings and boulevards. Venice was designed with Italian Venice in mind, which you will instantly realise when you drink in the sights of the canals and the grand, renaissance-inspired architecture. Many of these buildings in downtown date back to the early 20th century, which is pretty historic for Florida.
You'll be able to take as many shopping spree's as you like, take advantage of the restaurants, bars, cafes and charming gift shops that will have your family, and friends to gush over. There's a kids corner for little ones to enjoy themselves with miniature pleasures, including books, fun toys, puzzles and games for the older, smarter kids, that will have them having an exceptional time.
Venetian Waterway Park
If you're looking to explore waters that are home to large reptiles like alligators – which you'll be lucky to see swimming if you look closely – then Venetian Waterway park is the perfect place for you!
The city has pathways that are perfect for cycling or walking, beside the water canals that stretch for miles, the warmth of the sun gently heating your back as you cycle with some friends you've just met on the beach, this waterway park makes delightful experience, with benches to rest your wobbly legs, a dog park to take your dogs to for some bonding time with your favourite pet. Come and bring your best binoculars and have a go at some light-hearted bird watching, whilst you're having a picnic, or when you're sat on the bench relaxing, you'll most certainly catch a treasure or two.
Caspersen Beach
At the end of your beautiful walk along the paths of Venetian Waterway park, you'll find yourself at Caspersen beach, which just happens be one of the best beaches to visit in Venice. You can either walk, cycle or drive to this beach, and you'll be in luck, packing your family into a nice little car, and having plenty of parking spots along the shorefront, is a satisfying way to enjoy the trip, especially if you have children who don't always enjoy walking for long periods of time.
The beach is undeniably beautiful, with rocky areas along the beach for you to explore, followed by soft body-sinking worthy sands for you to lay on. And as if it weren't things were brilliant as they were, this beach is known for its annual shark tooth festival, typically held in mid-April, with the hundreds of shark teeth that wash up on the golden sands of Caspersen beach, you'll find yourself diving for these beautiful treasures to take home. Enjoy a delightful evening of kid-friendly games, fun rides, and lots of singing and dancing followed by heaps of food to keep you pumped for the entire evening!
Venice Museum and Archives
If you're keen on a little history of the city of Venice, then take yourself to the Venice Museum and Archives, found in the heart of downtown. Interestingly the building of the museum was built in 1927, and listed on the National register of Historical Places. For those of you who love a bit of historical insight, you'll find yourself absorbed in the tales of the city, looking at countless images and artefacts from Venice, that you'll just fall hopelessly in love with.
Historic Venice Train Depot
Another one for the history lovers, you most certainly will not want to miss out on the chance to visit the preserved Historic Venice Train Depot, whilst you're staying in the city. Much like the Venice Museum and Archives, as well as most of the other architecture in the city centre, this building dates back to 1927, and is no longer a working station. There are old carriages and trains in the years, and it is an amazing place for you to drink in the slightly ancient building and its surroundings. Step into the past, and allow the volunteers to take you on free tours of the building where you'll be learning some interesting facts that will surely blow your mind.
Centennial Park
A lovely little park dedicated to the city's 100th anniversary, Centennial park is home to the city's war veterans, a great and peaceful place for one to spend a breezy, sunny afternoon. Or better yet take an early stroll to the park in the morning when the suns rays have barely kissed the sky, you cans eat yourself on the benches, or have a little splash around in the little fountains when the day gets a little warmer in Venice city.
This is a perfect park for you to bring your little ones to, not that you grown ups are limited to the fun that comes with getting splashed! Your kids will simply adore the gushes of water that shoot from the ground, gently splashing them in the face, as the warm sun inevitably dries their wet bellies, till they return to the terrific fountains to get drenched once more.
Venice Fishing Pier
To the south of Venice, next to Brohard Park, you can find the iconic wooden stilts if the Venice fishing pier. This scenic pier stretches for 700 hundred feet across the waters of the Gulf of Mexico, a perfectly romantic place for you to bring your other half to watch the sun begin to descend over the ocean. For those who love to do a bit of fishing, you can fish to your hearts content, for here at Venice fishing pier you do not need to licence!
If you're in the mood for a little light-hearted shopping, you can take yourself on a little trip midway down the Venice fishing pier, where you'll find people shopping for some fish bait, coffee, delicious treats, cool jackets, and gorgeous shirts, and much much more.
Here you can enjoy some fresh-from-the-ocean fish and seafood, at Sharky's on the pier eatery, with fish that is cooked in a variety of styles to suit many different tastes, you can round this meal off with a slice of their deliciously popular cheesecake, just prop your feet up food in one hand, eyes set on the sun that is gingerly disappearing behind the ocean for the night.
North Jetty Beach
On the Northern edge of the wide bay that Venice is built around, North Jetty beach is a great place for one to relax and enjoy the incredible scenery surrounding their peripheral vision. This beach has the most magnificent waves making it a perfect place for you to pull out your surfboards and start to ride the waves! And for those who enjoy the sight of boats minding their business gliding across the waters of the beach, they can be seen throughout the day passing through the Intracoastal waterway.
South Jetty
Opposite North Jetty, you'll find South Jetty which perches adjacent to the barrier island; it's quicker to travel to from downtown Venice. Although if you're someone who loves to sink their feet into warm/cool sandy beaches then you may be slightly disappointed to find that there isn't much sandy coastline. Though the stunning views will make up for this, it's always worth exploring beaches that hold the most amazing sights that can't be missed.
Oscar Scherer State Park
A short 15 minute drive to the north of Venice will bring you to the beautiful park that protects a large area of wilderness. Oscar Scherer state park is surrounded by thick forest, wonderful lakes, and creeks.
You may find yourself lucky in glimpsing a couple of hidden gems that are the rare species of birds living in the trees, hiding, and watching, wondering what the curious eyes that gaze up at them want. You'll have to look closely, and remain quiet to actually find any of them, for they are sensitive to noise, and you wouldn't want to have a beautiful priceless moment snatched from you now would you?
Myakka River State Park
If you're on the lookout for some places to explore on the little outskirts of Venice, then take a trip to Myakka river state park, with its enormous area of wilderness that'll surely excite the explorers amongst the tourists of Venice. This large state park, happens to be one of the largest state parks in Florida, protecting the surrounding area of Myakka river. You'll find yourself amazed by the delicate sceneries of woodland and pleasant trickling waterways.
Close to this you'll find yourself at Myakka state forest, which is another short journey from Venice spanning the Myakka river, you'll find a wide array of wildlife amongst the thick trees.
Fort Myers
Located an hour to the south of Venice, Fort Myers is a wonderful mixture of urban and outdoor attractions. Your eyes will be blessed with the most majestic coastline. Take a cruise across the bay and have a go at searching for some cute little dolphins, or dive into the water for some snorkelling. This city is home to its own special marine life that are simply unmissable.
Tampa
Famous for its theme parks, and water parks but not forgetting a wealth of history, Tampa city dates back to the 19th century. If you're staying at Venice Florida, this iconic city is just a one hour drive from your Venice hotel to brilliant Tampa.
Detwiler's Farm Market
For the healthiest bunch of organically grown fruit and vegetables Detwiler's market is the place you must find yourself visiting. They also sell meats of animals that they raised naturally without unnecessary stimulants, so you'll find yourself consuming everything that'll have your body as happy as your mind is. They are usually open from Monday to Saturday 8am to 7pm.
Ideal Classic Cars, Museum and Showroom Venice, Florida
For the lovers of their vehicles, and the ones that existed long before they had entered the world, this museum is the perfect place for you to visit. This showroom and museum is completely free of charge, so you can gaze longingly at a great collection of vintage cars, admire the motorcycles, and thick trucks that have been shined to glimmering perfection. The best thing about this place is, if you're looking to sell a classic car of your own, they'll be more than happy to offer you a deal!
Roll Up To Venice Florida
With countless attractions, packed with fun activities for you and your family to enjoy, Venice Florida has the perfect balance of educational and historical architecture, followed by a brilliant shark tooth hunting festival that'll have you already planning a trip next year! The best thing about holidays like these is that you'll always get to take a piece of it with you, whether it is in shark tooth form, or a slightly blurred picture of a beautiful bird you had never known to exist till now.
FAQ's
What Is There To Do In Venice Beach Florida?
The top attractions that you simply must take yourself to are: Caspersen beach, Venice beach, Venice fishing pier, Brohard paw park, Detwiler's farm market, Ideal classic cars museum and showroom, Fort Myers, Myakka river state park, and tons more!