Hey! This site is reader-supported and we earn commissions if you purchase products from retailers after clicking on a link from our site.
When you want to visit someplace wild and free, a national park is one of the first destinations that come to mind. If you find yourself traveling to the Pacific Northwest, don't miss out on an opportunity to visit North Cascades National Park. Home to glaciers, rivers, mountains, and snow, there are so many places to visit in North Cascades National Park that one trip may not be enough.
To help you make the perfect itinerary for your trip, we have listed 16 things to do in North Cascades National Park that will please everyone in your group.
Table of Contents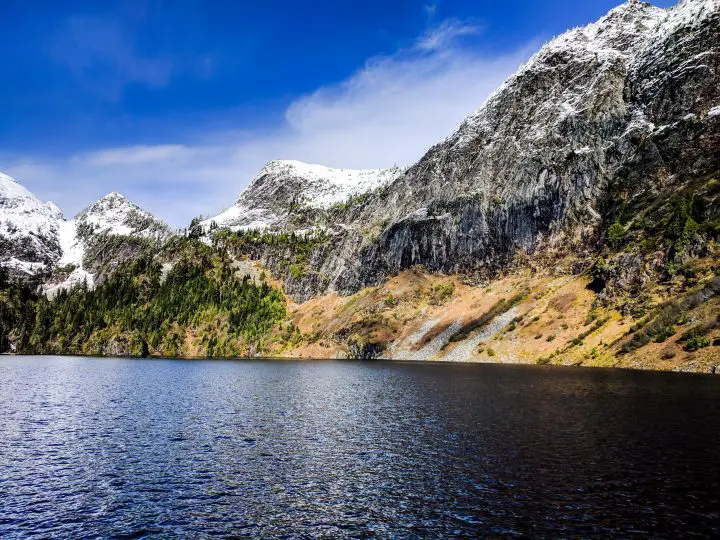 About North Cascades National Park
Before learning about the marvels that await, let's learn a little more about North Cascades National Park. There are more glaciers found in this park than anywhere else in the contiguous United States, meaning we're excluding Glacier National Park, Alaska. In other words, you can see 330 glaciers.
On a sad note, most of the glaciers have receded to the point that they will vanish completely in about a decade. It is important to keep this in mind when you visit and look upon the disappearing wonders.
94% of the park is devoted to nature, as well. There is one road cutting through it—Route 20. Otherwise, you will have to venture in on foot or take a boat or plane to some of the resorts and attractions. And remember, whatever you bring in with you must be carried out.
Please protect the wildlife, flora, and remnants of the glaciers so that others can enjoy the beauty, too.
Where To Find It
Despite having such an impressive number of glaciers, North Cascades National Park is one of the least visited parks in the entire US. Surprising, considering the park is located 100 miles from Seattle and connects to the 18-mile long Pacific Crest Trail.
The primary point of access to the national park is State Route 20, which can be accessed by using Exit 230 along I-5 in Burlington, WA.
Best Time to Visit
Although the park is open year-round, there are some times when it is better (and safer) to go. If you don't want to tackle any snow on the trails, visit between July and September.
Between November and April, State Route 20 is closed between Lone Fir and the Ross Dam Trailhead, so you won't gain access to the park that way. The only entrance point is the Silver-Skagit Road, which begins in Hope, British Columbia, Canada.
How Long Should You Visit
Wondering how much time you need to knock out all the things to do in North Cascades National Park? There is much hiking to be had, but you can cover a lot of ground within 2-4 days. Most of the trailheads and things to see are located within a few hours of one another. Those who are backpacking or staying at a campground might want to extend their visit to a whole week (or longer).
However, even if you have just 1 day to explore, there is something for you to enjoy.
16 Things to do in North Cascades National Park
Get your fill of nature and fresh air with all these amazing places to visit and things to do:
1. Take a Scenic Drive
There are several long drives you can do around North Cascades National Park that could serve as a good introduction to the area. The most scenic would be Route 20, also known as the North Cascades Scenic Highway. The road splits the northern and southern ends of the park in half and has multiple places to stop along the way.
You should begin at the Marblemount Wilderness Information Center, which is on the western end of the park. Drive eastward. You will come across overlooks at Diablo Lake, Washington Pass, and plenty of short trails to stretch your legs.
In total, the North Cascades Scenic Highway is 60 miles long. That gives you plenty of time to wander. Don't forget to bring snacks.
2. Enjoy All The Flora and Fauna
One of the best things to do in North Cascades National Park is checking out all the nature. There are 75 species of mammals alone, including Douglas squirrels, pikas, marmots, wolves, black bears, grizzly bears, Columbia black-tailed deer, otters, mountain goats, bobcats, and even 12 species of bats. Along the Skagit River Watershed—the only watershed in the country to support all kinds of salmon—you can see schools of chum, pink, sockeye, coho, and chinook salmon floating along.
If you love bird-watching, bring a pair of binoculars and keep your eyes trained to the sky. There are around 200 species of birds to be seen throughout the year. You can count on spotting hummingbirds, warblers, swallows, eagles, and owls.
Due to the varied geography of the park, the land can support a vast variety of plants, trees, and shrubs. There are around 1,630 species of vascular plants. You will see swaths of wildflowers, like salmonberry, fireweed, and mountain heather in the valleys. Pines, such as whitebark pine, Douglas fir, and Western yew, are interspersed between maples, alders, and willows. During the fall, you can expect the leaves to be stunning.
If you want to go on a scavenger hunt for all the trees, check out the official Tree Checklist. One of the best hikes for learning about all the flora and fauna is the Happy Creek Forest Walk. The trail is an easy 0.3 miles long, covered in a boardwalk, and lined with informational plaques and signage. Bring the kids along for a fun and educational time.
3. Snap Photos of Everything
Do you love taking photographs of nature or documenting your travels? The beautiful scenery of North Cascades National Park is the ideal backdrop for many incredible shots. Many photographers are lured to the mountainsides in the summertime, when the rivers and lakes take on a turquoise or verdant hue. This is due to an increased presence of "glacial flour," which happens when the glaciers move against the bedrock.
You can also find many wonderful shots from the overlooks along the North Cascade Scenic Highway, particularly along the Skagit River.
4. Revel in the Beauty of Diablo Lake Overlook
One of the most popular spots in North Cascades National Park, WA is Diablo Lake. A glance at the scenery, the scintillating blue waters, and you know why. The lake was created by a man-made reservoir along the Skagit River. Framing this scene are mountains that rise about 7,000-8,000 feet high. Sunshine or clouds, Diablo Lake Overlook is bound to leave your jaw hanging.
If you love kayaking or canoeing, don't waste the opportunity to have an outing of a lifetime. There is a boat launch located near the Diablo Lake campground entrance that you can use. Staying at one of the lakeshore sports near Colonial Creek? Most campsites have a beach to launch your boat directly into the lake.
Seeing Diablo Lake is amazing. But spending a day paddling about on those pristine waters? Heaven.
5. Climb the Washington Pass Overlook
If you ever wondered what to do in North Cascades National Park, this hike is it. Those with short time frames should devote their effort to see the Washington Pass Overlook. You can see much of the park without exerting yourself too much. Travel along the 0.25-mile long path to the 5,000-foot high overlook.
When you look out from the platform, you get panoramic views of Washington Pass and Liberty Bell. The Washington Pass happens to be the highest elevation along Route 20, and it also marks the middle of the park.
Not a fan of heights? The Washington Pass Overlook is perfect for you. There are handrails and fencing around the edges to keep you safe. A few other trails don't have the same safety measures.
Want to make the trip even more spectacular? Check out the overlook around sunset. The golden rays of light pour over the top of the mountains, creating a breathtaking sight. Do keep in mind that, because this area is prone to avalanches, it's only open between May and October every year.
6. Grab a Snack from the Cascadian Farm Stand
As you would expect, there are few places around this tranquil area to find nourishment. If you plan on spending the whole day (or a few) in North Cascades National Park, you might find yourself frequenting the Cascadian Farms food stand. This little food stand is run by the same company that makes Cascadian Farms cereal and granola bars, so you can expect those treats to be on sale here.
What people rave about is the organic ice cream. Grab a scoop or two and take a seat at one of the many picnic tables. The umbrellas and little garden make the spot the perfect place to take some selfies and stretch your legs.
If you are traveling to the park with an RV, you'll be happy to know that the Cascadian Farm stand does have some RV parking spots.
7. Walk The Cascade Pass/Sahale Arm Trail
Want a hike that is breathtaking from start to finish? Then you're going to enjoy the Cascade Pass Trail. Often labeled as the best full-day hike in the park, Cascade Pass is 12 miles long (over 3,800-foot gain overall) and takes a bit of effort to complete. You can access the trailhead by car then ascend to the highest reaches of the trail.
If you opt to do only the Cascade Pass Trail, it's 7.4 miles round trip and takes about 5 hours to complete. Add in the Sahale Arm part, and you get the full 12 miles.
Start at the end of the Cascade River Road—the only road in the park. You need to drive about 23 miles, and the last section is entirely unpaved. Make sure your vehicle has decent shocks.
From there, you take a route around the sprawling Johannesburg Mountain towards the Sahale Glacier. One section is all switchbacks heading up through a forest, but once you emerge from there, you're greeted by an expansive meadow filled with drifts of snow, flowers, and wildlife. Be on the look out for bears, goats, marmots, and the occasional wolverine.
At the Sahale Glacier, you can wander around the Sahale Glacier Camp and look down upon Doubtful Lake, jagged mountain ranges, and far out into the horizon.
8. Visit the North Cascades Visitor Center
One thing you should always do when visiting a national park is go to one the visitor centers nearby, such as the North Cascades Visitor Center. These spots often have information on the trails (such as which ones are open and closed), trail maps, excursion details, times for events, and much more. Other amenities include: restrooms, theater, and a sales area.
You should also talk to the rangers at the information desk if you want to do or see something in particular. For example, if you want to find mountain goats, the rangers will be able to direct you where to go. They can also recommend hikes that are ideal for your group, as some are more difficult than others. The North Cascades Visitor Center also has a nice area outside to walk around and relax.
Have children in tow? Pick up a few Junior Ranger books for the badges inside. It's a nifty souvenir for them to bring home.
9. Hike Around Ross Dam
Yes, you could merely stop at the Ross Lake Overlook and admire the beauty of everything. Or you could hike around Ross Dam and lake. Better yet, you can book yourself an experience like no other: a stay in a floating cabin at the Ross Lake Resort.
The Ross Dam trail is an underrated hike that takes you around the three dams and towards splendid views of Ross Lake's eastern edge. The trail is a relatively steep 0.75 miles one way. If you continue walking another mile from Ross Dam, you will reach the Ross Lake Resort.
Now, let's talk about the resort. Open between June and October, this 15-cabin resort also gives you access to Maple Pass Loop and Diablo Lake. Ross Lake Resort is booked up for almost every season, so you should always make a reservation in advance. The resort also isn't accessible by road, so you either have to walk there or take a small boat to the docks.
10. Check Out Rainy Lake
Want a flat, wheelchair-accessible trail that everyone in the family—even your furry friends—can enjoy? The alpine trail leading to Rainy Lake is paved and often covered in a thin covering of snow, but if you make it out to the lake, you won't be disappointed. There are plenty of benches along the way to take a break, but since the path is considered "gentle," it's not a challenge for most.
Rainy Lake is a slightly different view when compared to the blue waters of Diablo Lake. Here, you can look upon emerald waters and falls that are ringed by sweeping views of mountains laced with trees. When the weather is nice, you can jump in for a quick swim with the kids and dog.
Whenever you want a quick stop between destinations during your tour of North Cascades National Park, WA, try Rainy Lake. It takes about 17-20 minutes to reach the lake from the parking lot, which is the same as the one for the Maple Pass Loop.
11. Take a Day Trip to Stehekin or Leavenworth
If you find yourself staying near Lake Chelan, you can opt for a visit to Stehekin (or start your whole trip from there). Take a boat, hike, or fly to the small town (there are no roads into the town). There are plenty of private lodgings around Stehekin during the visiting season, including the North Cascades Lodge, Stehekin campgrounds, and more. Most of these are available between May and September.
What about Leavenworth? If you go about an hour southeast, you find something unexpected: a Bavarian town. Leavenworth was originally the base of settlers looking for gold. The town was almost lost when the Great Northern Railway was constructed in 1922, but the residents decided to adapt. They recreated an Alpine village, replete with spas, shopping, museums, restaurants, and a winery.
If you're looking for a seasonal activity to do, Leavenworth also has a Bavarian Christkindlmarkt and an International Accordion Celebration.
12. Do the Incredible Maple Pass Loop
Also known as the Heather-Maple Pass Loop, this 7.2-mile long hike is, plainly put, incredible, but also strenuous. Make sure you're prepared for the 2,000-foot elevation gain. Many call the Maple Pass Loop one of the best hikes in the entire park. One of the reasons for the popularity would be the wildflowers that dot the edge of Lake Ann at the climax of Heather Pass. But there are so many awe-inspiring views along the way.
Reaching the peak of Heather Pass, you get the instant satisfaction of a 360-degree view of mountains and crisp blue skies. But the hike is by no means over! Once you have caught your breath and took your fill over photos, it's time to continue along the ridge towards Maple Pass. Along the way, you see Stiletto Peak, Goode Mountain, Black Peak, and Frisco Mountain.
Although 7.2-miles round trip might not seem too harrowing, there are a lot of slope changes and plenty to see. You might want to pack a picnic to eat while traveling the ridgeline. Afterwards, you descend from the peak with a series of switchbacks that take you towards Rainy Lake.
There are two great times to hike the Maple Pass Loop: on a sunny day or at sunrise. If you're up for getting up the mountainside in the dark, watching the sun peak over the mountains will be completely worthwhile. Want the best views? Hike in a counterclockwise direction.
13. Visit Artist Point
Another must see at North Cascades National Park is Artist Point along the Chain Lakes Trail. The Chain Lakes hike is considered one of the best in the entire park, because it's not too difficult and there are wonders around every twist and turn. You get continuous views of Mount Shuksan and Mount Baker, as well as a chance to see wildlife, wildflowers, blueberries, and dozens of lakes. If you visit on a warm day, you might even want to bring a bathing suit and wade around the lakes for a bit.
Around Artist Point and the Chain Lakes, you will find several campsites that are first-come-first-serve (no permit needed), so you can spend as long as you'd like enjoying the scenery. Why not set up camp and have a sunset picnic?
14. See the Blue Lake (and Take a Dip)
Want more meadows filled with wildflowers and framed by snow-capped mountains? Head to the Blue Lake Trail. The hike is relatively short—about 4 miles round trip—but it does gain about 1,000 feet of elevation along the way. Take your time when climbing to the top, because the views of the aptly named Blue Lake are worth every moment.
There are a couple of places to visit in North Cascades National Park where a swim is a must. Blue Lake is one of those spots. Ask any park ranger, and they will tell you the same thing. Yes, the water is going to be a bit cold (it's glacial, after all), but it's nearly see-through to your toes. Depending on the time of year you visit, the surrounding mountains may still have snow on them. Talk about an amazing background to your swim!
15. Admire the Ladder Creek Falls Lights
Bet you never planned on seeing a quaint light show while enjoying the splendors of nature! Checking out the lights at Ladder Creek Falls is a lesser known attraction but also something you should see at least once. Whether you're doing a scenic drive or have been hiking around the area, make a pit stop here. You will find the trailhead at the Gorge Powerhouse, right outside of Newhalem.
On the way to the light show, you will cross a suspension bridge and move through a garden full of exotic flowers. As the sun starts to set, the light show begins. Often accompanied with music, lights shine over the waterfalls that cascade down around the powerhouse.
You should also consider visiting during the day, since the architecture of the Gorge Powerhouse is worthy of a photograph or two.
16. Learn A Little About The Park
Did you know that you can partake in free excursions during your visit? The North Cascades Institute is a great place to go for both children and adults. The institute is a non-profit organization that hosts a number of activities in the park throughout the year. Check out the guided day trips, speakers and seminars, field trips, and much more. At the Learning Center campus, there are also classes and activities worth checking out, especially if you find nature to be your life's passion!
Looking For More Trails?
There are so many things to do in North Cascades National Park that you might not have time to get to all of them. While we listed the 15 best things to do above, you might want to stray from the itinerary a little. No worries! That's what the spirit of adventure is all about. Looking for more difficult hikes or ones that aren't frequented as much, check these out:
Trail of the Cedars Nature Walk – 0.3 miles
Rock Shelter Trail – 0.3 miles
River Loop Trail – 1.8 mile-long loop
Desolation Peak – about 9.4 miles with a 4400-foot rise. This is where Jack Kerouac stayed for 63 days.
Thunder Knob Trail – 3.6 miles round trip and a 425-foot rise.
Cutthroat Lake Trail – a 410-foot gain, 3 miles round trip.
Hidden Lake Trail – a strenuous 9-mile hike that leads to a secluded lake.
Rainbow Loop – 4.4-6.8 miles at a moderate difficulty. This one is located in the Stehekin Valley area.
Feeling The Wanderlust Yet?
We have only scratched the surface of things to do in North Cascades National Park. Aside from hiking and camping, you have excursions and day-trips galore to choose from. Whether you're hiking solo or going with your family, there is not a day where you will be bored. What do you say? Is it time to strap on the hiking boots and go?
FAQs
What is the best time to visit North Cascades National Park?
North Cascades National Park is open year-round, but the best time to visit is between July and September. The area is prone to snow, ice, and avalanches, so the main road (Route 20) is closed between November and April.