Whether you're buying a new RV, remodeling an older camper or motorhome, renovating a vintage RV, or even designing and building your own rig, it's always a good idea to understand your options when deciding what type of window you want to live with. In this article, I'll share some of my thoughts about replacing your RV's windows, and my recommendations based upon your style, and the style of your rig when it comes to designing, renovating or remodeling your RV.
While I love restored vintage travel trailers, I also love to see them renovated with modern upgrades and amenities. One of those upgrades would include modern windows. Of course, I also understand that some people like to restore vintage campers using original or aftermarket replica components for authenticity, but most of those people are usually concerned with keeping it original because they want to show them at meet-ups and competitions. With that said, most people that are considering purchasing an RV, whether it's new or used, should know the differences in window designs and how to choose what best works for them.
Understanding RV windows and their terminology can sometimes be confusing. Listed here are some of the terms you'll likely encounter in this guide and when dealing with windows or glass in your RV.
Clamp rings: A clamp ring is the single outer ring of the window frame. It is secured to an inner ring by mounting screws on the inside of the frame which creates a smooth appearance on the outside of the window frame. Apart from motorhome windshields, almost all recreational vehicles windows use clamp rings for their window framing.
Double pane window: This type of window has two panes of glass instead of one. Between them is a sealed pocket of air that acts as an insulation barrier and helps to prevent heat loss in colder weather or air-conditioned air from the interior in warmer weather.
Egress window: Used as an emergency escape portal, this window is hinged on top and opens fully for fast exits with quick release levers.
Insulated glass: This term is also used to describe a double pane window.
Laminated glass: This glass is used primarily for windshields. Basically, automobile and motorhome windshields are made up of two sheets of glass with a thin layer plastic baked in between them. This makes the glass stronger and prevents it from shattering into large and smaller pieces.
Radius frame: This type of window frame has rounded corners. Although some RV windows use square frames, this is the most common frame used for RV windows in today's marketplace.
Safety glass: The term safety glass would include laminated and tempered glass. This type of glass is designed to minimize bodily injury when it is broken during an accident or other circumstances.
Single pane window: Just as the term implies, this window uses only one pane of glass.
Tempered glass: This glass is the most common glass found in RVs and unlike laminated glass which won't shatter because of its thin plastic layer, tempered glass is manufactured using a precise heating and cooling process designed to make it shatter into small pieces when broken.
Understanding your window choices and what will best work for you
Single fixed pane window
The most common and less expensive window option for your RV is the single fixed pane window. Generally, these windows are smaller and work nicely for areas where you might want to let in more light. Since these windows come in various sizes and designs, I have seen them installed on renovations and ordered for new RV purchases provided the manufacturer can work them into the RV where they are requested.
Last update on 2023-09-04 / Affiliate links / Images from Amazon Product Advertising API
Another good example of a single pane window used for light or decorative purposes is the porthole window. This type of window has been used on conversion van designs for decades; however, I have also seen them installed on many modern designs as well.
Last update on 2023-09-04 / Affiliate links / Images from Amazon Product Advertising API
Egress window
Another type of window all RVers should understand is the egress window. This type of window can come in various dimensions and styles, but the two things that will always be the same with this window is that it's always hinged on top and that it's always large enough to be used as an escape hatch should that be necessary in an emergency.
Last update on 2023-09-04 / Affiliate links / Images from Amazon Product Advertising API
The egress window can be a single pane, double pane, a sliding window or even an awning window. Egress windows should be clearly marked as an exit and they all will have one or two red slide bars at their base to push the window open. These slide bars can be pushed completely free of the frame to facilitate an emergency exit and since they are notched on the bar, they can be set to stay in place in various increments allowing for added ventilation. Additionally, they can also be fitted with quick-release screens to keep insects out of your rig and since they're hinged at the top and open outward, they work great for repelling rain. If the bugs are already in, here is a helpful guide on how to remove unwanted insects
Sliding pane window
One of the most common RV windows that you're likely to encounter in new or used RVs is the sliding pane window. These windows come in three different types with the horizontal type shown being the most popular.
Last update on 2023-09-04 / Affiliate links / Images from Amazon Product Advertising API
Like the horizontal sliding window, the vertical slider window's top or bottom slide either up or down. Finally, the last type is the awning slider, where the top pane is fixed and the lower two panes slide.
One drawback to the sliding pane windows is that when opened, rain can easily come inside your RV.
Awning window
Another type of RV window is the awning style window. This window has various names such as a jalousie, slatted, louver, crank or as the All-Rite company refers to the one pictured here, a radius torque window because of its rounded corners. Regardless of their varied names, one thing is certain, they almost always incorporate a fixed pane and jalousie design where the latter is cranked or torqued outward by an interior hand crank.
When cranked outward, these types of windows are very weather friendly as they repel the rain during wet times and still allow fresh air to enter your RV. If you're an RV restoration enthusiast such as I am, you'll know that early model campers all used the jalousie window style window. However, they were always square with aluminum frames and came with several single pane pieces of glass in a primitive frame design that allowed for a lot of air leakage. Todays awning window designs are much more complex than those of past decades and as you can see, they are far more energy efficient.
With that said, they do tend to be more costly and when specially ordered with uncommon dimensions, can put a real dent in your budget if you are designing your own build or remolding an older RV, including vintage RVs. On the other hand, if you're on a budget, I would highly recommend visiting businesses that specialize in dealing RV salvage parts. While many of these businesses will sell some parts online, it's likely they're going to be more costly because they will have to remove the part and ship it to you. In my opinion, visit the salvage yard in person as you may come up with other windows that will work better for you and more importantly, cost less.
Frameless window
One of the newest windows to come on scene in recent RV designs is the frameless window. While most common on newer class B van conversions designs, these windows have also been gaining popularity with RVers looking to remodel older models.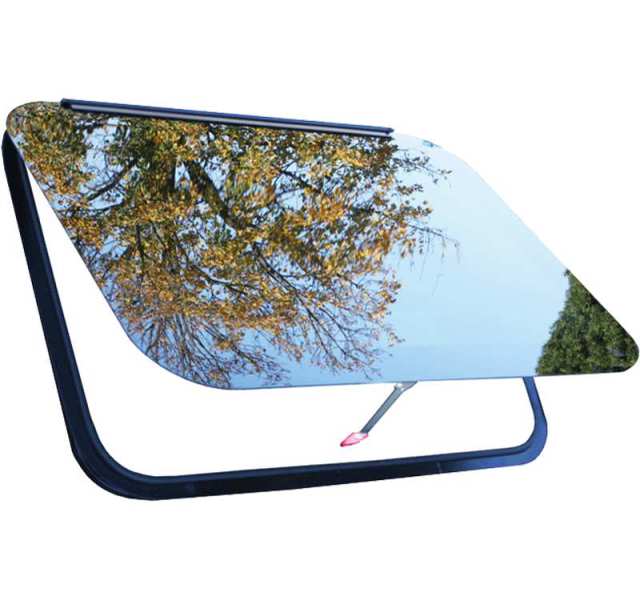 While these windows are not entirely frameless, they do have an interior anchor framework that's designed to blend the window into the skin of the outer side of your RV and that's exactly what they do. In short, they add to your RV's aerodynamics when traveling down the highway, and they add to its physical aesthetics when camping or boondocking.
Which is best, the single pane window or the double pane window?
Single pane windows are the least expensive, so if cost is a factor then this would be a good choice for you when ordering or shopping for a new RV. However, double pane windows offer better insulation in terms of heat loss or gain depending upon when or where you're camping. Personally, I recommend double pane windows if your budget allows for that.
Final thoughts on your RV window designs
Whether you're designing your own RV build or redesigning an older RV to today's technology, you need to always do your research. Can your vintage RV adapt to the modern design and upgrades, or do you need to be creative? For me, that's what's fun about working on RVs. If you're working on a converted van, head over to my colleague Lindsey's article on conversion van window installation – she has converted several vans and has a lot of great photos on how to do it.