Hey! This site is reader-supported and we earn commissions if you purchase products from retailers after clicking on a link from our site.
One of the worst enemies for any RV or RVer is moisture in their rig. Too much moisture can cause serious damage and if left unattended can lead to mold which means major repairs as well as health issues. In this article, we'll take a look at what causes moisture and the best ways to avoid that type of buildup in your RV. Additionally, we'll explore some of the ways that moisture can affect your RV as well as how it can affect your health and peace of mind.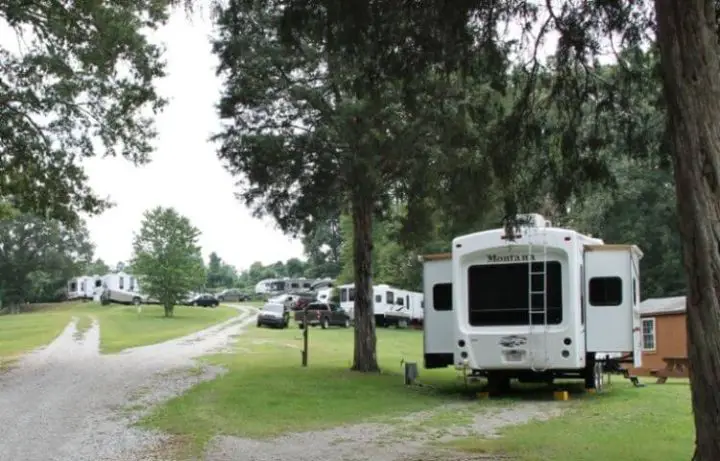 Table of Contents
Why do I have moisture in my RV?
Several factors can cause moisture in an RV, but the main reason is because of the design of the RV. As I have mentioned in several previous columns, recreational vehicles are not designed in the same fashion as a bricks-n-sticks design such as homes, condos and apartments. The walls are much thinner, have less insulation and this leads to a lack of a moisture barrier. For example, in standard homes the walls are 3.75 inches thick, are filled with insulation and have sheets of a plastic type of material that is specifically designed to prevent moisture.
This is not the case with campers or motorhomes. Due to weight issues and construction complexities, RVs have to be much lighter, so the walls are half the width and contain far less insulation. With that said, temperature variants between the inside of your RV and the outdoors can cause a huge amount of moisture buildup within your rig.
I have spent time in my RV in various climates, but I have always found that the winter months that I spent in the colder parts of the country was a major issue when it came to moisture buildups. Why? Because the colder it is outside and the warmer it is inside will cause a buildup of condensation on your interior walls because the wall of my rig are inadequately insulated, and they lack an adequate sheet of moisture barrier.
Other factors that can cause moisture within your RV would include cooking and bathing. Yes, I love a good hot shower and cooking a nice pot of homemade chicken noodle soup, but these activities release a lot of steam and ultimately lead to condensation on walls, surfaces and flooring within your rig.
How do I prevent condensation or a moisture buildup in my RV?
Properly evacuating moisture filled air within your RV is a key factor for avoiding a condensation buildup inside your rig. Placing good 12-volt exhaust fans in your kitchen, bathroom or living area can greatly reduce a moisture buildup within your RV.
Hike Crew 14" RV Roof Vent Fan w/LED Light | 12V...
KEEP COOL IN YOUR COMFORTABLE RV | Manual Ventilation System Delivers Powerful Cooling, Reliable...
3-SPEED FAN WITH REVERSIBLE AIRFLOW | 10-Blade Skylight Fan Provides Perfect Air Circulation for...
LONG-LASTING ALL-SEASON PERFORMANCE | A Ceiling Fan Vent Not Only Cools & Freshens Your Space During...
Last update on 2023-11-14 / Affiliate links / Images from Amazon Product Advertising API
While there a numerous types of vent fans on the market, I personally prefer those that are simple and only require a push of a button to activate. However, there are numerous models to choose from and I recommend choosing the model that best suits your needs (Mike wrote a good article on the best RV A/C units that you can read). For example, some ventilation fans have remote controls and outdoor sensors that will close them automatically in the event of rain or snow should you be away from your rig, I still prefer to keep it simple.
Sometimes opening vents or windows are just not an option when the weather isn't as cooperative as you want it to be. For example, when I spent winters in northern Michigan in my fifth wheel, the last thing I could do was to open up windows and air vents when it was -15º F outdoors.
Instead, I opted to purchase a good commercial dehumidifier that helped to pull that moisture out of the air. As luck would have it, it worked very well in the humid summer months and it helped me to keep the use of my air conditioning unit to a minimum during that time as well.
Sale
Pro Breeze Electric Mini Dehumidifier, 2200 Cubic...
Compact & Small Dehumidifier: Lightweight, compact, and portable dehumidifier, the mini dehumidifier...
Safe Dehumidifier with Auto Shut-Off Function: When full the dehumidifier will automatically shut...
Ultra-Quiet & Efficient Dehumidifiers for Bedroom: Built-in Thermo-Electric Cooling Technology...
Last update on 2023-11-14 / Affiliate links / Images from Amazon Product Advertising API
The biggest thing to keep in mind when you have a dehumidifier is that they need to be checked regularly. They have a tank that accumulates water ant it needs to be emptied often depending upon the humidity level within your RV and its surroundings. Head over to Mike's article on RV dehumidifiers for some other good options.
As an RVer that prefers to be a bit of an innovator, when I was living in Colorado and Northern Michigan during the winter months a few years ago, I met several like-minded full-time travelers that were looking for alternative ways to heat their rigs. One such way was by using wood as an alternative heating source.
This type of heating source is a bit drier and will result in less condensation, but it will require a lot of modifications to your RV to prevent a fire or carbon monoxide poisoning if not properly ventilated. However, the same is true for a heating system that is based upon propane so it's really a matter of personal preferences.
Cooking can be an issue
If you're like me, you like a good stew or soup. However, cooking these dishes can cause a lot of steam and they put a lot of moisture into your RV. Additionally, preparing these types of dishes on your propane stove top will put a lot of moisture into the air. I recommend using a 12-volt slow cooker for those types of dishes.
RoadPro-RPSL-350 Quart Slow Cooker, Auto Travel,...
Plugs directly into 12-Volt power port to provide hot meals while camping or traveling
Easy-to-clean stoneware crock is removable and dishwasher safe
Black cooker base has easy grip handles to transport easily
Last update on 2023-11-14 / Affiliate links / Images from Amazon Product Advertising API
Not only will it save you the cost of propane, but if you position it correctly, you can motor down the road while it's cooking your dinner for the next stop. If you have a trailer, a couple of windows left open on the rig and it's airing out all of that humidity while you're driving down the highway.
Use the campground facilities
If you're staying at a full-service campground, consider using their facilities for bathing and even other services. Taking a shower can add an extreme amount of humidity to the interior of your rig and if you're staying at a nice place with good facilities, you may find it relaxing. For example, I once spent a winter at a campground that disconnected my water during the cold months because they were afraid their water main pipes would freeze.
Of course I understood this going into the rental agreement, but the first few times I had to walk over to their guesthouse to take a shower seemed odd to me. Interestingly enough, by the time spring arrived, I really enjoyed walking over to their guesthouse in sometimes frigid weather to take a shower because it made coming back to my rig so much enjoyable.
Consider using a desiccant
Have you ever opened up a box of clothing or other products that has that little packet included that is labeled, "Desiccants, do not consume"? These remove moisture and you can buy them in larger containers suitable for use in your RV.
Sale
Last update on 2023-11-14 / Affiliate links / Images from Amazon Product Advertising API
I like to place a 2-3 of these around my RV to remove moisture. As a rule, I keep one in the bathroom between my sink and toilet, and one in the kitchen under my sink. If I'm in a high humidity area, I like to place one in my clothing area too.
Without the proper care and preventative maintenance, what could happen?
Moisture in an RV is a death sentence to its flooring, carpet and walls over time, so it's always in your best interest to clear this problem up as soon as you can. Yes, leaks can develop from the outside through seams and soft spots in the structural framing, but ignoring any type of interior moisture will just exacerbate those problems and will lead to accelerated deterioration of your RV.
Another important aspect to consider is mold. Once too much moisture is within your RV, it's likely that mold will develop, and this can cause you to have serious health issues. Over the years, I have spoken with many fellow RVers that have had health issues involving respiratory problems. Many of those folks attributed their illnesses to mold in the walls, floors or their ceilings in their RV bedroom or common areas, so in terms of healthcare, it's important to note what could occur without the proper preventative care of your RV.
Final thoughts
One of the most important things to understand when traveling in an RV is maintaining that home. Be it a temporary weekend getaway, or a full-time home, proper maintenance is key to a healthy lifestyle and the longevity of your home.
A small bit of moisture from the wall of your kitchen that leaks under the carpet of your kitchen while you're cooking a nice pot of pasta can lead to much bigger problems a year or two down the line. In short, if you see condensation in your rig, wipe it dry as quickly as possible and if it's a persistent problem, consider acting in some of the ways I have recommended here.
As always, my friends, thanks for following along and I hope to see you on the road.