Hey! This site is reader-supported and we earn commissions if you purchase products from retailers after clicking on a link from our site.
In our last guide to visiting urban areas without driving your rig into them, we looked at visiting Washington D.C by boondocking south of the city and utilizing Amtrak for a day trip into the city. In this installment, we'll be exploring Chicago, IL and Milwaukee, WI and accessing those cities by train as well. However, I am going to share two options for camping and visiting Chicago, while sharing just one for visiting Milwaukee. This is not done as a way to show a personal preference to either city, but more to share how doing some research on the city or cities you want to visit can be easily accessed by where you choose to camp.
For example, one of the best ways to visit Chicago. IL or Milwaukee, WI is to stay at the Chain o' Lakes State Park located in northern Illinois. While located over a half an hour from the Sturtevant train station, it is well-maintained, has over 150 campsites suitable for large and smaller RVs with some being supplied with electrical connections and others being primitive sites suitable for boondocking.
Located on a chain of lakes, this park has numerous campsites that include access to hiking, biking and even equestrian trails as well as a corral to keeps horses lodged in while you stay. It also has access to boat launches as well as some excellent fishing on its connected lakes. There are also restrooms and showers facilities on site as well a dump station.
While this campground is not free because it's part of the Illinois State Parks System, it's well worth the money to stay at because of its size and amenities. Primitive sites are $12 nightly and those with electricity cost $25 a night. The park is closed from Nov. 1st until Dec. 26th to all activities except hunting.
One drawback to staying in this park is that it has hours and a gate that is secured nightly. The hours vary by the season so be sure to check on them before you plan on a day trip to Chicago or Milwaukee so you are not locked out of the campground when you return from your excursion to the city.
Visiting Milwaukee
Aside from having to drive your own vehicle from the Chain o' Lakes campground 32 miles to the Amtrak station in Sturtevant, WI, the station does offer free daily parking for smaller rigs such as class B and C motorhomes as well as personal vehicles.
Milwaukee has some great things to see. Its waterfront on Lake Michigan is outstanding and it's loaded with great views, marinas and restaurants. Also, the Milwaukee Art Museum is a must see as is the Harley-Davidson Museum. This train is limited to coach seating only and the cost of a one-way ticket is $11 (adult).
Visiting Chicago from the north side
Getting to Chicago by train from Sturtevant, WI is just as easy as getting to Milwaukee. The train takes approximately one hour, is coach seating only and the cost of a one-way is $24 (adult).
Once in Chicago, the Field Museum of Natural History, Museum of Science & Industry and the Art Institute of Chicago are all interesting to visit and of course a visit to Chicago wouldn't be complete without a trip to the top of the Willis Tower (formally known as the Sears Tower) to view the city from above.
Visiting Chicago from the south and east
Another unique way to visit Chicago is by staying in the South Bend, IN area and taking the South Shore Line train into the city. This train takes approximately two hours from its east terminus in South Bend, IN to arrive at Millennial Station in downtown Chicago. Keep in mind that this train is more of a commuter train, so don't expect a café car with food and drinks available like you'll find on Amtrak.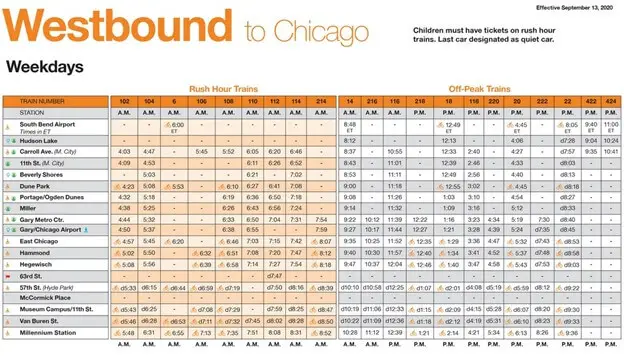 While there is no overnight parking allowed at the South Bend terminal, (which is located at the airport), for a cost of $1 you can leave your vehicle for up to 18 hours. When you stay in this area, I highly recommend a visit to the RV and Motorhome Hall of Fame and Museum. Located 18 miles east of the South Shore train station in Elkhart, IN, this is a great place to view antique RVs as well as learn the history of RVing. Best of all, with a $12 paid admission to the museum, you can boondock at the facility for two nights for free!
Final thoughts
I hope this gives you some good insight as to how to visit Chicago and Milwaukee without your rig and as always my friends, stay safe, stay healthy and enjoy the adventure.
If you don't have a rig yet, you should consider renting one. Read Mike's guide on the best rental companies for RVs for more info.