Hey! This site is reader-supported and we earn commissions if you purchase products from retailers after clicking on a link from our site.
If you follow my articles regularly, you'll know that I am a big fan of boondocking as I love the sense of freedom it gives me when traveling. However, I have also endorsed the use of some campground membership programs such as the Thousand Trails campground system.
While memberships with programs such as Thousand Trails can be costly on an annual basis, they do have their advantages and disadvantages, so I invite you to explore my previous article, where I give an honest review of the Thousand Trails campground system and how it may work for you as a full-time RVer or even a part-time traveler.
With that said, in this article, we're going to concentrate on the more inexpensive RV membership programs that save you money when traveling or staying at hundreds of RV parks throughout the country. Some will also offer savings to local attractions such as amusement parks, zoos and museums, and others will allow you access to exclusive camping at wineries, farms, ranches and various other points of interest. Additionally, many programs will include such perks as towing and even tire repair or replacement free-of-charge or at discounted rates, but it's likely that you'll pay premium cost for this type of benefit, so it's important that you plan accordingly in terms of your budget and cost vs. usage.
What is cost vs. usage?
A good example of this concept is Kampgrounds of America (KOA) and their Value Kard Rewards Program. Many times, the numbers don't add up in these types of membership programs.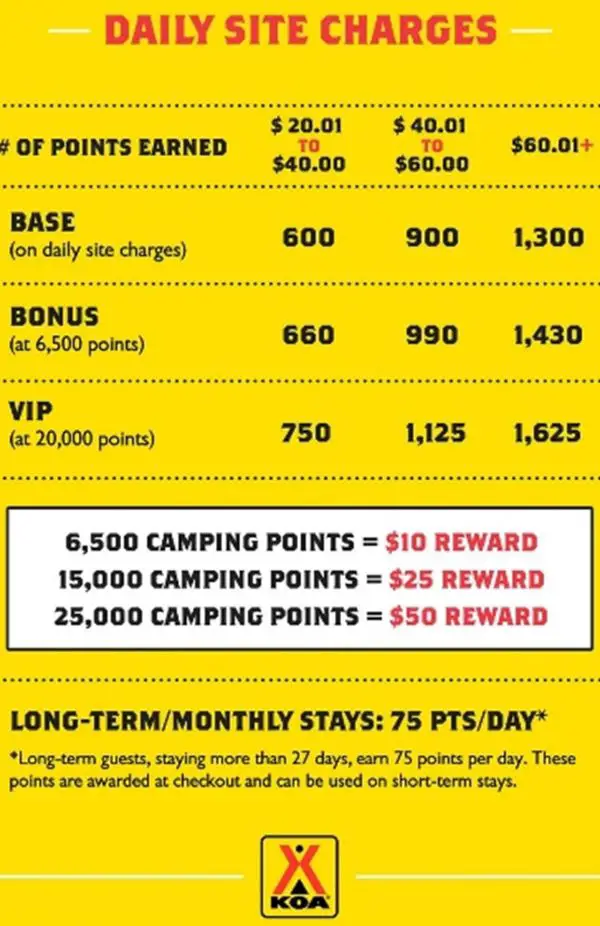 In this chart that I found on the KOA website, you'll see that a campsite that ranges in price from $20.01 to $40.00 per day earns you 600 points daily. Once you have reached 6,500 points, you've earned a $10 reward.
Since the price of that site is $20-40, let's average it out and say that the cost is $30 a day. This means you must stay 11 days and spend $330 just to receive a credit of $10.
Another thing to keep in mind is that it costs $30 a year to join this rewards program. That means that you'll need to spend $990 and at least 33 days a year at KOA campgrounds before you've even broken even for the cost of the membership. Technically, this means you'll need to stay in a site that is $30 a day, for 44 days and at a cost of $1,320 to receive a measly $10 reward.
Seriously? Those numbers don't add up in terms of cost vs. usage. Would I spend $1,320 so I can save $10 in their over-priced washers and dryers or camp store? Thanks, but no thanks.
Would I belong to a KOA Value Kard Reward Program?
Absolutely not. The number of stays vs. the cost of stays a year for me year would never make it worth the cost of joining this membership program. Frankly, I'm not a fan of KOA campgrounds anyway.
In my opinion, most of them are overpriced mini-amusement parks, designed to attract our societies newest version of Mr. and Mrs. America that want to own Airstreams or high-end 5th wheels and homeschool their children with some of the same mis-guided information my generation was force-fed in the 1970s. With that said, I don't want to stay at a campground that has a man-made fishing pond, an 18-hole putt-putt golf course, a swimming pool, hot tub and athletic work out room as well as a video arcade, tennis courts, playgrounds, and easy access to their Wi-Fi simply because of these amenities.
As a rule, KOA campgrounds are overpriced, overcrowded, too controlled, and too damn busy. If you're looking for a quiet place to visit, give yourself a pass on the KOA campgrounds and their rewards program and search for other options.
Looking at other programs
One of my favorite discount programs to be a member of is the Good Sam program. For a 3-year cost of $79, they offer me a daily 10% discount at any one of their 2,400 campgrounds that participate in their program. They also offer a $.05 per gallon fuel discount on gas and a $.08 per gallon on diesel purchases from Fly J and Pilot gas stations, as well as saving up to 10% every day at Camping World and Gander RV & Outdoors super centers. These retailers will also allow you to use their dump stations free of charge with your membership.
Good Sam also has numerous programs at additional costs such as roadside assistance, travel assistance, and health insurance programs (Good Sam is one of my top picks for the best RV roadside assistance plans). Because of the various complexities and various costs of these plans, I would encourage you to visit their website and browse through their various programs and plans to choose one that may work for you and your family.
Another good program and one that I highly recommend is Harvest Hosts. This program is especially unique because it allows you stay at host locations with many of them being participating farms, museums and other attractions, ranches, wineries, breweries, distilleries and golf courses.
They have over 1,754 hosts (including 355 golf courses), located in all the lower 48 U.S. States, Canada, Alaska and Baja California. Mexico. Harvest Hosts offers two plans. Their basic plan costs $119 per year and allows you to stay at any host locations other than golf courses free-of-charge for one night. There is an additional fee if you want to add the golf courses into your host plan.
However, you keep in mind that while you may find a host that has hook-ups available, the majority of your host sites will only have self-contained sites and they will be limited, so you should call ahead to make sure they can accommodate your overnight visit.
Also with this program, you should be mindful that these folks are hosting your stay at their location at no cost to you, so it's highly recommended that you pay-it-forward by making a purchase at their vegetable or fruit stand, a bottle of wine or in the case of a museum or attraction, visiting their facilities. This helps to ensure that existing hosts stay in the program and it make it attractive for new host to join the program.
Final thoughts
Good research and determining what your needs are is the key to success when it comes to saving money on the road. While I love to boondock, there are times when I need to visit a paid campground, simply because I want to use their facilities such as laundry areas, dump stations, properly dispose of trash and replenish my fresh water supply. Additionally, I need a good Wi-Fi connection occasionally so I can continue to make a living while I'm traveling and in many remote boondocking locations, this can be difficult to find.
In many ways, this is why I belong to the Thousand Trails program because my membership fee allows me to stay free-of-charge for 7-14 days at fully equipped campgrounds within their system. By staying at boondocking sites in between your membership sites, you can really save money.
For example, I like to use my Good Sam Club fuel discounts as much as I can between destinations. Saving $.05 cents per gallon on gas may not seem like much, but it adds up over time as does the 10% percent savings on an occasional purchase from one of their participating retailers such as Camping World for an emergency or immediate repair of a broken RV component.
I also like to travel between Harvest Host locations during longer distance hauls. In other words, if I where traveling from Florida to the Pacific Northwest, I would fuel my rig with discounted fuel from my Good Sam membership and travel 300-400 miles daily between their hosts. This allows for a good daily 5-6-hour travel distance to the next destination and it allows you an opportunity for a good look around your hosts facilities. While your savings from the Good Sam program fuel discounts may not completely pay for any purchases you make from your Harvest Host, it's certainly a way to spread positively around our country and support our non-profits, farmers, vintners and others that really make this country as nice as it is today.
Thanks for following along my friends. As always…I hope to meet up on the road one of these days.