Hey! This site is reader-supported and we earn commissions if you purchase products from retailers after clicking on a link from our site.
To some living out of a van or an RV might sound crazy. To many however, it is a new way of life that affords them the ability to pick up and move to a new destination at a moment's notice. Along with advances in technology and communication, living off the grid and on the road is becoming a more and more viable option.
In this article, we'll take a look at some facts surrounding the #vanlife movement. There is a ton to learn about this exciting way of living, and with the right mindset (and some money), anything is possible.
What is the #vanlife movement?
Thousands of people live and vans, and the movement is growing every year.
Of people polled in a recent Outbound Living survey, about 51% of people live in their van full-time and 49% part-time.
Most of the people that live in their van live with just 1 other person.
A search of #vanlife on Instagram turns up over 7 million posts, up 312% from 2017.
Most vanlifers travel alone or with one other person
312% growth in #vanlife Instagram posts over 3 years
---
What are the travel trends of vanlifers?
Most vanlifers live in California, Colorado and Florida.
60% of people surveyed travel without their pets.
For most, a good night's rest happens in a National Park, but for some, a parking lot works just fine.
Bathing habits vary due to the fact that most don't have a shower in their van.
Where most van lifers live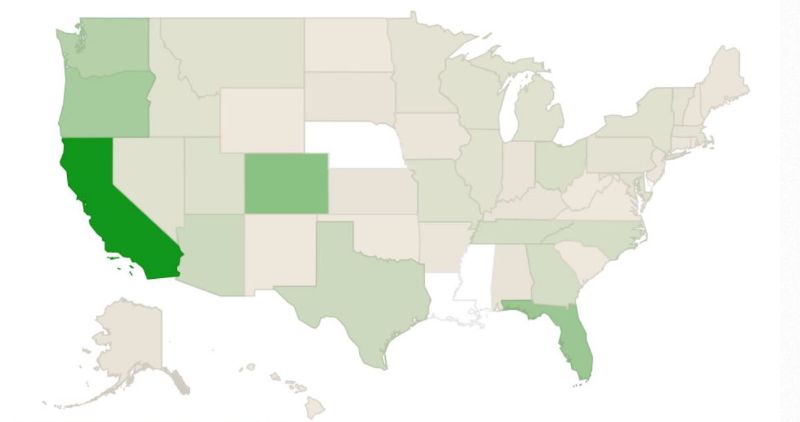 Van lifers keep clean in a variety of ways
---
What is converting a van like?
About a third of people spend less than $5,000 converting their van.
Most vans can be converted solo without much help, although there are companies that offer conversions.
Converting a van is not an overnight process and can take upwards of a year depending on complexity.
Adding solar panels is a must for most vanlifers to help power their computers and other electronics.
Conversions range from old VW buses to massive Airstream Sprinters.
[graph]
---
How do vanlifers make and spend their money?
For a majority of vanlifers, making money to be able to spend on the road is an absolute necessity but how do they make their money, and what do they spend it on?
Almost 50% of people said they have a job that does not fit into a specific category, like being an influencer.
Only 4% of vanlifers surveyed report that they're retired.
A good majority of people spend less than $100 per person per week while they are on the road.
Gas makes up a massive amount of monthly spending, often between $100-$300 a month.
The great thing is that a reported 38% of vanlifers don't spend a dime on campsites!
---
Sources:
https://outboundliving.com/van-life-statistics/
https://projectvanlife.com/what-is-van-life/
https://www.newyorker.com/magazine/2017/04/24/vanlife-the-bohemian-social-media-movement
https://www.usatoday.com/story/travel/2019/10/24/van-life-takes-off-among-younger-generations/3865329002/
https://www.curbed.com/2019/4/3/18264579/van-life-millennials-campers-sprinter-air-stream-thor