Hey! This site is reader-supported and we earn commissions if you purchase products from retailers after clicking on a link from our site.
Baby, It's Cold Outside
When I started my van journey, a friend of mine sent me a link on how to follow the seasons and always live where the average temperature is 70 degrees, which sounds like an absolute dream. And yet, here I am, sitting in a coffee shop in Colorado where it is 7 degrees outside and my van is coated in ice and snow. The idea of living through the winter in the van never really crossed my mind until I fell in love with Colorado over the summer and decided to try out a small mountain town through the winter season. There were tons of job opportunities because of all the ski resorts and I grew up in New England, so how bad could it be? The first month of living in Winter Park I had a space heater, a 20-degree sleeping bag, and several quilts that kept me warm throughout the night. However, I quickly learned that this would not be enough to really LIVE in the van; I couldn't run the space heater all the time due to problems with the fumes and it wasn't fuel efficient to run the van for heat. If I wanted to comfortably live in the van and survive the winter, I would need to make some upgrades.
After my initial insulation installation (say that 5 times fast), I spent an additional $2,200 to "winterize" my van.
Upgrade #1: Espar Diesel Heater
Luckily a friend of mine introduced me to the Espar Diesel Heater: a heating system that draws diesel from the fuel tank, heats it through an internal combustion system, and blows hot air through the van. I was immediately intrigued!…Until I read the $900 price tag. Dropping almost $1,000 on a heating system was not in my budget but I realized that it was absolutely necessary in order to survive the winter. I also rationalized that $1,000 was cheaper than 4 months' rent in Colorado and this investment would truly turn my van into an all-weather vehicle. Having a basic heating system also keeps my van at an above-freezing temperature at all times which protects my electronics, liquid-based toiletries, and my water system.
Although there are cheaper diesel heater options available through Amazon and other sites, considering this system deals with my fuel tank and my electrical system, I didn't want to take any chances with a cheap product and bought it directly from the retailer on this site. There are a few different model options, but I went with the Espar Airtronic D2 12V Heater Kit. I added on the high-altitude sensor (essential for living in Colorado) and the EasyStart timer. There are a few different timer options and I went with the most basic; depending on your model you'll be able to set a timer for when you want the heat to go on and off, how long you'd like it to run for, and the temperature you'd like the van to remain at. The kit comes with all the pieces you need for installation and very mediocre instructions that have been translated from German and Swedish and make little-to-no sense. However, it is possible to install it with time and patience! In another post I will be breaking down exactly how I installed my heater along with some tips and tricks.
Upgrade #2: Rear Ladder
Adding a ladder to the van is another feature that I never considered for the van until I actually needed it. After the first snow storm I realized that trying to get snow off a 10-foot van to clear off my solar panels was less than ideal (read about my van solar panel installation if you haven't yet). Before I installed the ladder, I would drive around town until I could find a wall I could climb up on to reach the roof to clear off the snow. Turns out solar panels don't charge very well when they're covered in snow and I learned this the hard way when my batteries drained and I had no power for a while. I bought my ladder through this site via the recommendation of a friend who professionally builds out adventure vans like mine (he's also the one who recommended the heater – we like him). The kit was less than $300 and came with everything I needed and great instructions. After a couple hours I had a sexy little number attached to the back! In general a rear ladder is just a good idea for the protection of your solar panels; you can easily get up on the roof to clean the panels off, check the wires and connections, and look down on the peasants below you.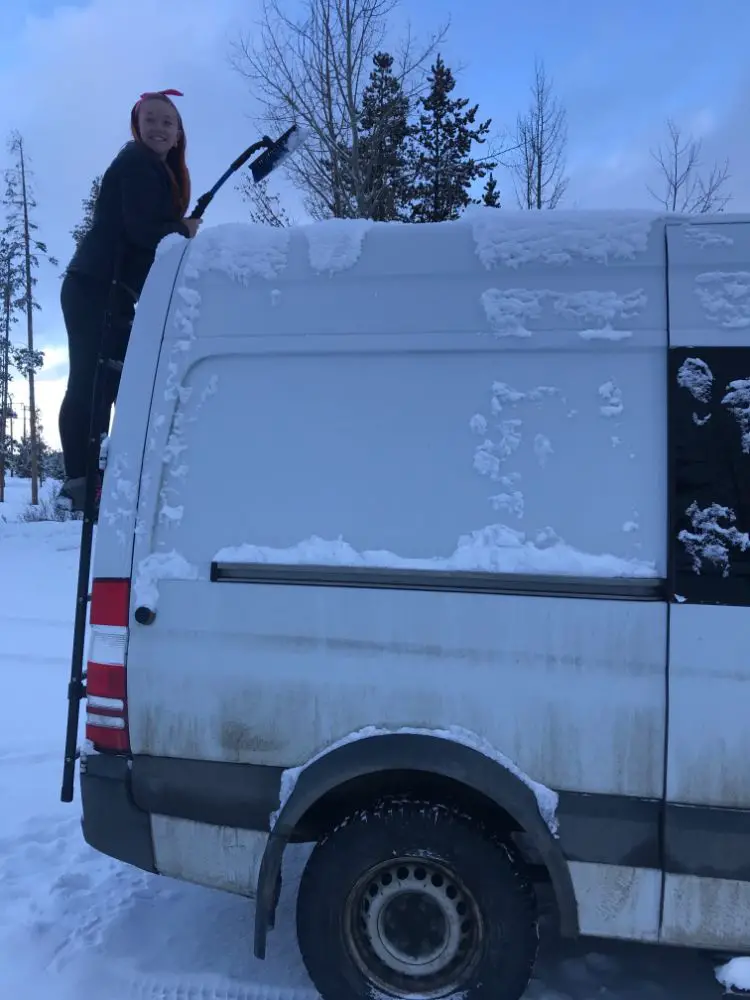 Excuse how dirty she is – but check out that ladder!
Upgrade #3: Snow Tires
Venus and I have been through some serious terrain at this point (and 20,000 miles!), but she is still a delicate lady without 4-wheel drive. Once ice and snow come into play, she and I have no chance and snow tires were an absolute essential. In Colorado it's actually a law that you need to have 4-wheel drive or snow tires from November through March in order to be on the roads. I simply went to the closest Discount Tire, asked for their recommendation on snow tires for driving in Colorado, and ended up with the Hankook I Pike RW11 tires which ended up costing about $750. So far they've been great and I haven't slipped on the roads at all!
Upgrade #4: Gym Membership
This is not a van upgrade, necessarily, but it is how I shower and work out for the season. When I was living in Denver for the summer, I was parking in my sister's driveway and always had access to her shower. Here in Winter Park, I was able to get a 6-month membership to their local rec center for $130 – hello, hot water!
Other Products I Love For Van Winters:
Surviving a winter in a van is a challenge, but not impossible. The extreme elements will do some work on your van and all your things, but with the right preparation you can get through it and wake up in your very own winter wonderland every day.