Hey! This site is reader-supported and we earn commissions if you purchase products from retailers after clicking on a link from our site.
The average household has two refrigerators, one in the kitchen and another in the garage or basement. 
If you want to maximize storage space, consider buying a smaller fridge that takes up less space.
A smaller fridge offers several advantages over larger models. For example, it can fit into a smaller area, saving valuable floor space.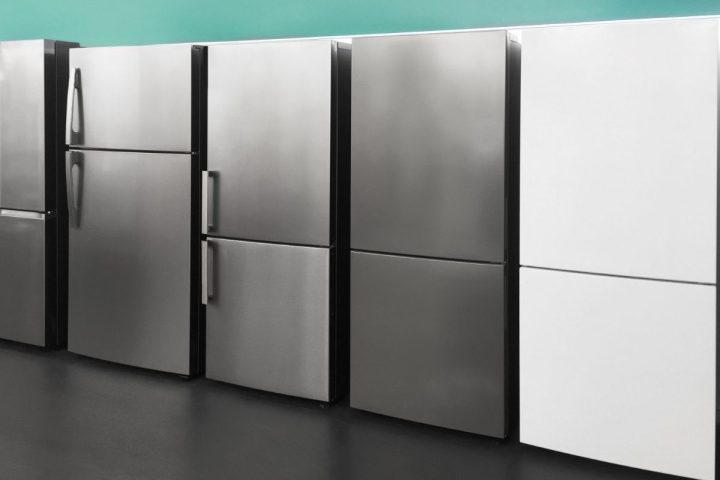 This will be great for people with tiny offices or college dorm rooms. Plus, since it takes less energy to cool a smaller unit, you'll save money on utility bills too.
Small refrigerators are particularly perfect for people who live in small homes, as they will give you more space. 
To help you find the ideal product, we have found five of the best small fridges on the market.
Table of Contents
Firstly, if you are looking for a small fridge/freezer, this will be the product for you. 
We were looking for a small unit that was easy to install and would fit into an existing space. This unit fits the bill perfectly! 
It has plenty of room for food storage, and it is easy to clean. The door bins are large enough to hold multiple items, and they slide out easily. 
The freezer compartment is also big enough to store enough frozen foods. There is no ice build-up inside the freezer which makes cleaning much easier. 
The freezer runs smoothly and the compressor does not run too loud. The automatic defrost feature works great and there is no mess when it happens. 
Overall, this is a great appliance for any home
Pros
Fridge and Freezer: this compact device is not just a fridge, but also a freezer. As a result, you will be able to store more food. This will also allow you to keep food for longer. Consequently, it is more versatile than other small refrigerators.
Auto defrost: when ice begins to build up, do not panic! This fridge will automatically defrost itself, thus saving you time and effort.
Versatile storage: you can keep a wide array of foods in this refrigerator thanks to the shelving options. This EdgeStar product comes with a wire shelf, vegetable crisper, and glass shelf. These shelves can slide out for your convenience.
Interior light: even in the dark, you will be able to see the contents of your fridge.
Cons
Poorly designed can storage: the storage rack on the door of the fridge is intended for cans. From our experience, cans can easily fall out of this compartment. Therefore, this may be an issue for people who love cans of soda
Also, Available At
This BLACK+DECKER fridge is a great buy! 
This company has managed to build a name for itself because of its high-end housewares products. This fridge is no exception. 
It has plenty of room for storing drinks, snacks, etc. It also has a nice little freezer compartment which is useful when entertaining guests. 
It is really quiet, and it is super easy to use. We love using it because he doesn't have to worry about opening the door on the correct side because of the reversible door. 
Overall, we would recommend this to anyone looking for a compact refrigerator.
Pros
Reversible door: this feature means that you can choose the side that you want the fridge to open. This feature will be particularly useful in narrow spaces.
Slick design: you can purchase this item in three different colors, specifically black, white, and stainless steel. Though all of these designs look awesome, we adore the modern-looking black fridge. It will fit seamlessly into most rooms.
Recessed door handle: instead of sticking out, this door handle is recessed. As a result, even more space will be saved.
45dB of noise: this fridge is super quiet, producing minimal noise. Therefore, you can use it in offices, dorm rooms, and bedrooms without the fear of it disturbing you
Cons
Prone to making noises: while this fridge is generally quite noiseless, it will sometimes make random noises. Though we did not experience this problem, a few other customers have noticed this issue.
Also, Available At
Next, we love this little refrigerator. We were impressed when I saw how compact it was. It fits easily into any room. It is quiet and efficient. It is perfect for storing food, breast milk, and other medical supplies. It is also a great way to keep cold beverages chilled.
You can even use it for skincare products. Perhaps the feature we love most about this fridge is its bold colors. Overall, we would recommend this to anyone looking for a small refrigerator.
Pros
Multiple colors: with 5 different colors to choose from, you are sure to find the option for you. Because of this, the mini fridge can be matched to practically any room. The mini-fridge is available in black, blue, pink, red, and white. Personally, the red mini-fridge is our favorite version. 
Built-in carry handle: to increase portability, this mini fridge comes with a handle. As a result, it is perfect for moving into a new dorm. It can also be used when traveling.
Warming function: this fridge does not just keep food, drink, and skincare products cool. It can also warm them up! With a maximum temperature of 149°F (65°C), you can keep hot drinks and warm food at this temperature. Few other fridges have this impressive temperature range. 
Extremely quiet fan motor: instead of constantly disturbing you, this fridge is exceptionally quiet. It also has a Sleep Mode, which is only 25 dB. As the name suggests, this mode is perfect for night-times. 
Energy-efficient: saving you money, this fridge has been constructed with energy efficiency in mind. 
Cons
Very small: though the purpose of this list is to find spectacular small fridges, this fridge may be a little too small. The mini fridge can only store a few items at a time. Therefore, it will only be suited to people who want a fridge that is capable of holding some essentials and cold drinks. 
Also Available
We wanted a fridge that was easy to use and would fit into a small space. We also didn't want to spend a lot of money on a fridge, but we did want one that had a freezer compartment. 
Thankfully, we found this product and like how this fridge works. It has a little freezer section and a large fridge section. 
There are plenty of shelves and drawers for storing food. It's got a stylish color which looks great in our kitchen. The controls are simple and easy to figure out. 
Pros
7 temperatures: few other small fridges offer this wide range of temperature settings. As a result, you will be able to find the right temperature for you. 
Adjustable feet: you can alter the feet of this fridge. This makes it a more versatile product since you can position it horizontally without moisture appearing beneath it. 
Freezer included: this product is not just a fridge. It also has a nifty freezer compartment. This freezer will be especially beneficial in the summer because you will be able to store some mouth-watering ice cream. 
Adjustable shelves: for more flexibility, the Euphony mini fridge gives you the ability to alter its shelves. This allows you to store a variety of differently-sized food products. 
Professional-looking designs: instead of the bright and bold color schemes that some small fridges come in, this product has 3 sophisticated colors, namely black, white, and silver. This gives them a more sophisticated vibe that will elevate your home or office. 
Cons
Expensive: compared to other small fridges on the market, this model is quite expensive. The reason for this is likely that you are paying more money for the impressive additional features of this product. Though this is the case, the Euhomy fridge is not well-suited to people with more limited budgets. 
Also, Available At
Last but not least, if you want a retro mini-fridge that will liven up most spaces, you have come to the right place. 
Aside from the awesome aesthetic, this fridge is super convenient. It is very easy to clean and has plenty of space for food. It also comes with a useful bottle opener.
We use this function all the time, as we never have to panic about misplacing our bottle opener again. Its compact design will fit exquisitely into most kitchens. 
Ultimately, we think that this small fridge is fantastic!  
Pros
Retro aesthetic: if you adore a more retro look, this fridge will fit perfectly into your home. The silver embellishments give it a retro feel that we love. Combined with the eye-catching red, mint, and black color schemes, this fridge looks incredible. 
Simple cleaning: nobody enjoys cleaning their fridge. To make the experience less of a chore, the small fridge comes with spill-proof glass shelves that can slide out. Therefore, you can clean them separately. The fact that they are spill-proof will mean that any liquids will not spill onto the shelves below. 
Built-in bottle opener: isn't it a pain when you can't find your bottle opener? This is especially true in warm weather when you crave a delicious drink. To prevent this problem, this fridge comes with a built-in bottle opener. As a consequence, it is ideal for storing refreshing drinks. 
Can dispenser: the side of this product efficiently dispenses cans, making it the ideal choice for fans of soda or beer. 
Reversible door: you do not need to pick a side thanks to this reversible door. 
Cons
Cheap handles: though they add to the retro vibe,  the handles feel a little cheap compared to the high-quality construction of the rest of the product. 
Also Available At
Buyer's Guide
The product suggestion above will have expanded your knowledge of small fridges. 
You will now be able to identify some of the best and worst elements of small fridges. Because of this, you will now be in a more informed place to start shopping.
Though this is the case, we would like to warn you that shopping for a small fridge can be harder than it originally seems. 
There are many factors to consider before purchasing one, thus complicating your shopping experience. These include size, style, capacity, energy efficiency, and so much more.
To help you find the correct small fridge,  we have highlighted some of these considerations. Please bear these factors in mind when you start shopping. 
Size
As you can see from the above list, small fridges come in a range of different sizes. This is an important factor to consider as it relates to how large your kitchen is.
 If you live in a smaller apartment, then you may want to choose a smaller fridge. Conversely, if you live in a larger house, then you may want a bigger fridge. This is because you will have more space to play with. 
 The size of the fridge will also be reliant on the number of people in your household. 
The more people in your household, the bigger the fridge will need to be. This is because there are more mouths to feed, meaning you will need more food. 
Meanwhile, a small fridge will be better suited to people who live alone or a couple. If you want a fridge for a dorm room or office, where you can simply keep drinks and snacks, you may want to invest in a mini-fridge.
Style
You must also take into account the style of the fridge. 
Some people prefer modern styles while others prefer classic designs. In addition, some people enjoy having appliances that match their home decor. 
For example, if you have a rustic cabin, you might want to get a wooden refrigerator. On the other hand, if you have a modern loft apartment, you might want to go for something sleek and stylish. 
Related to the style, you will also need to contemplate what color fridge you want. 
As you may have noticed with the products above, they can be sold in a range of different colors. While black and white are popular options because of their versatility, you can also get more eye-catching and vibrant shades.
For example, the Crownful fridge has more color options, thus allowing you to find one that complements your decor. 
Durability
Another thing to consider is durability. A good quality fridge should last for years without any issues. 
However, not all models are built to withstand heavy use over time. Therefore, you should look at the warranty offered by the manufacturer. 
You should also research what materials have been used to construct a fridge. If they are flimsy, you may want to look elsewhere.
Capacity
Moreover, you will want to think about the amount of storage space available in the fridge.
 It is important to know how much food you plan on keeping inside. If you are planning on storing lots of food, then you will want to opt for a big fridge. 
Otherwise, you may want to buy a smaller model. If you only want one that is capable of storing snacks, a mini-fridge will be the perfect product. 
Energy-Efficiency
You will want to make sure the fridge uses less electricity. 
This is because you don't want to spend more money on power bills. To do this, you will need to read reviews and compare energy efficiency ratings. 
You will also want to check out the Energy Star rating. This is a program set up by the government to help consumers save money and reduce carbon emissions.
Temperature Control
Small fridges should be capable of changing temperatures. This will give you the power to find the ideal temperature. 
You will want to make sure that the temperature control works properly. This means that you can adjust the settings according to your preferences. 
There are two types of temperature controls: manual and automatic. Manual controls allow you to manually adjust the temperature. If you are quite picky about temperatures, we recommend investing in a product with manual temperature control. 
Freezer
While some small refrigerators come with just a fridge section, others also come with a freezer. 
This is a brilliant feature, as it results in you being capable of storing a wider array of foods. The downside of this feature is that these fridges are often larger and more expensive.
That is not to say that you cannot find some affordable small fridges/ freezers. For instance, the Edgestar fridge is a great example of a product that also has a freezer section. 
Storage Solutions
Though this may not be a priority, you may also want to consider what types of storage systems have been used. 
For example, does the fridge have removable trays that can be easily cleaned? Does it have a crisper drawer? These storage devices will impact a product's usability. 
Additional Features
Finally, you will want to take into account additional features. These include things like water dispensers, ice makers, etc. 
Unfortunately, these features are pretty rare in small fridges, though they can be found. An excellent example of this is the Frigidaire product, which has a convenient built-in bottle opener.
Frequently Asked Questions
How Much Does a Small Fridge Cost?
The average price of a small fridge is around $200. However, there are many options available at different prices. Some models will be cheaper than others, as demonstrated by the products featured above. 
Consequently, there is a small fridge for everyone's budget. If you are looking for a cheap fridge, be sure to apply filters when shopping online
What Size Fridge Should I Get?
The size of the fridge depends on what type of use you have. If you plan to store lots of food for multiple people, then you should go for a larger model. 
On the other hand, if you only plan to keep a few snacks and drink cans or bottles, then a smaller model would be sufficient.
Is It Worth Buying a New Small Refrigerator?
If you already own a large fridge, then you might as well buy a replacement. After all, they are essential kitchen appliances.
However, if you want something smaller, then you should consider getting a secondhand option.
A used fridge is usually cheaper than a brand new one. Also, you can save some cash by going for an older model.