Hey! This site is reader-supported and we earn commissions if you purchase products from retailers after clicking on a link from our site.
Choosing the right trailer for your tiny home is one decision you do not want to take lightly. Think of this as the foundation to your home. This is what will support your home and not one you can change once the build begins. Of course, there will be several factors which will decide the best trailer option for you, including (but not limited to):
Budget
Size
Style
Climate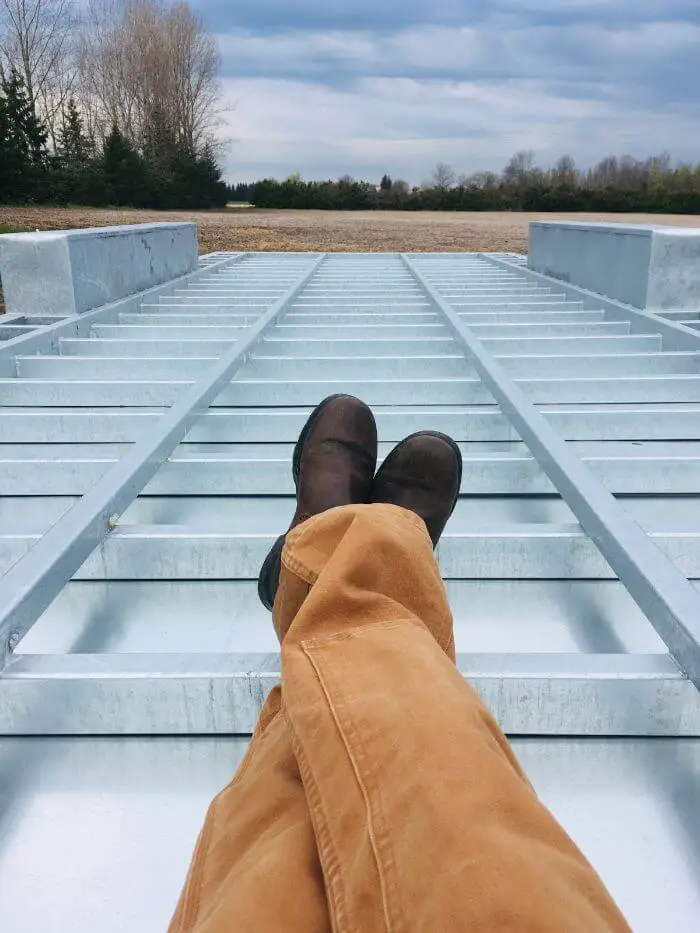 Table of Contents
Specifications for my tiny home trailer:
Custom 120" x 30' Float Trailer
Triple 7,000 lb drop axles – galvanized w/ self adjusting brakes and easy lube hubs
Fender Type: Square – Smooth
Extended Tongue – 12" *this is to provide a longer tongue to build an extension on top of the tongue
Pintle Ring – hitch
16" Radial Tires
Drop Leg Jack
Galvanized – Single Dip
Galvanized sheeting on underside of trailer
Corner mounted leveling jacks; removable with a pin
Upgrade: LED lights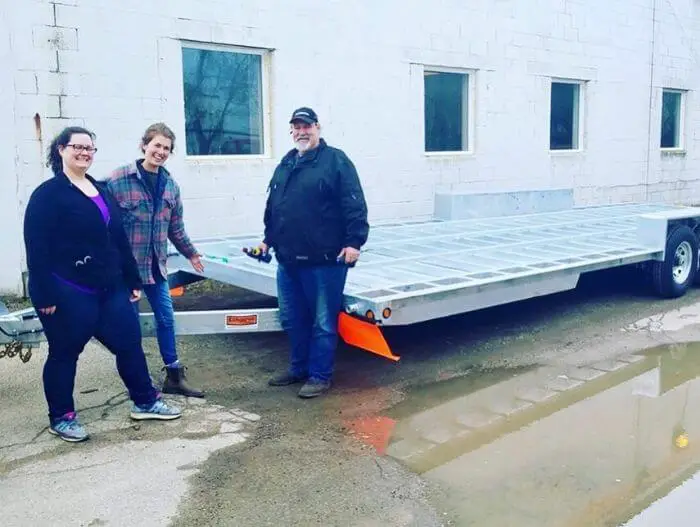 Kangaroo Trailers based in Hamilton, Ontario manufactured my custom trailer which allowed me to customize specific options for a tiny home build. Kangaroo Trailers has experience building trailers (painted or galvanized, custom or standard) specific to tiny home builds and are very knowledgeable to answer any questions related to trailers for tiny homes.
To learn more about Kangaroo Trailers visit: kangarootrailers.ca
Budget
Deciding on your budget for your trailer is critical. Self explanatory – lower budget = less customizable options, higher budget = more customizable with all the bells and whistles.
Some trailer options include (but not limited to):
Dual vs. Triple Axle vs. Gooseneck Trailers: This will depend on the size of your trailer. Shorter trailer: dual axle = lower cost. Larger trailer: triple axle or gooseneck = higher cost. Since my trailer is 30 feet in length it required triple axles in order to accommodate the size and weight of the home being built.
Painted vs. Galvanized: Seeing as my build is in Ontario, Canada I opted for a galvanized steel trailer to reflect the climate in my region. Our winters include harsh, cold temperatures and roads are salted. These two factors together don't treat trailers nicely! A galvanized trailer allowed me the peace of mind of not having to worry about my trailer (i.e. my foundation) rusting and having to constantly re-paint my trailer. Galvanized trailers come in at a higher cost = $$ vs. painted trailers = $
Used vs. New vs. Custom: There are many options for you to find used trailers at auctions or online or even from a friend's backyard. This can make a huge difference for your budget and save on dollars that can be spent elsewhere. Make sure you take the time to see the trailer in person to check axles, tires and signs of rust. I decided on a custom trailer for several reasons, but mainly for the ability to get a custom larger width than a standard 8.5' wide trailer. All trailers must be 8.5' wide or smaller to drive on the road without a permit. Since my trailer wasn't going to be on the road on a regular basis, I opted for a wide trailer (which I will need to purchase a wide-load permit every time it is towed on the road) in order to gain more space in the interior design.
Once narrowing down your budget, you will be able to analyze where you will divide and allocate your resources. Specific to my build, I knew a large portion of my budget would be spent on the purchase of my custom trailer. I chose not to buy a used or painted trailer which would have allowed me to reduce my trailer budget, but I knew I wanted a solid foundation as my starting point before I invested more into this project. Your budget is your choice so try to write out a budget plan as a starting point and keep in mind that unforeseen hurdles can come up and projects tend to always go over budget!
Size
Size is all down to the question of how many square-feet do you want to live in? What do you want in your home? Needs vs. Wants? Tiny homes can be as small as 150 square feet or even up to 400 square feet depending on the size of the trailer. Before picking the size of trailer based on some pictures, there are some key areas to assess and questions you should ask yourself.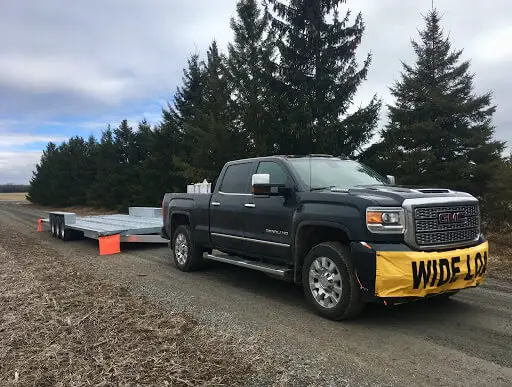 If you plan to move your tiny home on a regular basis or plan to be travelling with it on the road for long periods of time, consider opting for a smaller trailer size. This will alleviate stress when navigating down small streets and around tight corners. The Department of Transportation regulations will limit a trailer size to no wider than 8.5 feet and no taller than 13.5 feet to transport on the road without a permit. Anything wider or taller will require a wide load permit, a fee and possibly even an official escort vehicle to move your tiny home. Consult the Department of Transportation in your region for more information.
Most tiny homes stay in the 8.5 feet width as it allows for easy transportation but if you plan to transport your home only once than I would highly recommend looking into wider trailer options. It would be surprising what a couple extra feet width wise can do to the overall interior feel of the home.
Here are some red flags when buying a new home that also applies to trailers.
Style
As briefly discussed, I will highlight three main styles of trailers that I considered:
Dual Axle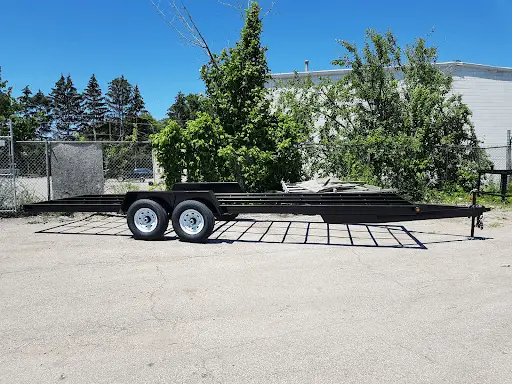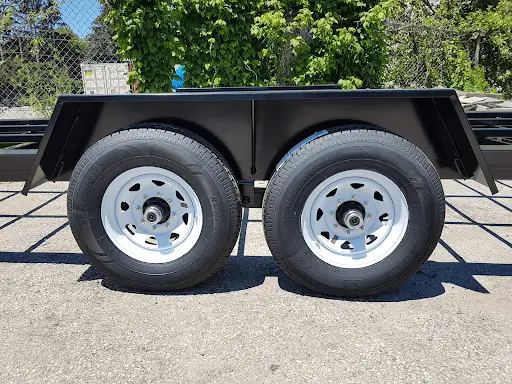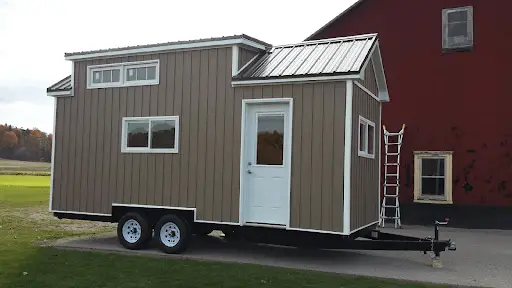 Dual axle trailers tend to vary in length up to 20 feet, but typically between 12 and 16 feet and 6 to 8 feet in width. These are the typical trailers seen in tiny home builds that are being towed on the road regularly or where one is restricted to a small space to park the tiny home. Dual axle trailers are more budget friendly but should be mindful of weight restrictions.
Triple Axle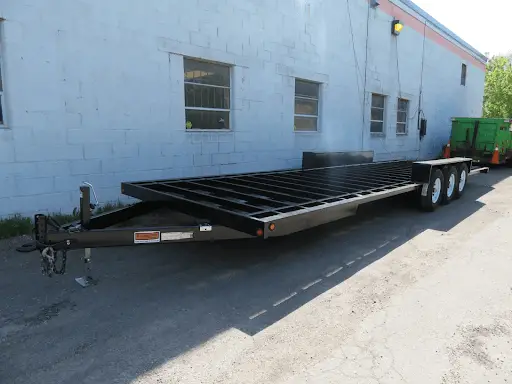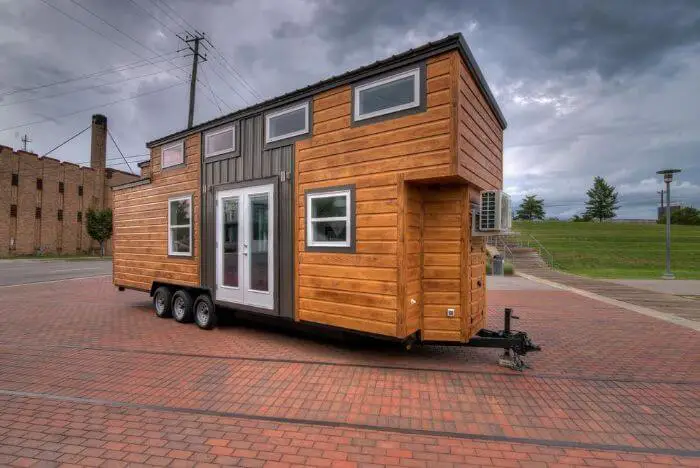 Triple axle trailers are typically used when the length of the trailer is above 20 feet. Triple axles are used to accommodate heavier loads, allowing you to safely build a home within the recommended allowed weight per axle. These trailers are meant for larger tiny homes or as commonly referred to as 'park style' tiny homes that will be parked for most of the year and not regularly driven on the road.
Gooseneck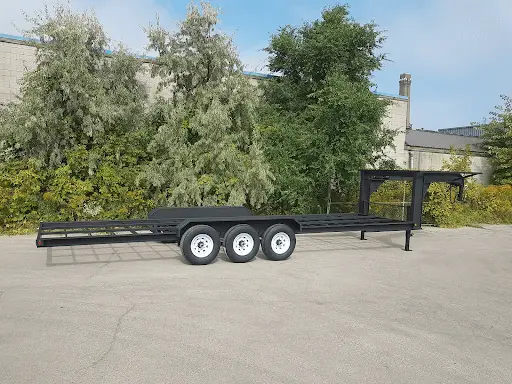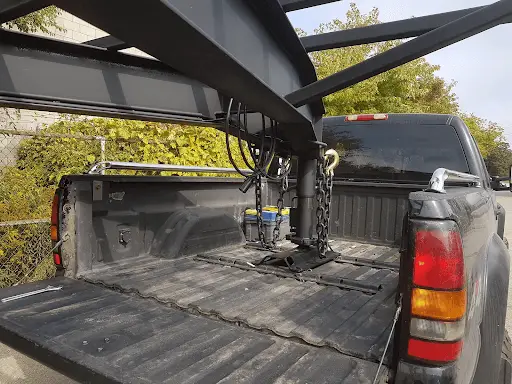 Similar to triple axle trailers, gooseneck trailers are typically used when the length of the trailer is above 20 feet. These trailers have a platform that slides over a ball hitch in the bed of a pickup truck (instead of a traditional trailer hitch) which allows for greater stability when towing. The platform above the hitch of this style of trailer can incorporate some creative design features (i.e. larger bedroom area with additional ceiling height than a traditional loft).
The style of your trailer really comes down to the size of your tiny home and preference of trailer style (flatbed trailer vs gooseneck trailer). Some prefer gooseneck trailers as they provide a unique bedroom option, whereas others prefer to stay away from gooseneck trailers as they have a more 'trailer' look to your home. Dual axles limit the size of your trailer, but can be a more budget friendly option. Triple axle trailers will come at a higher cost, but allow you to maximize your home square footage while supporting the overall weight of the load.
Climate
Your choice of trailer can be affected by the climate in which you plan to travel with or permanently place your tiny home. A warmer climate means less worry about the wear and tear on your trailer from the elements. A trailer that is exposed to harsher elements such as freezing temperatures, snow, or salted roads will cause your trailer to rust faster in this climate. That being said, I didn't hesitate to pay a more premium price for a galvanized steel trailer as this was the best solution in a Canadian climate to prevent my foundation (i.e. trailer) from paint peeling and rust forming after the first winter. It eliminates the worry to constantly grind off peeling paint, treat, and repaint when rust begins to form on painted steel trailers. Again, this decision will all depend all on your location, where you plan to travel with your trailer and/or of course back to your budget.
Narrow Down the Options
There are a variety of areas to consider when choosing the right trailer for your tiny home. Try to narrow down the actual square footage of your home, create a floor plan, and map it out on the ground to get a feel for the space. Perhaps you decide a wider trailer may be a better fit or a longer trailer to provide more space. Take climate and your budget into your consideration. Once you can narrow down your needs for your tiny home, you are ready to take on the first big step of the build: making the first down payment to your future tiny home – the trailer. Now time to bring out the tool belt and start building!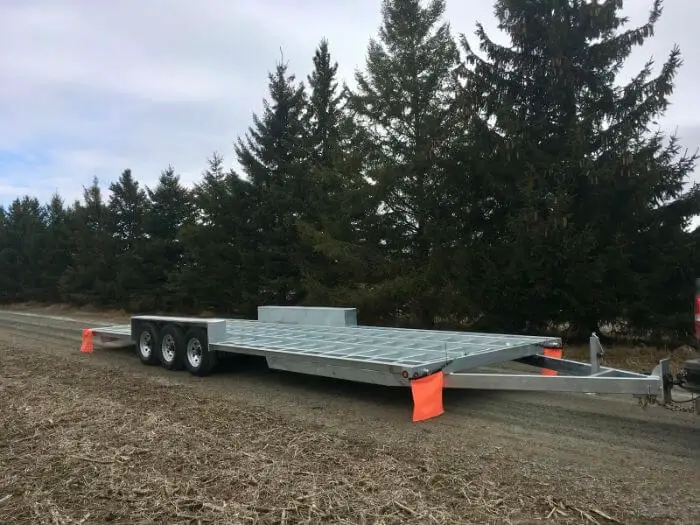 Tips and Tricks
Square fenders are a game changer for a tiny home! Building around a square fender is much easier and more structural than rounded fenders. If you are choosing to have a trailer custom built, discuss whether square fenders are an option.
Explore your options for insulation in the subfloor (more about this in the next article) as this can be something discussed whether sheeting will go above or below the crossmembers of your trailer.
Custom sheeting options on underside of the trailer. This was an option for my custom trailer and was worth it in the long-run as once my trailer arrived it was ready to go for insulation. No hassle on my end to try to lift my trailer off the ground to access the underside of the trailer to attach metal sheeting.
Leveling jacks – if going custom, ask about leveling jack options. Scissor jacks tend to bend/break more easily so ask if drop leg jacks are an option.
Galvanized trailers – here in Ontario, there is only one galvanizing shop that can do a single dip galvanization for the size of my custom trailer. Some manufacturers will offer double dip galvanization for larger trailers but will come at an extra cost. Ask to see which option your trailer manufacturers provide. Not every trailer manufacturer will offer to send your trailer to be galvanized, so you will have to call around to find one that offers galvanized trailers. Thankfully, Kangaroo Trailers deals with galvanized trailers of all sizes and provided me with quotes for both single dip and double dip galvanized options.
Drop Axles – drop axles is an option to consider to gain more height to your trailer. Every inch for headspace in your loft counts!