Hey! This site is reader-supported and we earn commissions if you purchase products from retailers after clicking on a link from our site.
Having clean and filtered water on your RV is a non-negotiable. Especially if that water is what you will be drinking. Because of this, it is essential to have the right water filter with you on your travels. If you are in the market for a great RV water filter, then we have got you covered.
Here is our list of five of the best water filters that have been gaining traction this season. Check out these helpful products that will change the way you access clean water when you are hitting the road in your RV or camper.
Clear as Day: The Best Water Filters for Your RV
---
Reviews of Our Favorite Filters
Below are deep dives into each of our recommendations – why they landed at the top of our research, what we liked, and what we didn't like about each one.
Best Overall Filter
CLEARSOURCE Premium RV Water Filter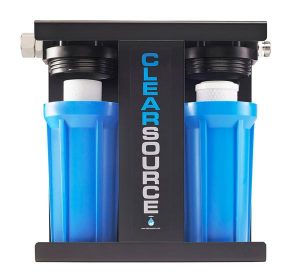 When it comes to having a high-quality RV water filter system for the water entering your RV, then a unit like the Clearsource Premium RV Water Filter is the ideal filtration system to invest in. The construction of this unit is what makes it thoroughly impressive. For starters, It offers users powdered-coated chassis for stability and stainless steel fittings for safety.
The canisters that store and filter the water are oversized so that the water flow is maximized. The overall attention to the construction is what allows this unit to last you quite an extended period of time.
When it comes to the filtration of your water, there are two stages that your water will pass through. The first stage is the 5.0 micron sediment filter that will get rid of larger particles, including silt and sediment.
Once the larger particles have been removed, the water will run through the second phase of filtration which filters at .5 microns. It is during this stage that pesticides, petrochemicals, chlorine, chloramines, giardia cysts, and other harmful agents will be removed. The taste and odor of the water will also be drastically improved.
Pros:
The stainless steel fittings enhance the safety and lifetime of your unit
This filter offers you a durable and dependable construction
There is a two-stage filtration system for the cleanest water possible
Cons:
Some hose fittings will need to use double washers for a secure fit when connecting to the filter
Best Inline Filter
Camco 40043 TastePURE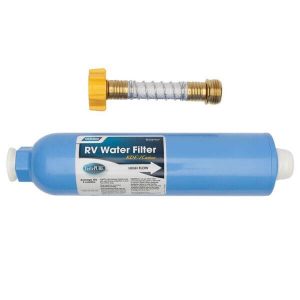 Having an inline filter can be a great way to go when it comes to having 100% clean and safe water in your RV. An inline filter like the Camco 40043 TastePURE can be a great investment because it allows you to filter all the water that comes into your RV even before it reaches your faucets.
The Camco 40043 TastePure used granulated activated carbon that not only gets rid of sediment and chlorine from your water, but it will also significantly reduce the odor and enhance the taste of your water. This is thanks to the sediment filter can get rid of particles that are greater than 20 microns.
Additionally, with the premium KDF carbon blocks, you can safely store your water without having to worry about bacterial growth in the tank. Lastly, this water purifier is CSA low lead content certified, so you don't have to worry about harmful heavy metals. The unit attaches directly to your RV, and set up is easy and does not require a professional.
Pros:
Water quality is great, no bad tastes or odors
You can safely store water without having to worry about any bacterial buildup in the tank
Installation is easy and does not require a professional
The Camco 40043 TastePure is made in the USA
Cons:
Once installed, it does not come with a cover and is exposed to the elements
Most Affordable Filter
AQUA CREST RV Inline Water Filter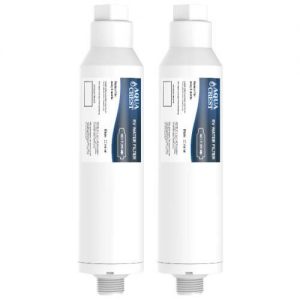 If you do not need the additional bells and whistle that many RV filters often come with, then a straight forward unit to consider is the Aqua Crest RV Inline Water Filter. This inline water filter is easy to install and use.
When it comes to the filtration power, you can look forward to the unit's ability to remove chlorine, fluoride, sediments, rust, heavy metals, and other contaminants in your water. The unit features a 20-micron rating that will allow it to get rid of impurities making the water that comes out on the other end safe to drink.
While the unit is rather small, there are some great features that the brand has improved upon. The primary improvement is in the food-grade plastic that houses the water filter. The plastic will be able to withstand unexpected bursts or damage due to either the elements or the water flowing through.
To help reduce the strain on the water filter however, it is recommended that you use a flexible hosing that helps to prevent any kinking when your water is passing through. With that being said, one of the best features of this unit is the fact that you can connect it to the exterior of your RV, or you can connect it directly to your water faucet or garden hose.
Pros:
The water filter is versatile and can be connected directly you water faucet
The filtration system features filtration at 20 microns
Set up and installation is easy and does not require a professional
Cons:
You need to be mindful when setting it up so that bursting does not happen due to kinked hoses
Best for Mounting
Beech Lane External RV Dual Water Filter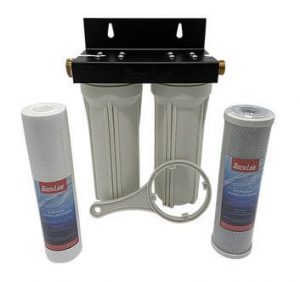 Some RVs may require filtration systems that are mounted. When this is the case, the Beech Lane External RV Dual Water Filter is the ideal filter to use. This filter features lead-free brass fixtures that do not leak. The brass fixtures measure out to 3/4th of an inch and allow you to avoid any potential leaks.
When it comes to filtration, you can look forward to .05 microns of filtration that will work to remove not only dirt and sand but chlorine and other impurities. In addition to that, your water will not have an unpleasant taste or smell, making it safe and pleasant to drink.
Lastly, RV owners will love the power and dependability of the Beech Lane External RV Dual Water Filter thanks to the no-hassle lifetime warranty that it comes with. If your filter ever malfunctions or produces anything less than ideal, then you can replace your filter without any questions ask.
Pros:
The lifetime warranty protects you against any issues that you may come across with your unit
This water filter was built to last thanks to the heavy-duty construction
Water purification of .05 microns produces great tasting, odor-free water
Cons:
Needs to be mounted and may not be ideal for all RVs
Best Personal Filter
LifeStraw Personal Water Filter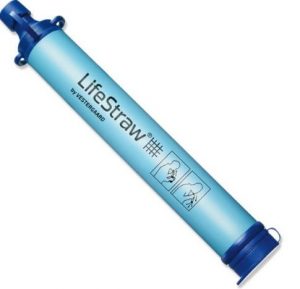 When you are on the go and need a compact water filter, then one of the best products on the market right now is the LifeStraw Personal Water Filter. This water filter is one of the best because it is portable, dependable, and practical.
If you are out hiking in the area around your campground, then this water filter will give you immediate access to clean water. You simply need to place one end of the straw in the water source, and then you can drink directly from the other end. You can even drink straight from a flowing river and get filtered water every time.
The filtration power of this small unit is pretty amazing. You can easily filter up to 1000 liters of water. The .2-micron filtration process will remove a minimum of 99.99% of waterborne bacteria and waterborne protozoan parasites. These filtration capabilities exceed the current EPA filter standards.
What has made this product so unique is the fact that you can pack it away in your camping gear or even slip it into your pocket. There are no batteries or moving parts that you have to worry about, and it only weighs 2oz. This amazing product has won accolades from so many retailers and outdoor enthusiasts.
Pros:
The LifeStraw is easy to use, compact, and over 99.99% effective in the filtration process
It comes with a carrying case so that you can keep it clean when it is not in use
It can filter 1000 liters of contaminated water
The LifeStraw is recognized as one of the best personal water filtration systems
Cons:
It is meant for personal use, not industrial use
It is not able to supply large amounts of water at once
Best Disposable Filter
Hydro Life 52133 HL-180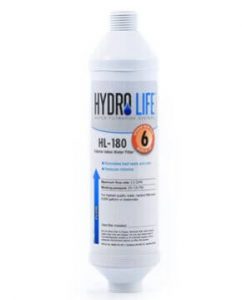 The Hyrdo Life inline hose filter really stood out to us because it is disposable and affordable. Even at the slim price point, the effectiveness of this water filter is still up to par with several of our other top picks.
Inside the filter, the mesh granular activated carbon filters (much finer material) filters out a lot more contaminants than standard carbon filters. Hydro Life also does a good job of preventing bacteria growth.
Overall, we were super impressed by this filter. It's easy to install, disposable, and simply effective. You really can't go wrong with this product as an inline filter for the freshwater hose in your RV.
Pros:
Blocks bacteria growth
Disposable
Easy to connect to your water hose
Cons:
Doesn't last as long as other filters
---
Recap: The Best RV Water Filters
---
Buying an RV Water Filter: What to Look For
Not all RV water filters are made alike. As with anything you purchase, knowing your needs first will allow you to shop specifically for them. With that, be sure to consider these following factors when you are looking for an RV water filter.
Type of Filter
There are a few different types of filters you can choose from.
Carbon filters
Carbon water filters are great at removing bad odors and tastes from your water supply in addition to contaminants like: asbestos, lead, mercury, and various organic compounds.
Ceramic filters
Ceramic water filters have small holes in them that filter out nasty stuff like sediment, bacteria, protozoa, and cysts. They aren't as effective at removing chemical contaminants though.
Sediment filters
Sediment water filters are the most common filters in RV setups today. They do a decent job of protecting your plumbing and water appliances.
Reverse Osmosis
Reverse osmosis filters have a semi-permeable membrane that water passes through, which filters out anything bigger than a water molecule. These filters do a great job of blocking arsenic, perchlorate, flouride, hexavalent chromium, and nitrates.
Filtration Stages
Some RV water filters will only have one filtration stage, while others may have two or more. Having more filtration stages doesn't always mean a filter is better than another. However, you want to take a look at what gets filtered in each stage. Many times, a second filtration stage in a filter is what allows your water to be free of unpleasant odors and tastes.
Purifying Your Drinking Water
Of course, with the water you drink, you may want the highest purification possible. With newer, more powerful units, you will find that ultraviolet light filtration systems can provide you with enhanced purification that targets and neutralizes microbes. You do not have to use systems this with all the water that enters your RV, but it is super beneficial for your drinking water.
Size & How Much Water You Want to Filter
The size of your filter can play a role in how much clean water you will have access too. Especially when you are on the road and not attached to your water source. If you travel with your family and will need more water, then you'll want filtration systems that have larger cartridges.
The size of your filter will also be impacted by how much water you want to filter and the water pressure that comes out the other end. If you only want to filter your kitchen faucet water, then you will fare best with an under the sink inline filtration system. These are typically compact, and instead of storing water, they filter water as it passes through. When filtering all the water that comes into your camper, an exterior inline filtration unit would be the best. The size will also determine how often you need to change your filter cartridge.
Price Point
The price of an RV water filtration system will be all over the map. For RV users, this is a good thing because you will always be able to find a filtration system that meets your financial needs.
Related reading:
---
Frequently Asked Questions
How Long Do RV Water Filters Last?
This depends, generally on how much you use your RV. With regular use, you should replace your water filter every 3-4 months. If you use your RV less, maybe once or twice a year depending on when you use it. You can look at your manufacturers website to see how many gallons of water your filter will filter before it needs to be replaced.
Do RV Water Filters Remove Chlorine?
Yes. RV Water filters remove chlorine and other contaminants and improve the overall taste and quality of your water. Along with filtering out contaminants, they will also catch sediment that could damage your pipes or appliances.
Where Do I Put My RV Water Filter?
RV Water filters are removable unlike the ones in your home. The water filter should be connected directly to your RV water intake valve. The purpose of the filter is to remove the water, so connect the hose to your water filter and then connect the filter to your RV for the best results.