Hey! This site is reader-supported and we earn commissions if you purchase products from retailers after clicking on a link from our site.
Installing a whole water heater system in your home or even an RV can be a pretty expensive undertaking. The tank that contains the heated water is rather large, and the heater will almost definitely require its own room.
Additionally, if you live in an apartment, you will be prohibited from installing one unless your building already has one.
Table of Contents
Tankless water heaters, on the other hand, make it simple to build a heating system for your showers or other water units without the requirement for a whole heater system. These more affordable choices are also fairly cost-effective and can keep you warm on cold days. 
But what is the best tankless water heater to get? You may be surprised to learn that a lot of thought has to go into the decision of choosing a water heater, as many come with their own unique features that could improve your life in different ways. 
This list shows the best water heaters that you can buy right now, as well as their pros and cons so you can easily see what is right for you. At the end of the list, you will find the buyer's guide. Here we will explain all the important features you need to look out for when buying one of these units. 
Let's get on with the list!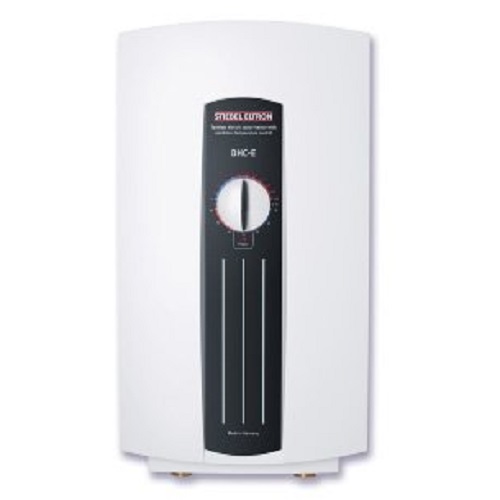 The Stiebel Eltron DHC Trend Electric Tankless Water Heater is very simple. It is a tankless water heater for point-of-use applications. It provides virtually immediate hot water in a single location, and it does this job very well. 
There are many models of water heater that this brand manufactures, with this one producing up to six liters of hot water per minute and having a heating capacity of 32,757 BTUs.
Stiebel Eltron has been creating water heating solutions since 1924, and they stand behind their products with a ten-year leak guarantee and a three-year fault warranty. 
To function at its full heating capacity of 9,600 watts, this kind requires 240 volts and a 40 amp circuit breaker. To avoid burnout, it features a flow rate sensor that turns off the heating element immediately in the event of a water supply interruption.
Pros
Flow rate protection – this prevents burnout, which can cause a huge amount of damage to water heaters
Relatively cheap – while water heaters are not inexpensive items, this one is cheaper than most
Simple to install – this can probably be done in a day if done right
Cons
No temperature indicator – you won't be able to see how hot/cold the water is inside the tank
We picked the Rheem 18kW Tankless Electric Water Heater due to its versatility. It generates 61,419 BTUs at 18 watts, making it a great point-of-use warmer or whole house heater for a two-person household. This water heater is able to make up to 4.4 gallons of hot water per minute. 
Rheem, an industry pioneer over a century in the making, stands behind it all with a five-year warranty on heating components and a one-year warranty on all other components.
Two forty-amp breakers operating at 240 volts are necessary for the electrical system in your home. It's simple to own and use because of its 99.8% efficiency rating, self-modulating energy consumption, basic temperature setting controls, and simplicity of access for maintenance.
Pros
Versatile – most tankless water heaters can only be used in one scenario (eg to heat a shower), but this can be used in a variety of situations
Very efficient – because of its 99.8% efficiency, which is higher than a lot of other heaters
Well-known and trusted company – Rheem is an industry leader who is known for making high-quality and long lasting products
Cons
Needs two circuit breakers – this may not be possible for some houses/peoples setups
Requires a lot of electricity – this will probably raise your energy bill
Next on the list is the Eemax 27kW Electric Tankless Water Heater. With a 27,000-watt output, it is perfect for whole-house use. Up to five people can enjoy seven liters of hot water each minute at a reasonable price. If the input water is exceptionally cold, however, the output can be as low as three gallons per minute.
This water heater's temperature control ranges from 80 to 140 degrees Fahrenheit in one-degree increments. Eemax offers a five-year leakage guarantee and a one-year component warranty. Continuous monitoring of the water flow rate results in automated adjustment of the power needs.
Three more circuit breakers will be required for installation.
Pros
Provides enough water for many people – this heater is able to be used in a whole house, providing water for up to five people 
Has energy-saving features – this will save money on both your water and electric bill
Cons
Inefficient at making hot water – if the input water is cold, you will get far less hot water than you need, so this tank may not be suitable for colder climates
Three electrical breakers needed – this not only makes setup a bit harder, but this is just not possible for some people, and setups
EcoSmart's tankless pool heaters are well-known among pool owners. Their ECO 27 tankless water heater model brings tankless technology indoors for whole-house use and comes with a limited lifetime guarantee.
The ECO 27 produces 92,128 BTUs with a power consumption of 27kW. This implies that it will require three forty-amp breakers to function. A hot water flow rate of 2.7 to 6.5 gallons per minute is sufficient for the majority of four or five-person families.
Temperatures may be adjusted in one-degree increments, and self-modulating energy use helps save money.
Pros
Precise temperature adjustments – Chance the temperature by one degree to find the right temperature for you
Enough water for 4-5 people -this tankless water heater is perfect for families and can be used for whole-house use
Lifetime warranty – no matter what happens, EcoSmart is there to help if something breaks down
Cons
Potentially low gallons per minute – depending on the temperature of the input water, you may get less water than you need
The Rheem 13kW Tankless Electric Water Heater is a smaller version of the 18kW found further up this list. It features the same capabilities as the bigger device, but in a more compact package. It is optimal for point-of-use applications or those that require water for a small number of fixtures.
Temperatures between 80 and 140 degrees Fahrenheit can be manually adjusted. When connected to a single 60 amp breaker at 240 volts, its 44,358 BTUs heat 3.17 gallons of water per minute. The use of only 1/2 inch connections allows for convenient piping.
Pros
Easy to install – can probably be done in a day or less
Low price – compared to other heaters this is very cheap
Easy electrical requirements – aids in making installation easier
Cons
Will not power whole home – this water heater is too underpowered to power a whole home, rather it can do a room or a few small appliances
Although you would not anticipate a water heater to have high-tech capabilities, the ECOTOUCH water heater has a lot to offer. It looks as beautiful as it performs, with touch-based controls and a sleek design.
The heater is fitted with advanced technology that continuously checks the flow of incoming water. As a result, if you pump less water than anticipated, the heater will seek to adjust the heating temperature in order to maintain a safe temperature for you to avoid any burning accidents.
It's easy and hands-free, which is excellent if you dislike manually adjusting the shower's temperature each time.
Pros
Touch controls – easier to use compared to confusing dials and nobs
Looks pretty good – usually, water heaters are unattractive to look at, but this has a very sleek and modern design
Smart heating system – if there is not enough water in the tank, the heater knows to lower the temperature of the eater overall to prevent any burning if you touch it
Heats water quickly– you won't have to wait for ages for a shower as this heats up the water almost instantly
Cons
One-color – really the only downside to this is that it only comes in one color, which is something that won't bother most people
Many people think of Bosch when they think of heavy-duty appliances. This is also true for their water heaters, which give not only provide you with hot water but also last a long time.
The incorporation of a mini-tank sets this water heater apart from the others on our list. This mini-tank enables the system to heat water rapidly and even maintains the temperature of some water when the unit is switched off.
Additionally, it is mountable in a number of settings, which means it will fit perfectly in your house.
Pros
Very durable – this tank should last you a very long time
Heats water quickly – this is thanks to the mini tank inside the heater
Keeps water heated when shut off – this means that even when off you should still be able to use hot water for your showers or any other uses
Cons
Cube shape – though this heater is small and mountable, which implies that it should fit anywhere in your home, the cube shape of it may make this a bit awkward
Most of the time, if you have a water heater and the power goes out, you're out of luck when it comes to getting hot water. This can be very annoying and also uncomfortable if the nights get cold and all you want is a hot water bottle or something like that to keep you warm.
In these cases, non-electric water heaters may be highly useful, which is why the Rinnai Tankless Water Heater is such a good product. 
While the heater itself is rather straightforward, it is enhanced by the inclusion of extra features. You can install a specialized app that connects with your heater and enable you to program when it warms the water.
Additionally, if necessary, you may set the heater to vacation mode so that it is more efficient when you are away on trips. 
Pros
No electricity needed  – makes this one of the few water heaters that works in power outages
Has an app – this is pretty advanced for a water heater and it allows you to change the temperature and other settings from anywhere
Cons
Requires natural gas– as this does not use electricity, natural gas is needed instead. This may be impossible for some people, and for those who can do this, it may make their bills rise
Today's tankless water heaters display the temperature via digital thermostats while are often controlled by touch controls or more elegant buttons. However, some individuals love the traditional look and feel of water heaters.
The Titan electric water heater incorporates additional analog controls and a thermostat, allowing individuals who prefer conventional water heaters to continue to enjoy hot water in the traditional manner.
Pros
Has a more manual and simple design – for people who cannot get on with more high-tech products, they will love the simplicity of this water heater
Cons
Outdated – on the flip side, this water heater is very outdated compared to most on the market and performs with less efficiency
The capabilities of the Rinnai RU150eN are rather impressive. The unit's maximum flow rate of 9 GPM is sufficient to heat many fixtures, and the unit's maximum BTU capacity is more than adequate for many average families. 
Despite being a natural gas system, the Rinnai has a very high-efficiency rating. This is mostly due to the condensing function, which enables the water heater to recover as much heat from the exhaust as possible before venting it.
Pros
Heats up quickie – you won't have to wait hours for hot water
Can be used in the average home – this heater will provide enough hot water for 4-5 people 
Very efficient – this heater conserves as much heat as possible so you are not spending too much on keeping it running
Cons
Expensive – compared to other units this is quite expensive
Buyers Guide
Here are all the vital features and things that you need to keep in mind when buying a tankless water heater. 
Capacity
To determine the size of the tankless water heater you require, a few details about your family's hot water use must be considered. Apart from defining the number of occupants, it is necessary to specify the maximum normal flow rate and temperature rise needs.
The term "temperature rise" refers to the difference in temperature between the water entering and exiting the system. This is significantly influenced by the local climate.
These tankless water heater sizing calculations will determine how much heating capacity your tankless electric heater will require. The electrical capacity of your home may set limitations on the size of the heater you may use.
While a homeowner may be capable of doing these calculations correctly, your retailer or installer is likely to have more knowledge.
Fuel Type
The three basic fuel sources for tankless water heaters are natural gas, propane, and electricity. Gas models offer a higher power output than electric models, which means they can heat more water to the correct temperature while costing less.
The drawback is that a gas tankless water heater is around $1,000 more expensive to install than an electric heater. In the majority of situations, installation is also more complicated.
Condensing Vs Non-Condensing
In a gas tankless water heater, steam, or water vapor, is created as a byproduct of the combustion of the fuel. Ventilation of steam to the outside occurs via ducts or pipelines. Condensing and non-condensing ventilation are distinguished by the timing of steam release during the ventilation operation.
Use
When choosing an electric tankless water heater, you have to consider whether you want a whole-house or point-of-use unit. Point-of-use heaters are perfect for large homes with complex plumbing systems, appliance installations, remodels and additions, and remote sink locations.
Whole-house heaters provide hot water for the entire residence from a central location.
Frequently Asked Questions
Tankless Vs Tank Water Heaters – What's Better?
This all depends on what you consider to be "better" and what you want to prioritize. Tank water heaters give immediate water heating but consume more energy. On the flip side, tankless water heaters use less energy but take longer to heat the water due to the absence of a tank to keep the heated water.
What's More Efficient, Tankless Or Tank Water Heaters?
In general, you will save more money running a tankless water heater than tank water heaters. Tankless water heaters use less energy to heat up the water, and their operating costs are far less than tank-based heating systems.