Hey! This site is reader-supported and we earn commissions if you purchase products from retailers after clicking on a link from our site.
If you live in a tiny home, apartment, or off-grid in your RV you will know how precious space can be. In one small space, you need to fit everything you need to go about your day-to-day.
On top of that, your home might not have basic amenities that are essential for living a healthy lifestyle. One of those things is a washing machine.
Not all apartments and RVs are big enough to be equipped with a washing machine, often resulting in a frustrating need to use shared facilities or a desperate hunt for the nearest laundromat.
Luckily for us, with all the technology available this no longer needs to be a problem.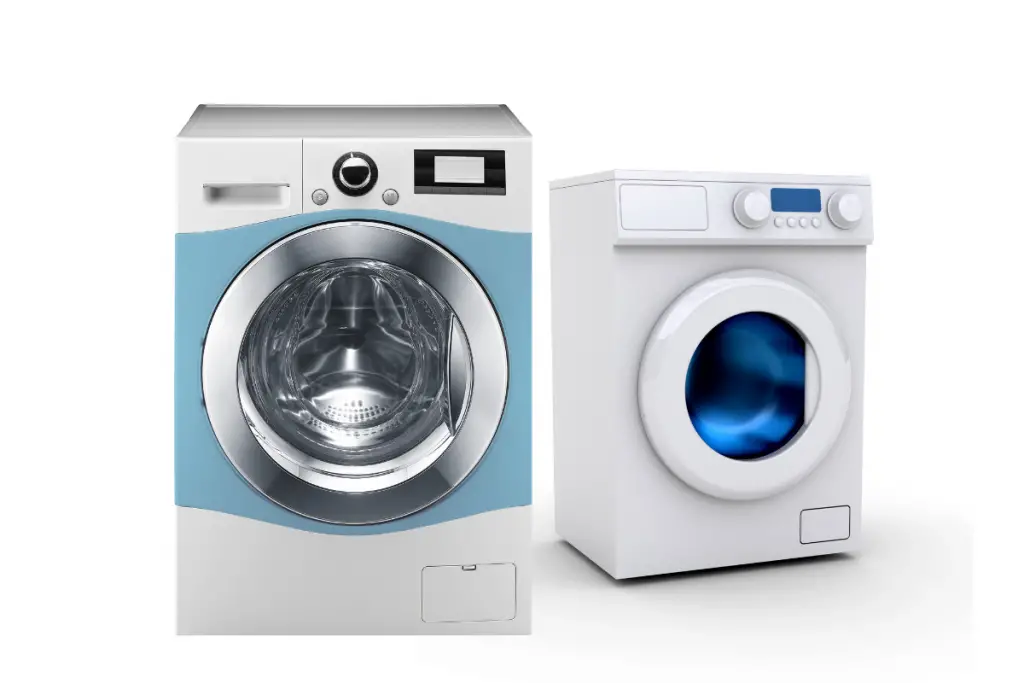 The answer is a compact portable washing machine. These small portable machines allow us to wash our clothes in a smaller space or off-grid. Not only that, they are much more sustainable and affordable than a traditional washing machine. 
To help you find the best portable machine for your needs whether you live in a small home or off-grid, we have compiled a list of the best washing machines you can buy now.
At the end of the article, we have also included a useful buyer's guide detailing some of the things you should look out for. 
We kick this list off with a solid option. Made by a highly reputable brand this washer is a mini version of a full-size washing machine.
Ideal for RVs, smaller apartments, and dorms, this portable washing machine allows you to wash 6.6lbs of clothes at a time, letting you choose between a 19 and 52-minute cycle. 
In terms of its design, we have to say this machine fits the bill. Fitted with automatic unbalance detection, child safety features,  a lint filter, and an LED display you can expect a safe, easy cleaning process every time. 
Another neat touch Black & Decker added to this portable washing machine is the handy tap adapter.
The tap adapter allows you to fit this machine to your taps with ease, preventing the need to painstakingly find a machine that fits your requirements.
The only downside to this model is the lack of hot water cleaning. The machine only works with cold water. 
Pros
LED display – The LED display makes it quick and easy to start your wash.
19-minute washing cycle – If you're in a rush simply set the machine to a 19-minute cycle.
Great washing capacity – Being able to wash 6.6lbs of clothes in one cycle is pretty good.
Cons
No hot wash – You can only wash your clothes in cold water with this machine. 
Weighing and costing less than the Black & Decker machine, the VIVOHOME 2 in 1 portable washing machine could be a great choice for you if you need to dry your clothes too. This product has a dual function that washes and dries your clothes. 
The high-quality, compact machine has a washer on one side and a spin dryer on the other. This comes in useful if you don't have the space to hang the washing up to dry.
Weighing just 24lbs this portable machine also has an excellent capacity.
You can wash 8lbs of clothes at a time. The dryer also holds 5.5lbs of clothes at once. This means you can wash and dry 13.5lbs of clothing at once. This is impressive when compared to other models that only hold 6 or 7lbs. 
When it comes to design and usability we were very pleased with this machine. It is made out of durable, lightweight, rust-resistant plastic that gives the machine longevity and continued performance.
As if that wasn't enough the machine is also designed to be more energy-saving than other machines. These factors along with the preprogrammed wash settings make this washer a fabulous choice. 
Pros
Highly portable – This machine is so compact and lightweight you can pack it up and take it with you anywhere.
Dual function – Washing and drying clothes is a huge bonus.
Neat design – The VIVOHOME washing machine also looks great, fitting in well in any home.
Large capacity – Wash and dry 13.5lbs of clothes at once.
Cons
Loud spin cycle – Some users have reported that the spin cycle is annoyingly loud when clothes are drying.
Also available at:
If it's a super-portable washing machine you're after then this is the one for you. Better suited to those off-grid or camping, WonderWash wasn't lying when it said this machine is portable.
This portable washer is tiny with a small capacity to match. It is also a manual washing machine that requires you to do some of the work.
We appreciate a manual washing machine might not sound that appealing but if you only have a handful of clothes to wash while away why not give it a try. Besides, it does come with plenty of positives.
You don't need electricity, there's no need for a tap connection, and the machine doesn't create any noise so you can wash clothes through the night without disturbing others. 
The brilliantly designed washer has a capacity of 5lbs. This allows you to wash five or six tops or two pairs of jeans in one go. To use the machine, place it near a sink or drain with access to water.
Place the clothes, detergent, and water in the machine. Once this is done, crank the machine so that it cleans your clothes. After that drain the water and rinse the clothes if any detergent is left. 
Pros
Very lightweight – This washer only weighs 8lbs.
No taps or outlet required – You can fill this machine with a bucket, bottled water, or a showerhead.
Stylish – WonderWash has produced a modern, sleek product.
Cons
Manual machine – You have to operate the machine.
Small capacity – This machine only holds 5lbs worth of clothes.
Also available at:
Built to hold 17.6lbs of clothes at one go this beast of a portable washing machine is perfect for those living in small apartments or traveling in an RV.
Despite holding a lot more than other models on our list, this machine still only weighs 28lbs, meaning you can easily move it around the home or tuck it away in your RV.
You can wash and rinse your clothes before using the spin dry compartment to spin dry your clothes. With a spin speed of 1350 RPMs clothes will come out slightly damp, but at least they won't be soaking. 
When we reviewed the Giantex portable washing machine we found it performed well and was easy to use. The 15-minute wash cycle was enough to wash a small load of clothes.
In terms of design, despite being a lot smaller, this machine looks and feels very much like a traditional washing machine. It features a similar button and dial layout most everyday washers use. 
The downside of this washer is the gravity drain. The drain uses gravity so it is vital you make sure the drain hose is flat and near a drain. Although it is't a huge deal, it could cause you problems if the machine isn't set up correctly.
Pros
Fast cycle – Your clothes will be clean in 15 minutes.
Large capacity – You can wash and dry 17.6lbs of clothes all at once.
Good value for money – This affordable washing machine is excellent for how much it costs.
Cons
Half-size spin compartment – The spin-dry tub is half the size of the washing tub so it will take two spin cycles to dry all of your clothes.
For those looking for a more permanent portable washing machine for their apartment, the COMFEE washing machine is a suitable choice.
Weighing 79lbs it looks and feels exactly like a normal washing machine, the only difference being its size and portability.
This small, convenient washer may be a lot heavier than other machines on this list but don't worry, it is also the only one fitted with handles and wheels, making it super easy to move the machine around your apartment. 
Most users of the COMFEE portable washing machine are impressed with its functionality and usability. Fitted with a child safety lock, this product has 6 programs built into it including normal, quick, heavy, bulky, and delicate.
It also has a spin-only feature. On top of that, it has an extra rinse button and 3 different water temperatures.
With so many options on offer, you can easily select the exact wash you need for the clothes you want to wash. With a load capacity of 11lbs, you can also wash plenty of clothes in one go. 
The COMFEE washing machine is by far the most versatile machine on our list so be sure to consider it.
Pros
Variety of settings – This machine has plenty of options to suit your needs.
Easy-to-move – The fitted wheels and handles make moving this machine an easy task.
Child lock feature – Prevents your child from hurting themselves.
Cons
Heavier – This model of machine is still a lot heavier than others on this list.
Final Thoughts
Owning a portable machine can come in useful for people that live in small apartments, tiny homes, or off-grid. What used to be a thankless task no longer has to be a problem. Overall if you want to preserve your clothes longer it is best to cut on washing and instead air them or brush them. Here is how to protect your clothes when switching to a new season.
By using a portable washing machine you can get all of your clothes washed, quickly without taking up too much space.
The portable washing machines on this list will let you effortlessly wash your clothes without the machine disturbing you or getting in your way.
Though the machines vary slightly in terms of capacity and additional features, they all do a great job. Some are better suited to those camping, or traveling by RV while others might work better in an apartment. A number of machines work well in both scenarios.
Now you have our list at your disposal, narrow down the options until you find the right portable washing machine for your needs and requirements.
Buyer's Guide
There are some important things to think about before committing to buying a portable washing machine. Here are some of those things.
Weight
Arguably the most important factor to consider when buying a machine is its weight. If a machine is far too heavy it won't be as easy to move around. On the other hand, if it is too light and small, it won't be able to wash as many clothes.
The extremely heavy models of portable washing machines are only portable in the sense that they aren't fitted permanently.
If you're purchasing a machine that weighs a lot more you should first check if it has any features that assist in moving it around. If it doesn't and the product weighs over 60lbs you will really struggle to move it.
In our opinion, you should only buy a heavier machine if it has handles or wheels like the COMFEE machine.
Load Capacity
Portable washing machines vary massively when it comes to how much laundry they can hold. This is something you need to strongly consider before buying a machine.
You need to know how many clothes the machine can hold and how many it actually cleans well.
Generally, a good portable machine will be able to fit 5 or 6 T-shirts, a couple of pairs of jeans, and some underwear, however, some can hold more and others less. Be sure to buy a machine that fits your washing needs. 
If you only need to wash 5lbs of clothes during a camping trip you don't need a machine with an 11lbs capacity. Alternatively, if you need to wash 10lbs of clothes, you need one with a larger capacity.
Budget
Before even looking for a portable washing machine, understanding your budget will help you narrow down your options.
Washing machines vary a lot depending on a number of factors. Factors that may impact the price of a machine are size, brand, and materials the product is made out of.
By setting yourself a budget from the start you can rule out unsuitable machines straightaway. This will save you time and money.
Noise
If you live in a small apartment or will be traveling in an RV with your washing machine it is important you find one that is quiet. Some machines can be noisy keeping you and the people you live with awake at night.
One way to muffle the sound is by placing a mat underneath the machine. Other than that all you can do is make sure you buy one that specifically states it is quiet. To back up the manufacturer's claims, you could look at some reviews. 
Number of Settings
Some machines have one setting whilst others have six or seven.
If you need to wash a variety of different types of clothes, you will need a machine that has a number of different settings. On the flip side, if you don't need to wash too many clothes you can save yourself some money and buy a machine with fewer settings.
We recommend you look at buying a machine that has plenty of different settings. Good settings to look out for are different washing cycle lengths and settings that suit different types of clothes for example delicates, cotton, and synthetics.
By choosing the machine that has the right settings for you, you can easily and reliably clean all of your clothes without being disappointed. 
Size and Dimensions
Finally, a good thing to consider is the size and dimensions of the machine you are buying. Portable washing machines come in a range of different shapes and sizes so you need to make sure you buy one that is the right fit for you. 
You might need a tiny machine that fits in your car or a larger model that sits in the corner of your apartment. Either way, you should probably work out what size machine you need first. This will help you avoid the pain of realizing you have bought a machine that is too big.
Frequently Asked Questions
What Are The Downsides Of A Portable Washing Machine?
Though portable washing machines have many benefits, they do still come with a few downsides, however, none would put us off buying one. The main downside is the size of the loads the machines take. The machines are a lot smaller than normal machines, therefore can't hold as many clothes in one go. 
Another issue with portable machines is the inability to remove tough stains as they are simply not as powerful as ordinary washers. 
Are Portable Washing Machines Sustainable?
Yes, portable washing machines are a lot more sustainable and environmentally friendly than a typical washing machine.
This is because they use a lot less water and electricity than a normal machine. In fact, some portable machines don't use any electricity at all. Instead, they use manual power to wash your clothes.
Do Portable Washing Machines Last?
Like any ordinary washing machine you buy, portable washers will eventually need replacing. Luckily for us, they have a long lifespan so don't need replacing very often.
On average a portable washing machine will be able to handle approximately 5,000 cycles. At this rate, you can expect your machine to last for roughly 14 years before you need to replace it.