Hey! This site is reader-supported and we earn commissions if you purchase products from retailers after clicking on a link from our site.
If you've been following this series of articles, you'll know that while I have a love of visiting cities for their cultural and historical significance as well as their museums and other attractions, I absolutely detest pulling my RV through congested cities. With that in mind, I am always looking for a good place to stay at either a reasonable cost or if possible, for no cost at all near a city that I can easily access by Amtrak or other rail services. So, I was pleasantly surprised a few years ago when I discovered the Rail Runner that operates in the Santa Fe and Albuquerque corridor in New Mexico.
Where should I stay?
One place I found to stay was the Black Mesa Casino in San Felipe Pueblo, New Mexico. While they are not a free camping destination, they do allow dry camping for $10 a night and sites that have water and electric for $20 a night. They also offer free Wi-Fi and there is a truck stop across the street that has showers and laundry facilities. Another nice benefit to staying here is that they offer free shuttle services to the train station making it that much more affordable to visit these two cities without driving into them.
Getting to and from Santa Fe, NM
There are eight trains running on this line daily with five of them to Santa Fe from the Sandoval station in the morning and only three afternoon trains. However, they offer a wide range of time between them so finding the right schedule that works for your itinerary should be easy to do.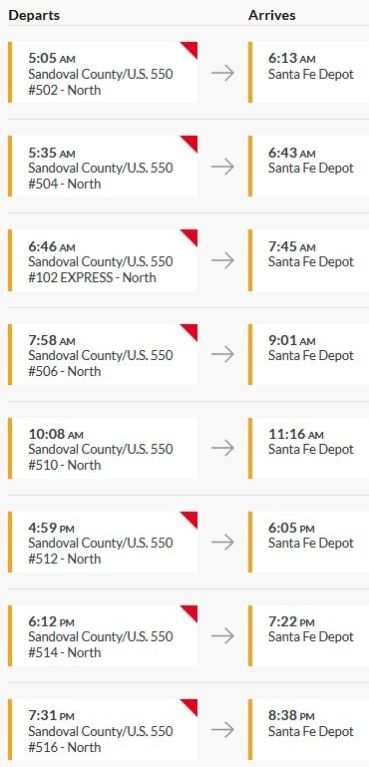 Fares are based on zones and the entire line has six zones. This trip has three zones of travel for a cost of $8 each way. They also offer discounted rates for seniors (62 or over), the handicapped, students, Medicare card holders and some veterans.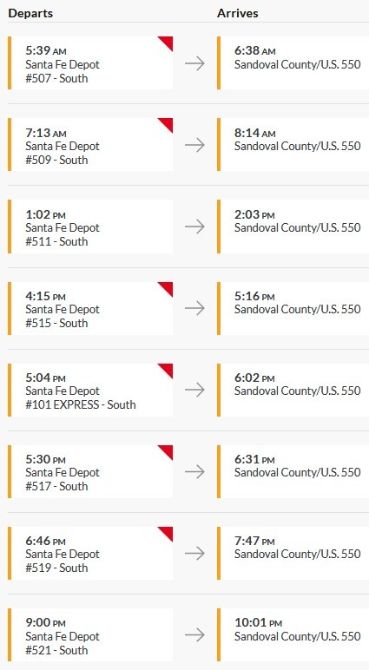 As you can see, the return schedule is opposite than that of the departure schedule from Sandoval. It has less trains in the morning with more in the afternoon making it very friendly for those that want to spend several hours visiting the city.
The fares are the same and your travel time for each way is approximately one hour.
What can I do in Santa Fe?
For art lovers, a visit to Canyon Road is a must. With over a hundred art galleries and restaurants set in a historic and quant neighborhood, this is like a walk back in time. Another site for art lovers is the Georgia O'Keeffe Museum, which boasts a wide variety of collections from this iconic 20th century painter. Also the New Mexico Museum of Art is well worth a trip as well
For museums, a trip to the Museum of Indian Arts and Culture is well worth a visit as it focuses heavily on Native American art and culture. The New Mexico Museum of Natural History is another great place to visit especially if you're a lover of dinosaurs as they feature many artifacts found in the American West from this era of time. Anyway you stack it up, Santa Fe's culture, restaurants and sites won't disappoint.
Getting to and from Albuquerque
The options for visiting Albuquerque from your campsite at the Black Mesa Casino also vary by time. While you had more morning northbound trains into Santa Fe during your visit, you have less morning trains into Albuquerque with more returning in the evening. So, you should plan your visit accordingly.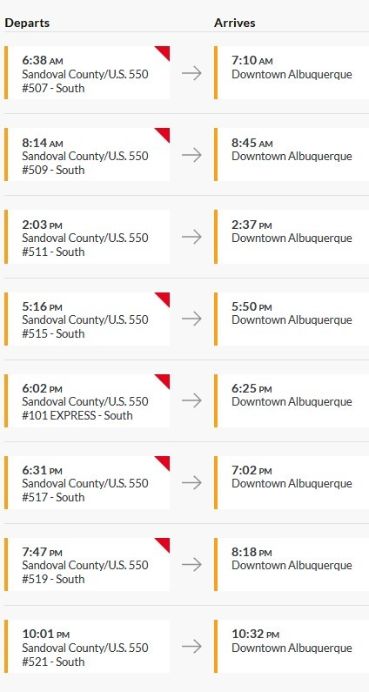 Since this is a two-zone trip, the fares are $6 each way for adults and the same discounts apply just as they do for the Santa Fe journey.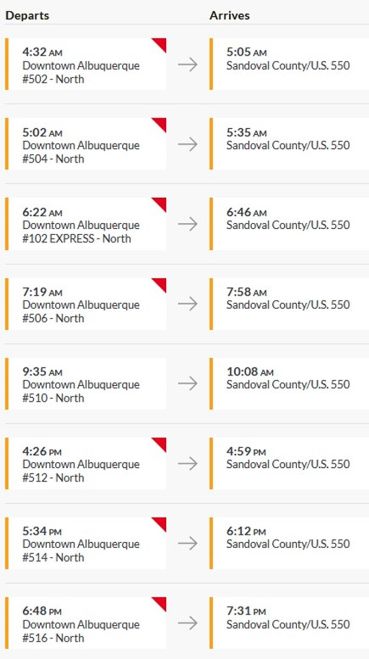 The nice thing about this schedule is that while you may have to leave your station early in the morning to enjoy Albuquerque, the transit time is roughly 30 minutes. On the downsize, it also has early departure times back to Sandoval, and while those times will still allow you plenty of time to visit the local sites in the city of Albuquerque and its surrounding areas, You'll have to return to your campsite very early.
What can I do in Albuquerque?
A nice place to visit in this area is the Petroglyph National Monument which is part of the National Park Service. This park features hiking trails as well as a walk through some of the oldest carvings of volcanic rock in North America created by Native Americans and Spanish dwellers from 400 to 700 years ago.
If you're not afraid of heights, you should consider a visit to the Sandia Peak Tramway. These aerial cable cars take you to from a from a base elevation of 6,559 feet, to a summit elevation of 10,378 feet above sea level. At its peak, are various trailheads for mountain biking, hiking and skiing during the summer and winter months. There's also a nice restaurant to visit on the summit.
The Albuquerque area is rich with parks and natural attractions. It also has some great museums, art galleries and restaurants. A visit to this city is well worth the time invested even if you don't take the train and visit it by another means.
As always, my friends stay happy, stay healthy and safe travels to all of you.