Hey! This site is reader-supported and we earn commissions if you purchase products from retailers after clicking on a link from our site.
So you've got your van all ready to go – now what? Where do you even begin? Everyone's adVANture is totally different. I started my journey thinking I would be able to find consistent remote work and travel pretty consistently, going from city to city and national park to national park regularly. I soon discovered that without any serious remote working experience (digital marketing, graphic design, IT work, writing, coding, etc.) it was harder than I thought to find a job. My course changed directions and I focused instead on finding seasonal/short-term gigs and traveling in the time in-between (more on how I make money and budget to come). This ended up working out better for me because it allowed me to try out living in a new city for a few months, grounding myself a bit, and then having a couple uninterrupted months of travel without having to worry about finding wifi or taking time off. Instead of planning work around my journey, I planned my route around finding work and especially seasonal work. Maybe you want to go to Alaska for the summer to manage a log cabin or Napa Valley for a harvest season to learn about making wine or Austin for the summer to work as a nanny or Aspen for the winter to be a ski instructor. The possibility of places to explore are endless!
My Favorite Route-Planning Apps and Websites
Without a doubt, Roadtrippers is the BEST route planning app out there! You can get the app for free or upgrade for $60/year for more features and the ability to add more stops, which I think is completely worth the investment. This app has helped me find the quirkiest little stops along long stretches of driving. Basically you can plug in your starting and ending point and any stops you want to make along the way and it calculates the best route for you, miles, how long it will take, and estimated gas. As you zoom in on your route, the app will bring up parks, campgrounds, museums, points of interest, quirky landmarks, hotels, restaurants, bars – pretty much anything you could possibly want. Since it gathers information based on websites and user contributions, there are hundreds of options. This app brought me to secret blue lagoons in Florida, the world's largest collection of stamps in Nebraska, an entirely Dutch-inspired town in Iowa, and a "Dances With Wolves" memorial in South Dakota (as you can see I gravitate towards the oddities in parts of the country that have longgggg stretches of time without much else to see). You can share your route with other people and create multiple routes for future trips.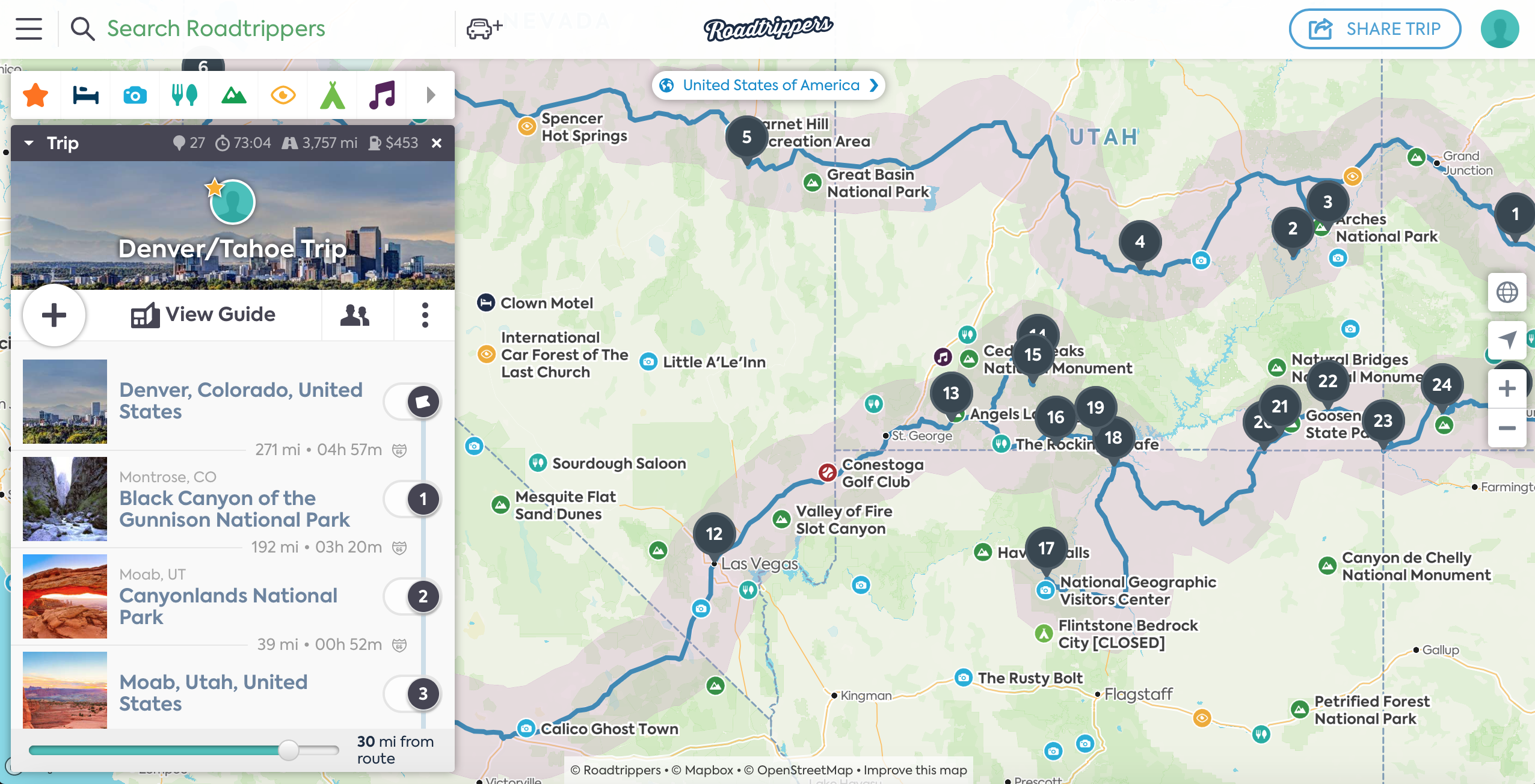 This app isn't exactly a secret but if Google Maps was a religion, I would join it. This has saved my butt more times on the road than I can count. For one, it allows me to share my live location with selected contacts and my mother adores this feature. It also allows me to search for important stops along my route such as gas stations, coffee shops, and bars (hey, sometimes after 7 hours of driving you just really need a beer).
I'll talk about this site more on my post about finding free places to sleep but this is a great resource for finding camping (both free and paid). When I'm planning my routes the number one factor for me is making sure I have at least one option for a place to sleep around the places I will be stopping. There is NOTHING worse than being in the middle of nowhere Illinois when the sun is setting and you're low on gas and you're not really sure where you're going to be sleeping that night and the closest Walmart or trace of civilization is at least 50 miles away. This site allows you to use a map to find great places to sleep. Knowing where I'm sleeping allows me to alter my routes ahead of time.
This is very similar to Campendium but with a different user interface. I find Campendium easier to navigate but I often find it is missing spots that I find on Freecampsites.
This website shows really great secret spots broken down by state and then cities. I've found some amazing hikes in areas that I never would have thought to explore!
Long Road Trip Tips
Like I mentioned before, know where you are going to be sleeping at least a few hours in advance. This saves a lot of hassle later.
If you can avoid it, break up your drive in chunks. I try to give myself a maximum of 8 hours of driving a day and that's only if I'm on a tight schedule to get somewhere.
Don't let your gas tank get below ⅓ unless you know for a FACT another gas station is less than 50 miles away. There are stretches in the West and Midwest when the next service station isn't for another 80-100 miles, and they don't always guarantee being open or having diesel gas.
Double check rules for national parks in terms of entrance dates and fees. I recently learned while planning a trip to Arizona that you need to reserve an entrance pass to Antelope Canyon months in advance. If I hadn't done my research, I would have been SOL. This is also true for seasonal openings and closings. I also happened to plan a trip to Glacier National Park in Montana the first week of September and found out they closed for the winter season just a day after I left.
In the Southeast, have as many quarters as possible because the tolls are annoying as hell.
Meal prep. Especially if you've got a few days back-to-back of long stretches of driving, gas station food and McDonald's will start to get to you. Having pasta salad or sandwiches already made will make you feel a lot better. Hangry driving is the worst driving.
Share your route with friends and family and social media! Giving people a general idea of where you'll be is a great way to discover who may be in the area at the same time or who has friends/family you can meet up with.
"Always take the scenic route". I know I sound like a cheesy mug from Target but it's true.
So far I've driven over 13,000 miles and seen 28 states and I'm not stopping anytime soon.